Harvard Business School Students to the Times: You Got It Wrong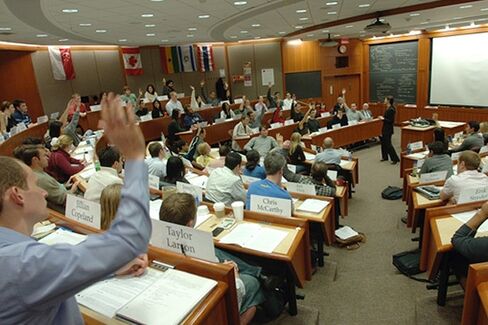 When the New York Times published its recent front-page story about the bad-boy culture at Harvard Business School, it came as a shot across the bow of an super-elite institution. Now Harvard students are firing back, with back-to-back essays in the school's student newspaper, the Harbus, by a group of second-year MBA students.
Becky Cooper Nadis and Alana Hedlund took issue with the idea that HBS was "an uncomfortable and unpleasant place to be a woman." They wrote: "We're unapologetic feminists, and we love this place." The students concede that gender inequality exists at the school, as it does everywhere, and that the administration's efforts to change the school's culture might be "paternalistic and heavy-handed," but they describe the changes as well-intentioned and at least partially successful. They credit the administration with working to increase the number of female Baker Scholars—the top 5 percent of the class.
In a separate essay, Eric Lonstein called the HBS portrayed in the Times article "an exaggerated relic of the past" that does a disservice to the school he knows. He bemoaned the "sensationalist" media—among other things, the Times story revealed the existence of "Section X," a secret society of ultrawealthy students known for decadent parties and other acts of conspicuous consumption—and said Harvard students should put more effort into "celebrating the positive."
One suggestion: celebrating students who give back to their communities instead of focusing on the kind of boorish behavior described by the Times, which reported that some male students openly ruminate on which female students they would "kill, sleep with, or marry (in cruder terms)."
Join the discussion on the Bloomberg Businessweek Business School Forum, visit us on Facebook, and follow @BWbschools on Twitter.
Before it's here, it's on the Bloomberg Terminal.
LEARN MORE