Diana Serves Lover Microwave Dinner in Cheesy Biopic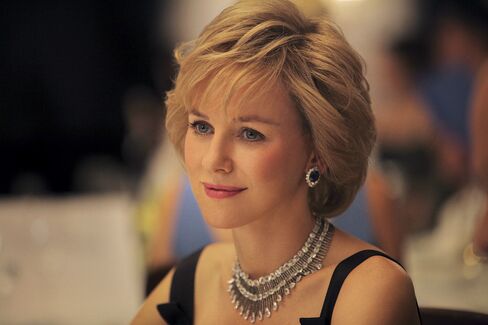 Princess Diana is visiting a friend at the hospital when a handsome young heart surgeon catches her eye. They get talking, and she suggests he give her a call.
"I don't know how to contact you," says the surgeon.
"Well, I'm like most people, I have a mobile," she replies. "Actually, I'm not like most people: I have four."
So begins the movie "Diana," starring Naomi Watts as the princess and Naveen Andrews as Hasnat Khan, the Pakistani-born surgeon we're led to believe was the love of her life.
At the helm is Germany's Oliver Hirschbiegel, whose close-up portrayal of Hitler in "Downfall" (2004) earned him an Oscar nomination (and spawned endless YouTube spoofs.)
The movie plots the couple's courtship in the last two years of Diana's life. It starts at the hospital: Diana, in pink Chanel, parades past gaggles of bewildered staff with the surgeon by her side.
Before long, she's inviting him to her Kensington Palace apartments and serving up a sad microwave dinner. Her guest politely asks if she can make him a hamburger. The answer is no, so she has one delivered in its greasy wrap.
Aching for privacy, Diana acquires a long raven wig that somehow allows them to dodge the paparazzi on their nights out. They go to London jazz clubs and fast-food joints. She gets the keys to his apartment.
Bed Scenes
Eventually, they get cozy. You see them in bed, after the fact (he's half-naked, she's not); and in a car, before the fact. "I love feeling your hand there," she says in one cheesy bedchamber scene. (Thankfully, we're not shown where.)
Ultimately, the doctor tires of landing on tabloid front pages, and ends it, driving Diana into the arms of Dodi Al-Fayed.
"Diana" hammers home one crucial point: It may just be too soon to splash the princess's private life across the cinema screens. She died young, 16 years ago; her sons are on the front pages every day. It feels awkward to examine her carnal side already.
That said, "Diana" is plainly unworthy of its subject. The script (by British playwright Stephen Jeffreys) is desperately bad. "You don't perform the operation: The operation performs you," is one of the surgeon's many pearls of wisdom.
Hirschbiegel was chosen to direct because of his deft handling of another historical figure: Hitler. "Downfall" was a powerful work -- eerie, stifling, and well acted.
Language Voice
Yet as Hirschbiegel shows with "Diana," it's hard to direct in a language that's not your own. Lines that sound fine to a non-native ear draw snickers in London screening rooms.
As a result, Watts, an accomplished actress, disappoints. She gets the voice right (after days spent watching the Martin Bashir interview with Diana.) Yet her performance doesn't quite ring true.
Some of her clothes and accessories are a letdown, too. One gold lame gown is badly sewn; the rocks around her neck look sourced from a thrift shop.
Andrews (Hasnat) -- the young man Juliette Binoche fell for in "The English Patient" -- does as well as he can with the material.
The movie has redeeming scenes at the start and finish: flashbacks to the final moments of Diana's life. We watch her leave her suite at the Ritz hotel in Paris and head for the elevator with Al-Fayed.
Suddenly, she turns around. The sound is muted, and the camera whooshes back in a surreal motion -- recalling Hirschbiegel's woozy camera work in "Downfall."
You wish he'd handled the subject in that dreamlike way throughout, instead of delivering what is ultimately a sophomoric work. Rating: *.
What the Stars Mean:
*****      Exceptional
****       Excellent
***        Good
**         So-so
*          Poor
(No stars) Worthless
(Farah Nayeri writes for Muse, the arts and leisure section of Bloomberg News. The opinions expressed are her own.)
Muse highlights include the London and New York weekend guides, Lewis Lapham on history, Jeremy Gerard on New York theater, Amanda Gordon's Scene Last Night and Greg Evans and Craig Seligman on movies.