As the West Faltered, China's Growth Was Fueled by Debt
"China is addicted to debt to fuel growth"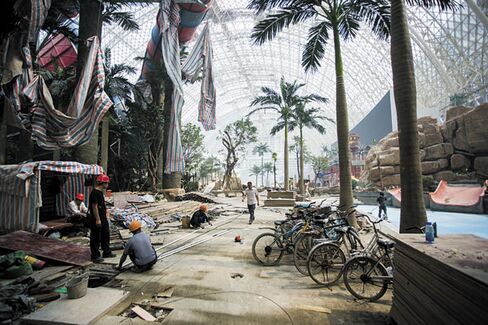 Feb. 8, 2010: Construction begins on the largest building in the world
When completed, the New Century Global Center will be three times the size of the Pentagon and big enough to hold 20 Sydney Opera houses under its glass roof. A megaproject to rival Kubla Khan's mythic pleasure dome, it will be home to an indoor "Mediterranean beach resort" complete with artificial "sea breezes," a 14-screen Imax theater, an 18-story atrium, offices, and 1,000 hotel suites. That the residents of Chengdu, a second-tier city in the west, need such extravagant leisure options, is an open question, one that will determine whether the Global Center will prove to be a massive boondoggle. Another question: Will Deng Hong, its billionaire developer, get to enjoy his creation? He's currently under investigation by Chinese anticorruption officials, a high-profile target of a nationwide antigraft crackdown.
Whatever its fate, the Global Center owes its existence to the 2008 recession in the U.S. and Europe. As demand for Chinese exports diminished in the wake of the financial meltdown, the Chinese economy kept humming at more than 9 percent annual gross domestic product growth each year from 2008 to 2011. The trick? "A huge monetary expansion and lending boom," says Patrick Chovanec, chief strategist at Silvercrest Asset Management and a former professor at Tsinghua University's School of Economics and Management in Beijing. With bank lending restrictions loosened in late 2008, "Total debt accelerated from 148 percent to 205 percent of GDP over 2008-12," according to a May 2013 report from research firm CLSA Asia-Pacific Markets. When Beijing tried to rein in the banks beginning in late 2010, shadow banking—lending outside the formal sector—exploded. Today "China is addicted to debt to fuel growth," according to the CLSA report, with the economy hampered by "high debt and huge excess capacity with only 60 percent utilization."
The Beijing-based firm J. Capital Research dubbed 2012 the "Year of the (White) Elephant" in a report detailing some of China's questionable infrastructure build-out. To take one example, 70 percent of the country's airports lose money, yet more are being built in small and remote cities. At the shiny new Karamay Airport in far western Xinjiang province, there are four check-in counters serving two flights daily. Local governments have splurged on "new towns" and "special zones," many of which have already fallen into disrepair. The $5 million Changchun Zhenzhuxi Park, intended as a scenic area, is now a large public garbage dump, as the local landscaping bureau never agreed to provide maintenance. Near the southern city of Hangzhou, a forlorn replica of the Eiffel Tower overlooks a faux Paris—the ersatz arrondissement attracted hardly any residents, and local media have dubbed it a ghost town.
"In China, you often hear people say they're building for the future," explains Chovanec. "But if you build something and it's empty for 20 years, does that make any sense? By that point, it may already be falling apart."
Before it's here, it's on the Bloomberg Terminal.
LEARN MORE