Another Gun-Control Setback, This Time From Gang-Scarred Chicago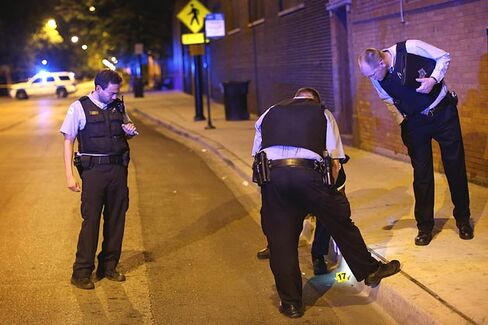 It's been a very good week for gun-rights forces in the U.S. In Chicago, the City Council on Wednesday quietly rescinded a local gun-registration system that had been in effect since 1968, just one day after Colorado voters recalled two state lawmakers who had backed tougher firearm laws in a high-profile win for the National Rifle Association.
These developments illustrate a reality that many gun foes have trouble accepting: Despite the recent massacres in Newtown, Conn., Aurora, Colo., and other locales, the firearm-rights movement isn't backing down. If anything, gun laws in many places are getting looser, not tighter. That applies even in Chicago, a city that last year made national headlines during a rash of gang-related gun violence.
Gun-control opponents celebrated their victory in Chicago, arguing that keeping track of lawful gun owners did little or nothing to combat crimes committed with illegally possessed and typically unregistered weapons. Local officials, including Mayor Rahm Emanuel, expressed frustration that the council relaxed gun oversight. In fact, the legislative body acted reluctantly and only because of legal developments emanating from the federal judiciary.
A federal appeals court in Chicago ruled last December that under recent pro-Second Amendment U.S. Supreme Court precedents, Illinois's statewide ban on carrying concealed guns in public was unconstitutional. Illinois had been the last state to forbid concealed carry. In response to the ruling, state lawmakers gave full control of gun licensing to the Illinois State Police. That, in turn, required the abolition of Chicago's gun registration and permitting rules.
One question worth pondering is whether the end of municipal registration will have any discernible effect on crime rates in Chicago. The city's homicide count exceeded 500 last year, but the mayhem has eased this year. So far, there have been 295 homicides in 2013, compared with 377 during the same period last year. As the New York Times noted, Chicago remains a more deadly town than other large cities, such as New York and Los Angeles. Notwithstanding the end of local registration in Chicago, all three cities have restrictive gun ownership regulations. It is difficult, therefore, to identify simple cause-and-effect relationships between the rules in these cities and the vicissitudes of violent crime.
Of course, one reason it's so difficult is that the criminals, by definition, don't follow the rules.
Before it's here, it's on the Bloomberg Terminal.
LEARN MORE