Hitchcock Hated Shooting Dogs, Kids, Boats: Rainer File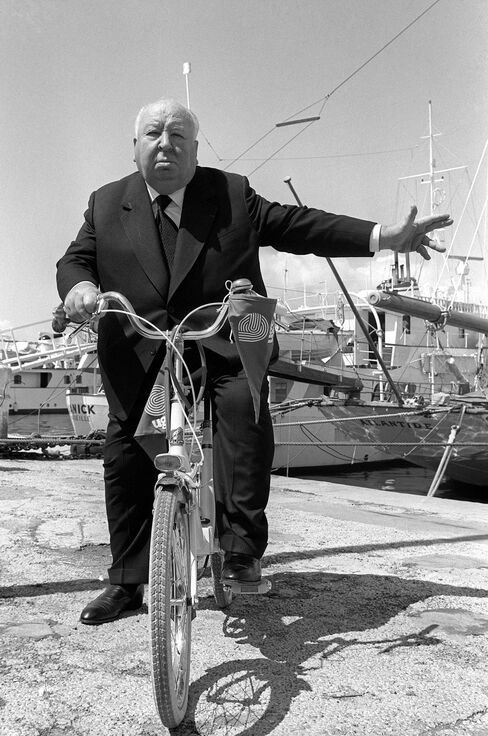 Sept. 11 (Bloomberg) -- Alfred Hitchcock didn't become Alfred Hitchcock overnight.
Starting out in the British film industry in the 1920s as a sketch artist, he became within a decade England's most celebrated director of sophisticated thrillers.
The film that got the ball rolling and the first to clearly bear his personal stamp is 1934's "The Man Who Knew Too Much," recently released on Blu-ray by Criterion Collection. (Hitchcock remade the film in 1956 to somewhat sleeker effect, starring Jimmy Stewart and Doris Day, singing "Que Sera Sera.")
Just about all the signature Hitchcock themes are present in the earlier version: A British couple on vacation in Switzerland is accidentally ensnared in an international murder plot that climaxes in the rescue of their kidnapped daughter.
The real distinction here is the emergent tone of comic murderousness. No director before him had mixed frights and humor in quite this way. Hitchcock understood that horror is scarier, and more entertaining, when it's wearing a happy face.
In "The Man Who Knew Too Much," that beaming face belongs to Peter Lorre as the story's mastermind. After almost a decade working on stage, including several productions for Bertolt Brecht, Lorre had become notorious overnight in 1931 for his great performance as the sweating, cherubic child murderer in Fritz Lang's "M."
Unhinged Villain
In the Hitchcock film he's a jumble of contradictions: uncouth, suave, gleeful, unhinged. That insinuating purr of his is a nightmarish lullaby. The director believed that a thriller was only as good as its villain. Here he has a doozy.
He explains in a 1972 interview included on the DVD that villains need to be charming because "unless they're pleasant, their victims would never go near them."
The DVD extras are especially good: a recent interview with Guillermo Del Toro ("Pan's Labyrinth") about his filmmaking idol; another interview with Hitchcock and Pia Lindstrom (a daughter of Ingrid Bergman, star of several Hitchcock films); and audio recordings from Francois Truffaut's sit-down with him in 1962 (which would become the basis of his great book on the director).
Del Toro talks about the fears in Hitchcock's heart of darkness. "He believed that only through pain will we be redeemed. Adversity was a way to cleanse. It's a very Catholic trait."
Nihilistic Vertigo
Del Toro maintains that Hitchcock's pre-Hollywood British period, which includes such later classics as "The 39 Steps" (1935) and "The Lady Vanishes" (1938), as well as such underrated gems as "Sabotage" and "Young and Innocent" (both released in 1937), are essential in understanding his artistry. The recurrent motifs -- the innocent wronged bystander, the fear of heights and of the police, the sustaining belief that "man is the best and the worst that can happen" -- all derive from this period.
He also points up the obvious influences of German Expressionism in Hitchcock's early work, typified in "The Man Who Knew Too Much" by the unforgettably garish full screen image of the giant replica of dentures that serves as the entryway to a seedy dentist's office. In the staid British film industry of the time, this expressionism was, according to Del Toro, "the equivalent of punk rock."
Talking to Lindstom, he bemoans actors who take their acting too seriously.
"The hardest thing to photograph," he says, his hands crossed on his plump belly, "are dogs, babies, motor boats and Charles Laughton." He talks about how the planning of a film was the most creative part of the job. When you actually direct the film "you wait for it to diminish."
With Truffaut, he delineates the difference between suspense and surprise. If you film a bland conversation between two people and a bomb goes off under the table, you have only 15 seconds of shock.
Let the audience in on the secret that there's a bomb under the table, he continues, and "the conversation that was so dull is now exciting and instead of 15 seconds of surprise you have fifteen minutes of suspense."
(Peter Rainer is a critic for Muse, the arts and leisure section of Bloomberg news. The opinions expressed are his own).
Muse highlights include Manuela Hoelterhoff's Fall Preview and Joseph Mysack on books.
To contact the writer of this column: Peter Rainer at Fi1L2E@aol.com
To contact the editor responsible for this subject: Manuela Hoelterhoff at mhoelterhoff@bloomberg.net