Microsoft Shouldn't Put Ford's Alan Mulally in the Driver's Seat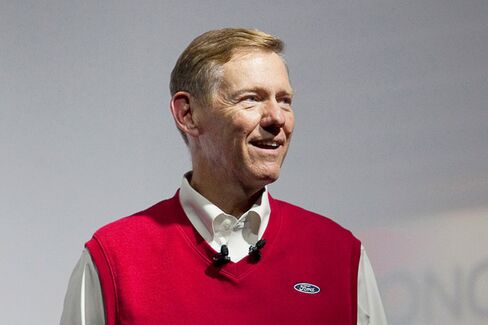 Could Ford Chief Executive Officer Alan Mulally work the same turnaround magic at Microsoft? Let's hope not. Tech folks are buzzing about the possibility that Mulally could be the man to replace Steve Ballmer when he retires later this year. Reuters says the special committee of Microsoft's board is seriously considering Mulally and Computer Sciences CEO Mike Lawrie as top candidates to succeed Steve Ballmer. If true, this would be more proof that the four men who populate the committee may be ill-equipped for the task of picking Microsoft's next leader.
Many folks know why Mulally is a terrific leader at Ford. Here's why he's unlikely to be the same at Microsoft:
1. Age: Mulally recently turned 68. Even if 68 is the new 58, that doesn't give him a lot of runway to transform Microsoft. The issue isn't so much longevity or energy—this is a man, after all, who reportedly shows up to work at 5:15 a.m. every morning and looks as fit as they come. But you don't generally start a new job like this at his age unless you've been asked back to a role you know well—like, say, A.G. Lafley at P&G.
2. Experience: While Ford and Microsoft have had their tussles with Washington, and Mulally is intimately familiar with the weather patterns of Washington State from his days at Boeing, that's about as far as it goes when it comes to common ground. Manufacturing cars and airplanes is fundamentally different from the ways of a software giant. The supply chain is different. The workforce is different. The issues are different. The market opportunities are different. The investment needs are different. Sure, Six Sigma may be as applicable to an Xbox console or Windows Phone as a Mustang or Fiesta, but not really.
3. Relationships: Mulally is apparently a true talent when it comes to interacting with customers, vendors, and partners in the auto industry. When it comes to doing the same for Microsoft, he'd have to start from scratch. That would mean getting up to speed on the issues, the players, the challenges, the nuance of a business that's being disrupted at an even faster pace than in the auto industry. Yes, he helped Ford embrace digital technology. Yes, Ford worked with Microsoft on apps and such—as other automakers have done. But that's not the same as working in the tech industry itself. Other than Elon Musk, one might ask how many Silicon Valley types are on his radar screen. (Ballmer certainly is, having written a glowing profile of Mulally in a 2009 issue of Time.)
4. Buzz: Mulally—and I mean this kindly—is the antithesis of cool. He's more Fargo than Frisco, an engineer among engineers. Part of his charm comes from the Midwestern earnestness and sweater vests that are part of his style. He loves inspiring acronyms like KISS—Keep it simple, stupid—and adores executive coach Marshall Goldsmith and the art of management. He's a geek, but probably not the right kind of geek to make Microsoft a magnet for brilliant misfits who can kickstart innovation. And tech bloggers will need a translation tool to channel his prose for their readership.
5. Desire: Why would a man who's on a somewhat lengthy victory lap at Ford want to take on this Microsoft mess? He doesn't need the money. He doesn't need the headache or the risk of failure. He could try to revive a software behemoth that's missed key trends, lost key talent, and proven itself unable to come up with ways to woo customers from cooler rivals. Then again, he could also writes books, speak at global gatherings, counsel high-level boards, and be a rock star at places like Wharton.
Before it's here, it's on the Bloomberg Terminal.
LEARN MORE