Merkel Says Europe Can't Rest on Its Renaissance Laurels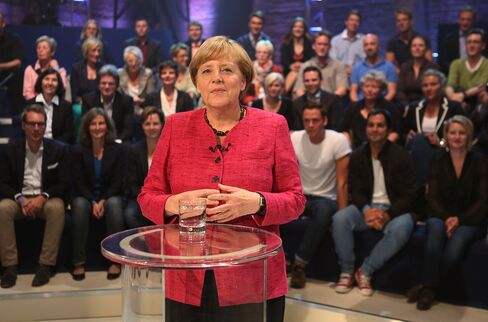 German Chancellor Angela Merkel absolved herself of blame for the euro area's north-south split during the debt crisis, saying she has Europe's best interests at heart when pressing the need to become globally competitive.
Merkel, responding to audience questions in a live ARD TV broadcast yesterday, said it wasn't enough for Europe to dwell on past glories such as the Renaissance. Countries can only progress if they modernize and stay innovative, and not by means of debt sharing, Merkel said. She invoked her upbringing behind the Berlin Wall as evidence that she wants Europe to succeed.
"It's better that we're strict with each other and I think that we're making progress here," Merkel said in the town hall-style event in Moenchengladbach. "This is my approach and you can say that I'm doing all these things because I'm really a European at heart. In the Cold War, I sat behind the Wall."
Merkel, striving to protect a poll lead over her Social Democratic challenger Peer Steinbrueck going into Sept. 22 federal elections, said that German solidarity with troubled euro nations like Greece must come in tandem with reforms. She again rejected creating shared euro bonds or a debt redemption fund as means to aid indebted single currency states.
"My concern is that we in Europe are so accustomed to being the leading group of this world that we don't even see how other countries are catching up," Merkel said. "I don't want us to be a continent in the end where one looks and travels to and says 'let's see what these Renaissance buildings look like, let's look at where the first car was built,' and everything that's modern, that's innovative, that's great and advances mankind happens elsewhere."
Sounding Alarm
Polls show the race to take the helm of Europe's biggest economy is tightening 12 days before the vote. That's prompted Merkel and her Christian Democratic bloc to sound the alarm over a possible SPD-led coalition that includes the anti-capitalist Left Party, the successor to former East Germany's communists, that wants to nationalize all big banks, ban hedge funds and raise taxes. Steinbrueck says he's not open to such an alliance.
Support for Merkel's Christian Democratic Union and its CSU Bavarian sister party declined one percentage point to 40 percent in monthly GMS poll published today, as her Free Democratic coalition partner also dropped a point to 5 percent. The Social Democrats were unchanged at 25 percent and their Green party allies dropped a point to 11 percent. The Left Party gained a point to 9 percent.
Dead Heat
While Merkel's coalition leads Steinbrueck's SPD and the Greens by 9 percentage points in the GMS poll, including the Left ties each side at 45 percent. The survey of 1,007 voters was taken Sept. 4-9. No margin of error was given.
Merkel, who is campaigning on her record of shielding Germany from the worst of the debt crisis as well as her stewardship of the Germany economy, also fielded questions on temporary employment, minimum wages, efforts to get more women into top management positions and dual citizenship.
On Syria, she backed Russia's proposal to place chemical weapons under international control, while reiterating her determination that Germany will not take part in any military engagement in Syria.
Steinbrueck will face the same ARD town hall format tomorrow evening. The Social Democratic candidate, who is Merkel's first-term finance minister, says the chancellor has failed to address a growing divide between rich and poor in Germany and has bungled the energy transition to renewables from nuclear power. He advocates a form of "Marshall Plan" for Europe to create jobs and bolster economic growth, to be funded with the proceeds of a planned financial transaction tax, as well as a debt redemption fund.
Merkel is due to address a rally today in the town of Rust, in Baden-Wuerttemberg region. Steinbrueck is also campaigning in the southwestern state, where he is scheduled to hold a rally in the cathedral city of Ulm at 5 p.m. local time.