Disney Infinity Debut Equals Skylanders Giants, Analyst Says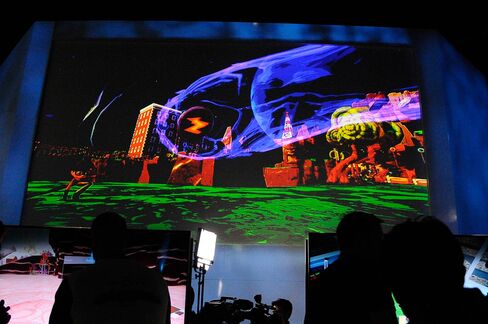 Walt Disney Co. sold an estimated $30 million of its Infinity game system in the two weeks after the product's Aug. 18 debut, ranking among the top sellers, according to Michael J. Olson, a Piper Jaffray & Co. analyst.
Shoppers bought 400,000 units, Olson said in a research note published today. First-week spending matched the debut of Activision Blizzard Inc.'s Skylanders Giants game, Olson said in an earlier note. That title was the top 2012 holiday children's game, according to Activision.
"Sales have been excellent, beyond our expectations," said Richard Barry, chief merchandising officer at Toys "R" Us Inc., based in Wayne, New Jersey. "Kids are really engaging in the brand. They are not only buying the software, but they are really engaging in the characters and the power discs."
Infinity represents Disney's biggest bet in video games, drawing on characters like Captain Jack Sparrow from its library of film hits. The company is counting on the product and follow-on sales to turn a profit at its interactive division, which lost $103 million through nine months of the current fiscal year. First-week purchases totaled 379,000, Olson said.
Like Skylanders, Infinity integrates collectible figures with on-screen video-game play. Kids use the figures to create and play with characters using game consoles.
"Disney Infinity is having meaningful success at retail," Olson wrote in the earlier note. Clerks said the game is "selling very well" in 17 of 20 stores checked, he said.
Disney, the world's largest entertainment company, rose 0.3 percent to $61.59 at the close in New York. Shares of the Burbank, California-based company are up 24 percent this year.
The Infinity product, including a base unit and three collectible characters, retails for $75. Additional toys and discs, providing more characters and features, sell for $5 to $13.