De Blasio Has 14-Point Lead Over NYC Mayor Rival in Poll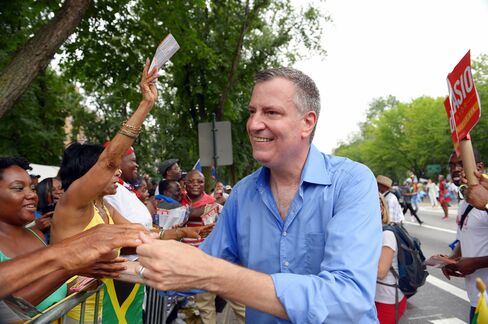 New York mayoral candidate Bill de Blasio has support from 39 percent of likely Democratic voters, just shy of the 40 percent he needs in tomorrow's election to avoid a runoff with his closest competitor, according to a Quinnipiac University poll.
De Blasio, 52, elected four years ago to the citywide watchdog office of public advocate, retains the lead among seven candidates. Former city Comptroller William Thompson has 25 percent and City Council Speaker Christine Quinn has 18 percent. About 8 percent were undecided, and 18 percent said they may change their minds, according to the poll released today, which has a margin of error of 3.5 percentage points.
"There are no undecided voters on Election Day," said Maurice Carroll, director of the Hamden, Connecticut-based Quinnipiac University Polling Institute. "If de Blasio picks up just a few of those undecided voters, he's over the top."
Thompson appeared to gain support in the last few days of polling, Carroll said. A Sept. 3 Quinnipiac poll gave de Blasio 43 percent -- enough to put him above the 40 percent threshold to avoid an Oct. 1 runoff between winner and runner-up. In the poll taken a week ago, Thompson had 20 percent and Quinn, 18 percent.
Of the other Democratic candidates, former U.S. Representative Anthony Weiner has support from 6 percent; city Comptroller John Liu, 4 percent; Sal Albanese, 1 percent.
Stringer Gains
In the race for city comptroller, which appeared too close to call last week, former Governor Eliot Spitzer appeared to have lost support. Manhattan Borough President Scott Stringer had 50 percent of likely Democratic primary voters and Spitzer 43 percent. Another 7 percent remained undecided, and 13 percent said there's a "good chance" they may change their mind by tomorrow.
The comptroller is the city's chief financial officer, auditing agencies and programs, overseeing $140 billion in pension assets and monitoring New York's $70 billion budget.
Democrats outnumber Republicans in the most populous U.S. city by more than 6-to-1. City Hall for the past 20 years has been run by Republican former Mayor Rudolph Giuliani and Mayor Michael Bloomberg, who ran in 2001 and 2005 as a Republican and in 2009 as an independent also on the Republican ballot line.
Bloomberg, 71, founder and majority owner of Bloomberg News parent Bloomberg LP, is barred by law from seeking a fourth term.
Consistent Lead
De Blasio's lead in the Quinnipiac poll was consistent with a NBC 4 New York-Wall Street Journal-Marist survey released yesterday in which likely Democratic voters gave him 36 percent, with Quinn and Thompson tied at 20 percent.
De Blasio, a former city council member from Brooklyn, has proposed increasing the municipal tax on income above $500,000 to raise $532 million to pay for all-day pre-kindergarten and after-school activities for adolescents. The measure would have to be approved by the state legislature.
De Blasio, who is white, has also highlighted his opposition to police stop-and-frisk tactics, which affect mostly young black and Latino men. His wife, Chirlane McCray, who is black, is a frequent companion at campaign events. In a television commercial, their 15-year-old son, Dante, sporting a large Afro, praises his father as the candidate most likely to rein in stop-and-frisk.
De Blasio has also criticized Quinn, 47, for her role in 2009 backing a law that permitted Bloomberg and council members to run for a third term, abrogating two previous votes by referendum that limited local officials to two terms.
"His campaign is being fueled by Democratic voters' dislike of extending term limits, the policy of stop and frisk, and of course, the Dante effect," said Lee M. Miringoff, director of The Marist College Institute for Public Opinion.
Among black people, de Blasio outpolled Thompson, the only African-American candidate, and among women, de Blasio beat Quinn, the only woman in the race, in both the Marist and Quinnipiac polls.
The Quinnipiac survey was based on 782 telephone interviews Sept. 6 to Sept. 8.
Before it's here, it's on the Bloomberg Terminal.
LEARN MORE