Consumer Credit in U.S. Increased Less Than Forecast in July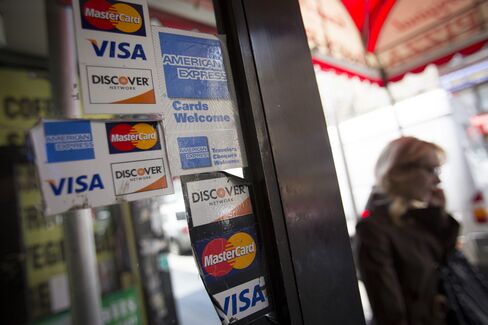 Consumer borrowing in the U.S. rose less than forecast in July as credit-card use fell for a second month even as Americans took out more loans for car purchases.
The $10.4 billion increase in credit followed a revised $11.9 billion advance in June that was less than initially reported, the Federal Reserve reported today in Washington. The median forecast in a Bloomberg survey called for a $12.7 billion gain in July. Non-revolving financing, including auto and school loans, rose.
Gains in home prices and stock values have helped boost household wealth, giving some consumers the confidence to borrow for big-ticket purchases such as automobiles. At the same time, limited employment and wage growth may prompt Americans to cut back on their use of credit cards.
"There's a continued solid pace of auto sales driving consumer credit expansion," Guy LeBas, chief fixed-income strategist at Janney Montgomery Scott LLC in Philadelphia, said before the report. "Card borrowing is, at best, stagnant."
Estimates of the 27 economists surveyed ranged from increases of $9 billion to $18 billion after a previously reported $13.8 billion gain a month earlier. The report doesn't track mortgages, home-equity lines of credit and other debt secured by real estate.
Revolving credit, which includes credit-card spending, fell $1.8 billion after a $3.7 billion drop a month earlier, marking the first back-to-back decrease in a year.
Non-revolving debt, which includes loans for college tuition and car purchases, increased $12.3 billion after a $15.6 billion gain in June.
School Lending
Federal government lending to consumers, comprised mainly of student loans, rose by $2.5 billion before adjusting for seasonal variations.
Demand for vehicles is a source of strength for the economy, helping drive gains in non-revolving credit. Cars and light trucks sold last month at 16 million annualized rate, the fastest since November 2007, according to Ward's Automotive Group. Sales at General Motors Co., Ford Motor Co., Toyota Motor Corp. and Honda Motor Co. exceeded analysts' estimates.
"The housing sector recovery is healthy and broad-based now across the country," Ellen Hughes-Cromwick, chief economist at Ford, said on an Aug. 1 sales call. "Manufacturing orders and shipments are now expanding at a faster rate. This bodes well for second-half improvements in the economy."
A recovery in the housing market, combined with stock-market gains, is allowing Americans to repair balance sheets and providing a boost to consumer spending, which accounts for 70 percent of the economy.
Credit Availability
At the same time, many people still don't have access to credit or affordable banking services, said Dan Schulman, group president of enterprise growth at American Express Co. in New York. The credit company is exploring ways to reach those consumers.
"The bottom line is this: The current financial system is failing to meet the needs of millions upon millions of people," Schulman said on an Aug. 8 call with analysts. "Forty-five percent of middle-class households earning between $50,000 and $150,000 per year spend all or more of their monthly earnings each month. Many don't have access to credit. Others simply don't have a bank branch in their neighborhood."
Before it's here, it's on the Bloomberg Terminal.
LEARN MORE