Tokyo Gains Rights to Host 2020 Olympics Over Madrid, Istanbul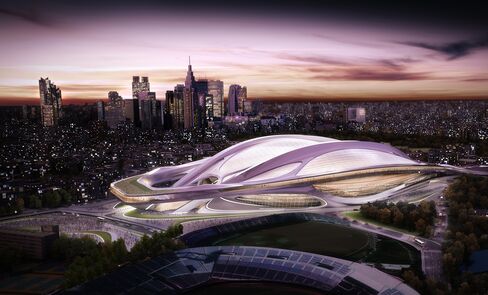 Sept. 8 (Bloomberg) -- Tokyo won the right to host the 2020 Olympics, defeating Madrid and Istanbul by overcoming apathy by the Japanese public and a recent nuclear accident to get the Summer Games for the second time.
The Japanese capital was the bookmakers' favorite leading into this weekend's meeting of International Olympic Committee members in Buenos Aires, and won yesterday's final IOC vote 60 to 36 over Istanbul. Madrid was eliminated in the first round of voting after tying for second place with the Turkish city.
The winning bid to stage sports' biggest event came on the Tokyo's second straight attempt. While a lack of public enthusiasm doomed its bid for the 2016 Olympics, a March survey found 70 percent of Tokyo residents were in support this time. The government also billed the Olympics as a way to help Japan recover from a 2011 earthquake, tsunami and nuclear disaster.
"Tokyo is eager to begin to put in place our plans," said Tsunekazu Takeda, head of the city's bid. "We take on this immense responsibility both humbly and seriously, and will work hard over the next seven years to organize and host what is sure to be the world's greatest event."
Parliament passed two motions in favor of the Tokyo bid and Prime Minister Shinzo Abe broke into song during a March presentation to the IOC's evaluation panel in which he said hosting the event was a long-held dream. Abe was joined on stage for today's final presentation by Princess Takamado, the first member of the Japanese Imperial family to address the IOC.
Financial Stability
"I am so happy, I am overjoyed," Abe said at a press conference. "I would like to share this joy with Japanese people back home. In the whole world, people supported Tokyo."
The Japanese capital, now festooned with the bid's cherry-blossom logo, has emphasized merits such as financial stability, safety, cleanliness and convenience. Tokyo has put aside 408.8 billion yen ($4.1 billion) for building and upgrading facilities. Tokyo's flagship project is the futuristic 80,000-seat National Stadium designed by London-based Pritzker Prize-winner Zaha Hadid, which will be built on the site of the 1964 Tokyo Games, an event seen as re-launching Japan on the world stage after World War II.
"Tokyo presented a very strong technical bid from the outset," IOC President Jacques Rogge, whose 12-year term in office comes to an end on Sept. 10, said in a statement. "All three cities were capable of staging excellent games in 2020, but in the end it was Tokyo's bid that resonated the most with the IOC membership."
Asian Games
The 2008 Games in Beijing were the most recent Summer Olympics held in Asia. Japan hosted the 1998 Winter Olympics in Nagano and the 1972 Winter Olympics in Sapporo. The 2018 Winter Games will be held in South Korea.
The IOC will vote today on the sports that will be held at the 2020 Games, with the possibility that wrestling, a long-time event, will be replaced by squash or a joint bid by baseball and softball. Rogge is retiring as president, and six candidates are vying to replace him, including Ng Ser Miang of Singapore, C.K. Wu of Taiwan and Thomas Bach of Germany, the favorite according to SI.com.
Before yesterday's host-city vote, the bids of Madrid, Tokyo and Istanbul all faced questions. Spain's unemployment rate hovers above 25 percent, while Istanbul had to deal with anti-government street riots and the suspension of 31 athletes for doping.
Nuclear Disaster
Tokyo's biggest issue was pollution from the Fukushima nuclear plant, which was severely damaged by an earthquake and tsunami two years ago. More than 300 tons of contaminated water has leaked from the site, and Abe was asked by IOC member Gerhard Heiberg after the final presentation to clarify the country's response. The prime minister said he'd take "drastic resolutions" to stop the leaks. The government announced plans this month to spend more than $470 million to tackle the problem.
The leaders of Spain and Japan, who like Abe flew directly to Buenos Aires from the G-20 summit in St. Petersburg, also made speeches yesterday. Turkey's prime minister, Recep Tayyip Erdogan, promoted a message of peace, while Spain's Mariano Rajoy said his country's economy was improving and could host the 2020 Games "without any risk to the Olympic movement whatsoever."
The most recent games, in London last year, provided a 9.9 billion-pound ($15 billion) boost to business from Olympic-related activities, according to estimates in a July 19 report by U.K. Trade & Investment, the government's trade-promotion agency.
The next summer Olympics in Rio are scheduled for Aug. 5-21, 2016.
To contact the reporter on this story: Tariq Panja in Rio de Janeiro at tpanja@bloomberg.net
To contact the editor responsible for this story: Christopher Elser at celser@bloomberg.net