Employers in U.S. Probably Expanded Payrolls at Faster Pace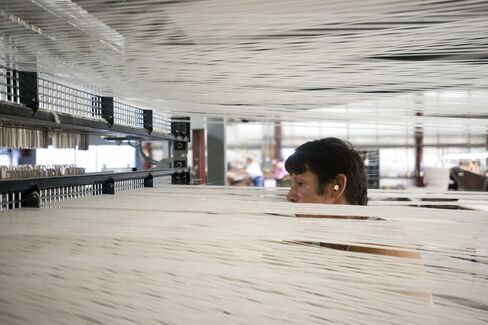 Sept. 6 (Bloomberg) -- Employers probably picked up the pace of hiring in August and the U.S. jobless rate held at a more than four-year low, signaling a strengthening labor market that will help sustain growth, economists said before a report today.
Payrolls rose by 180,000 following a 162,000 gain the prior month, according to the median forecast of 94 economists in a Bloomberg survey. Unemployment stayed at 7.4 percent, matching the lowest since December 2008, they projected.
Hiring at companies such as Ford Motor Co. and AT&T Inc. is underpinning consumer spending, the biggest part of the economy, and promoting faster growth as the effects of higher taxes and federal budget cuts fade. Federal Reserve officials, who meet Sept. 17-18, are debating whether the expansion and job market have improved enough to warrant trimming monthly bond purchases.
"The labor market continues to make fairly steady progress," said Ward McCarthy, chief financial economist at Jefferies LLC in New York and a former economist at the Federal Reserve Bank of Richmond. "We still need to do more. The unemployment rate remains elevated. It's probably a close call here on tapering" of the $85 billion in Fed purchases each month of mortgage-backed securities and Treasuries.
The Labor Department's report is due at 8:30 a.m. in Washington. Bloomberg survey estimates for payrolls range from increases of 79,000 to 220,000.
Private employment, which excludes government agencies, also climbed 180,000 in August following a 161,000 advance the prior month, economists predicted.
Stocks Rise
Stocks rose yesterday, with benchmark indexes staging their longest rally since July. The Standard & Poor's 500 Index increased 0.1 percent to 1,655.08 at the close in New York. Stock-index futures were little changed today before the jobs data, with the contract on the S&P 500 expiring this month up less than 0.1 percent at 6:53 a.m. in New York.
The unemployment rate, derived from a Labor Department survey of households rather than employers, has declined from a post-recession high of 10 percent reached in October 2009.
Overall payroll gains so far this year have averaged about 192,000 a month, up from 180,000 in the second half of 2012. Through July, the U.S. had recovered 6.7 million of the 8.8 million jobs lost as a result of the 18-month recession that ended in June 2009.
This is the last payrolls report Fed officials will see before their upcoming meeting. Policy makers will probably decide to scale back the pace of bond purchases when they next meet, according to 65 percent of economists surveyed by Bloomberg Aug. 9-13.
Fed's Bernanke
Fed policy makers were "broadly comfortable" with Chairman Ben S. Bernanke's plan to start reducing the purchases if the economy improves, minutes of their July meeting showed.
Central bankers had affirmed a pledge on July 31 to continue bond buying until they see signs "the outlook for the labor market has improved substantially." The Fed has also committed to hold the main interest rate near zero as long as the jobless rate is above 6.5 percent and the outlook for inflation doesn't exceed 2.5 percent.
Job gains and rising home values have shored up Americans' finances, propelling big-ticket purchases such as automobiles. Cars and light trucks sold in August at the fastest annualized rate since 2007, according to Ward's Automotive Group. Sales at General Motors Co., Ford, Toyota Motor Corp. and Honda Motor Co. all exceeded analysts' estimates.
Dearborn, Michigan-based Ford, the second-largest U.S. automaker, this week reported it will boost fourth-quarter production by 7 percent. The company said August that an additional shift of 1,400 new workers at a factory in Flat Rock, Michigan, will help increase its Fusion sedan capacity.
AT&T Hiring
Other businesses adding workers include AT&T, the largest U.S. phone company, which is looking to fill "hundreds" of positions in the San Francisco Bay area, the company said in an Aug. 29 statement.
The payrolls report may also show employment at factories grew by 5,000 in August after a 6,000 gain in July, according to the Bloomberg survey.
The Institute for Supply Management's factory index showed manufacturing expanded in August at the fastest pace since June 2011. The group's gauge of service industries, which cover almost 90 percent of the economy, posted the highest reading since December 2005, according to data compiled by Bloomberg.
Some companies contending with limited growth in overseas markets are trimming their workforce. San Jose, California-based Cisco Systems Inc., the biggest maker of networking equipment, on Aug. 14 said it is cutting 4,000 jobs, or 5 percent of its workforce, as weaker sales in Japan, China and Europe weigh on revenue growth.
                       Bloomberg Survey

================================================================
                           Nonfarm  Private     Manu Unemploy
                          Payrolls Payrolls Payrolls     Rate
                            ,000's   ,000's   ,000's        %
================================================================

Date of Release              09/06    09/06    09/06    09/06
Observation Period            Aug.     Aug.     Aug.     Aug.
----------------------------------------------------------------
Median                         180      180        5     7.4%
Average                        179      180        5     7.4%
High Forecast                  220      230       10     7.5%
Low Forecast                    79       95       -5     7.3%
Number of Participants          94       50       26       86
Previous                       162      161        6     7.4%
----------------------------------------------------------------
4CAST                          180      185     ---      ---
ABN Amro                       200      180     ---      7.4%
Action Economics               170      180       -5     7.4%
Ameriprise Financial           170      170        5     7.4%
Banca Aletti                   210      212       10     7.4%
Bank of the West               180     ---         5     7.4%
Bank of Tokyo-Mitsubishi       190     ---      ---      7.4%
Banorte-IXE                    180     ---      ---      7.4%
Bantleon Bank AG               200     ---      ---      7.4%
Barclays                       175      185     ---      7.4%
Bayerische Landesbank          184     ---      ---      7.4%
BBVA                           178      173        4     7.4%
BMO Capital Markets            180     ---      ---      7.4%
BNP Paribas                    170     ---      ---      7.5%
BofA Merrill Lynch             165      170     ---      7.4%
Capital Economics              200     ---      ---      7.4%
CIBC World Markets             165     ---      ---      7.4%
Citi                           160      160        0     7.4%
ClearView Economics            180      185        5     7.4%
CohnReznick                    200      190     ---      ---
Comerica                       180     ---      ---      7.4%
Commerzbank AG                 175      170     ---      7.4%
Credit Agricole CIB            160     ---      ---      7.4%
Credit Suisse                  190      180     ---      7.3%
CTI Capital                    190     ---      ---      ---
Daiwa Securities America       190     ---      ---      ---
Danske Bank A/S                200      210     ---      7.4%
DekaBank                       190     ---      ---      7.4%
Desjardins Group               210     ---      ---      7.4%
Deutsche Bank Securities       190      190     ---      7.3%
Deutsche Postbank AG           180     ---      ---      7.4%
DZ Bank                        180     ---      ---      7.3%
First Trust Advisors           148      151        5     7.4%
FTN Financial                  170      167     ---      7.4%
Goldman, Sachs & Co.           200     ---      ---      7.4%
Hammer Partners                175     ---      ---      7.4%
Helaba                         200     ---      ---      7.4%
High Frequency Economics       150     ---      ---      7.3%
HSBC Markets                   163      165        6     7.4%
Hugh Johnson Advisors          216      209       10     7.4%
IDEAglobal                     185      190        5     7.4%
IHS Global Insight             170     ---      ---      7.5%
Informa Global Markets         190     ---        10     7.4%
ING Financial Markets          195      200       10     7.3%
Intesa Sanpaolo                180     ---      ---      7.4%
J.P. Morgan Chase              175      180        5     7.4%
Janney Montgomery Scott        175      180        3     7.4%
Jefferies                      185      180        5     7.3%
Landesbank Berlin              180     ---      ---      7.4%
Landesbank BW                  200     ---      ---      7.3%
LinkUp                         180     ---      ---      ---
Lloyds Tsb Bank                185      187        5     7.4%
Maria Fiorini Ramirez          170      165     ---      ---
Market Securities              183     ---      ---      7.4%
MET Capital Advisors           175     ---      ---      7.4%
Mizuho Securities              175     ---      ---      7.4%
Modal Asset                    192      200     ---      ---
Moody's Analytics              185      175        5     7.5%
Morgan Stanley                 190      195        6     7.4%
National Bank Financial        175     ---      ---      7.5%
Natixis                        180     ---      ---      7.3%
Nomura Securities              160      160        0     7.4%
Nord/LB                        170      170        5     7.4%
OSK Group/DMG                  174     ---      ---      7.4%
Oxford Economics              ---      ---      ---      7.4%
Pantheon Macroeconomics        200     ---      ---      7.4%
Paragon Research               142     ---      ---      7.4%
Pierpont Securities            160      170     ---      7.4%
PineBridge Investments         175     ---      ---      7.5%
PNC Bank                       180      150        5     7.4%
Prestige Economics             155     ---      ---      7.4%
Raiffeisenbank International   195      195     ---      7.3%
Raymond James                  175      180     ---      7.4%
RBC Capital Markets            185      190     ---      7.4%
RBS Securities                 165      170     ---      7.4%
Regions Financial              204      181        4     7.4%
Renaissance Macro Research     190      195     ---      7.5%
Santander                      190      190     ---      7.4%
Scotiabank                     185     ---      ---      7.4%
SMBC Nikko Securities          200      230     ---      7.3%
Societe Generale               220      210     ---      7.3%
Southbay Research              138      140     ---      ---
Southern Polytechnic State     100       95     ---      7.4%
Standard Chartered Bank        200      215     ---      7.4%
Sterne Agee & Leach            150     ---      ---      7.4%
Stone McCarthy                 200      185        5     7.4%
TD Securities                  165      175        5     7.3%
TrimTabs                        79     ---      ---      ---
UBS                            210      170     ---      7.4%
UniCredit Research             190     ---      ---      7.5%
Union Investment               180     ---      ---      7.5%
University of Maryland         157      166        0     7.5%
Wells Fargo & Co.              205     ---      ---      7.4%
Westpac Banking Co.            150     ---      ---      7.5%
Wrightson ICAP                 160      165     ---      7.4%
================================================================

To contact the reporter on this story: Shobhana Chandra in Washington at schandra1@bloomberg.net
To contact the editor responsible for this story: Christopher Wellisz in Washington at cwellisz@bloomberg.net