Wal-Mart's Charm Offensive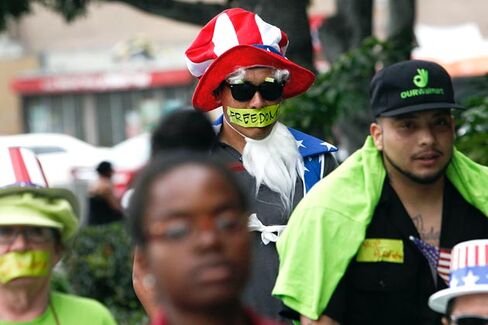 On Sept. 5, members of OUR Walmart, the group of workers asking the world's biggest retailer for more pay, more hours, and more respect, organized a nationwide day of protests. On Sept. 4, Kory Lundberg, one of Wal-Mart's spokespeople, sent around an e-mail alerting journalists that Herman Cain (Herman Cain!) had been on Fox News explaining "what's really going on with this week's union orchestrated demonstrations."
Wal-Mart Stores has long maintained that the small group doesn't represent the views of its 1.3 million workers. And for the record, OUR Walmart is backed by a union and advised by a crack team of media experts at BerlinRosen Public Affairs. The note from Lundberg is the latest in the company's efforts to present itself as a place of unfettered opportunity.
Cain, who you might remember was once head of the National Restaurant Association, gushed to Neil Cavuto about how Wal-Mart's chief operating officer, Gisel Ruiz, was able to move up the ranks: "Their COO started out as an hourly worker over 20 years ago." (Actually Ruiz started out as a store management trainee, according to the company's website.) Cain added: "If you're willing to put in the work and show discipline and learn, you can advance yourself in a company like Walmart or any restaurant company." Fast-food workers have been asking for higher pay, too, of course.
David Tovar, the vice president for communications at Wal-Mart, sent an e-mail on Aug. 28 with the subject line: Swimming upstream. "Friend," it began, "I just got back from Walmart's annual Holiday meeting in Orlando and you're not going to believe some of the things we're doing this year." Tovar then mentioned that during the meeting five associates were promoted on stage. He went on: "As I was reading the August issue of Walmart World, I discovered four more associates who are inspirational, and, as we say at Walmart, swimming upstream." This was the first such e-mail I've received from Tovar. When I asked if I could expect more, he declined to comment.
For those who aren't on Wal-Mart's mailing list, the company has been running a national ad campaign called "The Real Walmart." It reminds people how good the company is for customers, workers, and the country. "We have wanted to do this for a long time because we know that people trust Walmart even more when they understand the opportunities we provide our associates, who the customers are that shop with us, and how we deliver low prices," said Bill Simon, president and chief executive officer of Walmart U.S., when the campaign began in May.
Meanwhile, on Sept. 5, protesters said they'd be gathering in 15 cities; some planned to march to the home of Marissa Mayer, the Yahoo! chief executive and Walmart board member. According to the press release, they'll be there at 5:45 Pacific time.
Before it's here, it's on the Bloomberg Terminal.
LEARN MORE