The Philippines' Tax Sheriff Gets Tough
Kim Henares is attacking decades of corruption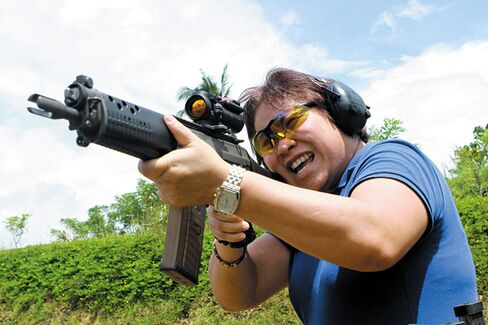 When Kim Henares took over the Bureau of Internal Revenue in the Philippines three years ago, she began looking for tax dodgers by poring over the society pages of newspapers and magazines. She says that as a result, she sent federal prosecutors complaints against two television actresses, a doctor, and a Lamborghini-driving pawnshop owner. "If you're ready to flaunt it, then you must have paid taxes on it," Henares says.
Her take-no-prisoners approach is part of President Benigno Aquino III's crusade to erase a Philippine legacy of graft. Not paying taxes is one of the nation's most common forms of corruption; the government estimates that $10 billion, or 4 percent of gross domestic product, goes unpaid every year. Henares says it's her job to claw back as much of that as she can, and "if people don't like me, that's fine."
Her agency alleged in 2011 that former President Gloria Arroyo's son Juan Miguel had evaded taxes. His mother, a friend of Henares's in-laws, had played a prominent role at her 2001 wedding. The case is continuing. Ruy Rondain, Juan Miguel Arroyo's lawyer, says his client believes the charges are politically motivated. "There's no case, so they made one up," Rondain says. Last year, Henares's agency asked prosecutors to file charges against former world boxing champion Manny Pacquiao, who's now a federal legislator, for allegedly failing to submit documents proving that he paid the correct amount of taxes in 2010. A city prosecutor declined the agency's request to file charges. Pacquaio told the Associated Press the complaint against him was "plain and simple harassment."
Henares has ordered companies selling peso bonds to withhold tax on interest income from buyers. She is seeking taxes from gaming companies even though their licenses have allowed exemptions in the past. After federal and local elections in May, Henares reminded politicians to pay taxes on campaign contributions. Overall, she's sent prosecutors 184 complaints of tax evasion since 2010. Collections jumped 14.5 percent last year from 2011.
"She's the first commissioner of the bureau who dared to not be popular, who dared to rock the boat to pursue what is right," says Emmanuel Bonoan, chief operating officer at KPMG's local partner in Manila and a former under secretary in the Department of Finance. "A lot of people liked it before, when there was a lot of ambiguity."
The daughter of a luxury watch distributor, Henares helped keep the company's books from the age of 12. She wanted to join the military, but her mother persuaded her to pursue law instead. After obtaining a master's of law from Georgetown University, Henares became a tax and corporate lawyer in her home country. She did a stint in government as deputy tax commissioner under former President Arroyo and later worked for the World Bank.
Henares says she's an introvert who hates socializing and public speaking. One way she's tried getting her message across: appearing in TV ad campaigns during tax season in a T-shirt that reads, "I love the Philippines. I pay taxes." Because shootings are common in the Philippines and Henares knows her approach isn't popular, she asked Aquino, who's a crack shot, to teach her to shoot. They practice together at a firing range almost every week. Henares, who often carries a semiautomatic pistol, says she doesn't want to be a liability to her four bodyguards.
Christian de Guzman, an analyst at Moody's in Singapore, says Henares has done a "commendable job" collecting taxes. That doesn't mean there isn't more to do, he adds. Revenue "as measured against GDP continues to be low as compared to countries with similar sovereign ratings."
Henares's efforts have helped burnish the Philippine government's reputation inside and outside the country. "Three years ago, the BIR would be at the top of your mind when someone asks what you think is the most corrupt government agency," notes Felipe Gozon, who runs the country's second-biggest media company and was one of the top taxpayers in 2011. The Philippines was ranked 134th out of 178 nations and territories in Transparency International's 2010 corruption perceptions index. Its rank improved to 105th out of 176 last year.
Henares doesn't discount the official statistics as a sign of progress. But for proof that her crackdown is haunting the country's moneyed elite, she points to a more informal source. Henares says her mother hears from acquaintances that it now can cost 60 percent more than in the past to bribe an official for help dodging taxes.
Before it's here, it's on the Bloomberg Terminal.
LEARN MORE