Money Man Feeds Burning Man. Oy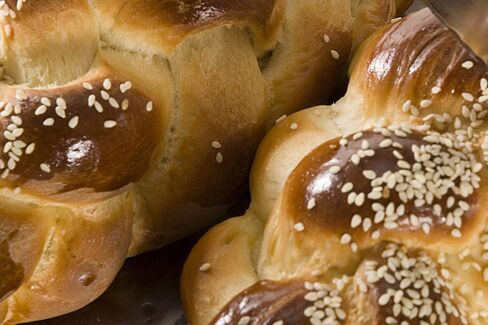 "We're airlifting in the challah again," said Steven Gluckstern, as he stood chatting recently with a few people. "Enough for 2,500 people," he added casually, taking a sip of his cocktail.

A siege on the Upper West Side?
Burning Man , actually. It was to be the fifth year at the festival in the Nevada desert for Gluckstern, a venture capitalist and chairman of Mortgage Resolution Partners , and his wife, Judy. Every August, about 40,000 people pay $380 to attend the weeklong celebration of countercultural art, music, sexuality and lifestyles. The festival operates on a barter system, and each camp is expected to offer entertainment, food or some other service. The Glucksterns' camp, now numbering a little more than 90 people, offers French toast. Chence the challah.
Reached for further comment a few days later at his house in San Francisco, Gluckstern, 62, explains how he came to be an impassioned ringmaster for what the Burning Man crowd calls French Toast Thursdays. From 10 a.m. to 2 p.m., the line to the Glucksterns' tent is long enough that it can be seen from space. Last year, a satellite photograph of the festival showed a thousand people lined up for breakfast.

The couple's involvement began four and a half years ago, when they were invited by their daughter to take part in her honeymoon, which was held at Burning Man. "We rolled in that first year with a camp of about 20 people," says Gluckstern. "We decided we would purchase a simple set of things to make a misting tent, which wasn't very successful."
As he wandered the festival, Gluckstern noticed lots of camps serving pancakes. The old analytic skills kicked in. "That was too easy," he recalls. "It's a mix, and you add water." Sensing an opportunity, Gluckstern decided to raise the stakes. "It would be much more of a challenge to do French toast," he says. "You need fresh milk, fresh half and half, fresh eggs... "
A challenge it was. "The first thing is you have to find 100 loaves of challah," he says. "We have to commission to have them made from a place in Berkeley. One of our colleagues has his own small private plane, so we organized a challah airlift."
Then, as they say, if you want to feed a hipster, you have to pre-break a few eggs. "Two thousand pieces of French toast is around 1,000 eggs," Gluckstern says. "How are you going to bring in 1,000 eggs without breaking them?" He spoke to a friend in the catering business, who recommended that he buy the eggs pre-broken, and managed to find a dairy in Reno that would sell him 72 quarts of pre- broken eggs and 32 quarts of half and half.
"Then we also figured, 'Well, hey. We'd better use real maple syrup, too," says Gluckstern. "So we had our airlift pilot track down five-gallon buckets of grade A maple syrup." Other ingredients, like cinnamon and butter, don't need to be purchased on such a massive scale.
Still, you don't get to be Steve Gluckstern by making lazy inferences. The success of the tent, he believes, is only partly to do with the quality of the ingredients.
"The reason everyone says this is the best French toast they ever had is that for most of the people who've come in, they've generally eaten no dairy and no sugar by the end of the week. Their bodies just condition themselves to granola," he says. "Then all of a sudden you've got a piece of French toast and it's hot and it's full of butter and eggs and your body releases endorphins. People literally become ecstatic."
Gluckstern estimates the cost of the ingredients to be about $500, not including the fuel for the burners or the grills or -- something IHOP doesn't have to factor in -- flying a plane into the middle of the desert.
This year, the Glucksterns served 2,500 pieces of French toast. Will the guy rest? Ha.
"Now we're making a separate foray into the world of ice cream. We're building a vehicle ... one of my responsibilities is the electrical system on it," Gluckstern says, with the relish one might take in plotting a bond trade. "Last year we went out into the desert with ice cream sandwiches. They were incredibly successful but they ran out quickly. What we needed to do was have a much larger system, so we essentially built a covered wagon with freezers built in."
So he likes the challenge, yes. And he likes the change of scene.
"We have five doctors in our camp, four of whom are ER doctors and the other's a psychiatrist," Gluckstern says. "As a coincidence, they all happen to be extremely handsome young gay men. Hanging out with these people is not what a 60-year-old businessman gets to do every day."
James Tarmy reports on arts and culture for Bloomberg Muse , the arts and leisure section of Bloomberg News.