Introducing Owlet, a Jawbone for Infants
A new wearable health tracker allows parents to monitor their baby's oxygen levels, skin temperature, sleep quality, and sleep position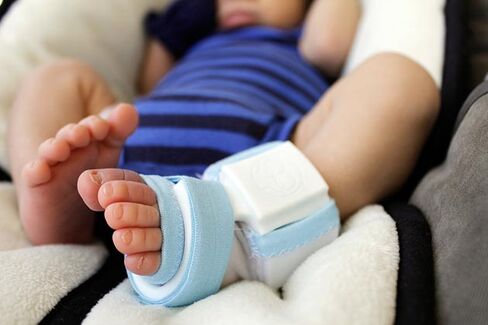 With wearable health trackers all the rage, people are monitoring everything from the quality of their sleep to the factors that make for a swift recovery from surgery. Soon parents will also be able to track the well-being of their infants.
Salt Lake City startup Owlet Baby Care, founded by five Brigham Young University students and recent grads, claims to have created the world's first baby "smart sock." The bootie transmits a child's heart rate, oxygen levels, skin temperature, sleep quality, and sleep position to a parent's smartphone or other Internet-connected device. So far the startup has raised more than $63,000 toward its $100,000 goal and aims to make its baby tracker available this November.
The one-size-fits-all Owlet bootie is recommended for ages 0-12 months and adjusts to fit a baby's foot, which normally triples in size during the first year. The sock is packed with multiple sensors that collect data, which are then transmitted to parents' smartphones via Bluetooth.
As of yet, Owlet does not include video or sound monitoring options, but it does send alerts if, for example, "the baby rolls onto his/her stomach which is the most unsafe sleeping position," writes co-founder Jordan Monroe in an e-mail. Owlet also alerts parents whenever the device picks up on significant deviations from an infant's baseline statistics—for instance, when the baby is getting 10 percent less oxygen than normal or suffering a 30 percent loss in quality sleep.
By closely monitoring infant oxygen levels and rollover rates, the tracker, Owlet's founders say, could help eliminate Sudden Infant Death Syndrome (SIDS), which mysteriously kills roughly 2,000 young children in the U.S. each year. Eventually, the company hopes to use the big data it collects to help researchers discover causes and predictive models for other infant ailments. "Every parent knows what it's like to [lie] in bed and stress about whether your child is breathing," says Jacob Colvin, Owlet's founder and a father of two, in the press release. "If we can help one parent or one child, all our effort would be worth it."
These are certainly noble goals and, considering that two companies recently raised money to build Whistle and FitBark, two "pawesome" activity trackers for dogs, it's only right that there's finally a health tracker for infants.
Before it's here, it's on the Bloomberg Terminal.
LEARN MORE