Construction Outsourcing: A Philippine Builder Delivers
Construction companies discover the benefits of outsourcing parts of massive projects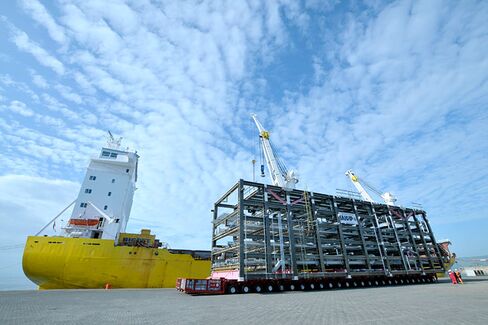 At the Atlantic, Gulf & Pacific construction yard and port in Batangas, about 90 minutes south of Manila by car, workers are putting the final touches on a combination of pipes, electronics, and crisscrossed steel beams that will become part of a gas refinery in Australia. The unit is about 50 meters (165 feet) high and 50 meters long and will connect with others like it, also made by AG&P.
Each day, thousands of Filipino welders, pipe fitters, and other workers arrive at the yard, where cranes tower over open-air sheds that resemble airplane hangars, to make pieces of infrastructure projects destined for final assembly in locations worldwide. "Everything is meant to fit together like a giant jigsaw puzzle," says Joseph Sigelman, the U.S.-born chairman of Manila-based AG&P. Average daily pay for construction workers in the Philippines last year was $7, according to the Ministry of Labor and Employment.
The heavy lifting at the AG&P site is part of a wave of outsourcing that could do for the construction industry what Indian companies did for back-office services. Since taking over AG&P in 2010, Sigelman has turned a down-on-its-luck local builder into a specialist in making parts for power plants, oil and gas refineries, and other large projects for companies including Brazil's Vale, and Bechtel and Chevron of the U.S. For a $3.8 billion expansion of an oil refinery in Whiting, Ind., BP bought made-in-the-Philippines coker units that took 47 days to ship from Batangas to Lake Michigan.
Sigelman, 42, knows outsourcing. The former Lazard and Goldman Sachs banker went to India in the late 1990s to found OfficeTiger, a provider of outsourced back-office operations. In 2006, RR Donnelly bought OfficeTiger for $250 million. After starting up an energy service company in Colombia, Sigelman joined a group of investors to buy AG&P for $40 million. The company was founded by two Americans in 1900 during the U.S. occupation of the Philippines and built Manila's water and sewage systems. It fell on hard times in the post-Marcos era.
Sigelman sees a chance to replicate the low-cost outsourcing model that worked for him in India. Modular construction companies that once did only simple projects now can assemble complex equipment complete with instrumentation and electrical, mechanical, and ventilation systems. Sigelman says that thanks to advances in engineering software, "every single bolt and screw is noted in the computer." As a result, "you can visualize how those things work on modules that are far denser than before," says Sigelman, who calls AG&P's model "IPO," or industrial process outsourcing.
Because of the fracking boom in the U.S., unmet demand for skilled construction workers is high. The same is true in such remote spots as the Alberta tar sands and the Australian outback. Construction outsourcing can help companies cut costs by as much as 20 percent, says Harvey Bernstein, vice president at McGraw-Hill Construction and co-author of a 2011 report on the industry. "If you're building things in a manufacturing environment off-site, you might not have to get a licensed carpenter or electrician," he says. "You can bring in lower-skilled people and set them up in an assembly-line situation where they're doing something over and over again." For intricate work such as welding, craftsmen are far more productive working at a bench in a warehouse than perched atop a ladder.
The formula can work inside the high-priced U.S. as well, where savings can be achieved by using the assembly-line approach, with the help of some skilled labor. American construction company Cianbro built 22 electrical modules, some three stories tall, that will operate a new nickel-processing plant in Newfoundland being built by mining company Vale. Rather than construct the modules on-site, Cianbro built them in its factory in South Brewer, Me., then sent them by barge up to Vale's plant in New Harbour. "The workforce to do this is specialized, and they may not be available in areas like Newfoundland or even along the Texas coast," says Joe Cote, general manager of Cianbro's modular business. "You'd have a hard time convincing these guys to go work up in Newfoundland."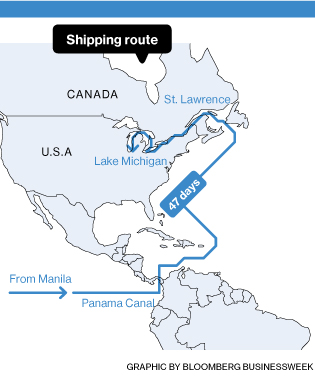 At Camp Pendleton, the U.S. Marine Corps base in Southern California, a 500,000-square-foot naval hospital complex is set to open on Dec. 15, six months ahead of schedule and about $100 million under its $580 million budget. Clark/McCarthy, a joint venture of two U.S. construction companies, relied on preassembled kits for the pipes, ducts, and electrical components that it built in nearby warehouses. "The old way was that the shop sent giant pieces of raw duct work to the site and the workers cut them to size and then maneuvered them around beams and columns and made tiny adjustments on each one," says Carlos Gonzalez, project director. "Now you just snap it in. It's easier, it's faster, and the quality is better."
In Brooklyn, Swedish construction company Skanska is building the world's tallest modular apartment building behind the new Barclays Center arena. Entire apartments are made in a factory in the old Brooklyn Navy Yard. Even in New York, using an assembly-line approach to make modules realizes savings by stripping out massive amounts of waste. "The construction industry is historically very inefficient," says Richard Kennedy, co-chief operating officer for Skanska USA Building. "The more you can do in a controlled environment, the better."
Better still to do that in a low-cost country such as the Philippines. Sigelman won't reveal privately held AG&P's sales but does say the company, which had just 300 workers in 2011, now employs 5,200 and plans to increase head count to as much as 7,000 by yearend. AG&P has teamed up with Fluor, the Texas engineering company, to build a second construction yard in Batangas. Dan Spinks, Fluor's general manager in Houston, won't provide specifics on the savings gained by building in the Philippines. "I'll just say there's a significant difference," he says. "Everything we do here in Houston, we can do there."
Before it's here, it's on the Bloomberg Terminal.
LEARN MORE