China's Factory Owners Hunt for Energy Savings
Factory owners desperate to cut costs scrutinize their utility bills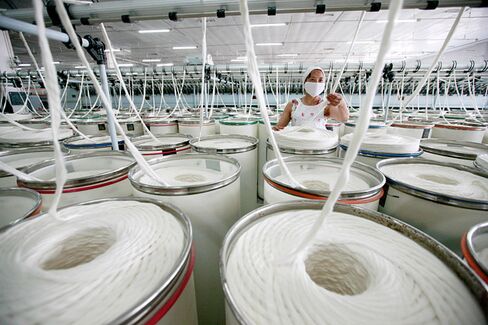 Kevin Chang, general manager of Concord Ceramics, is a member of a younger generation of factory bosses in China trying to survive leaner times. That quest led him to examine the power use at his factories. He didn't like what he found.
For decades after China started trading with the U.S. in 1979, most factory managers didn't focus on electricity prices. Demand from abroad was expanding, labor was cheap, and the exchange rate favored China's exporters. But conditions have changed since demand softened in the wake of the 2008 financial crisis. Chang says his labor costs have doubled, and the exchange rate is less favorable. Increasing energy efficiency is one way to shore up the bottom line.
The work at Concord requires constant air conditioning, and in the summer electricity has accounted for as much as 15 percent of operating costs. Chang, who was already leaving the hallway lights off, installed a high-volume air-conditioning system to cut expenses. Yet once the system was up and running, his electricity bill went up. Chang hired an engineer from the China Academy of Building Research, a government think tank, in Guangzhou. The engineer figured out the cooling system was more powerful than the factory needed, so the air conditioning constantly cycled between maximum cooling and powering down, wasting energy. The solution, conceived a few weeks ago, was to run just half of the unit. Now the air remains at a steady temperature, and Chang says he should save about 40 percent on electricity bills: "A lot of things can be made more efficient."
Shenzhen Black-Cloud Packaging, which makes packaging material for clients including Apple, has installed four giant ceiling fans from Milwaukee-based Rite-Hite. Each one replaces 40 desk fans, using a tenth of the energy. "The problem is not usually lack of technology, but lack of expertise to operate energy systems," says Samuel Zhou, an energy consultant in Shanghai. "With pollution, you can see it or smell it. Energy is invisible. You cannot tell a motor is running inefficiently without data intelligence."
Taryn Sullivan, a consultant who founded Efficiency Exchange in Dongguan in 2010, has developed software to identify inefficiencies. At every factory in China she has visited, Sullivan has spotted energy waste, and she estimates an average potential savings of 13 percent. At Circle Furniture in Guangdong, her firm analyzed the electricity bills. Sullivan figured out that Circle was paying the local utility a monthly fine for drawing more current than needed, which increases the amount of energy lost in transmission. A simple mechanical adjustment resolved the issue. Circle co-owner Lisa Deng says the problem had been driving up electrical costs by 6 percent a month.
Efficiency Exchange was recently hired by Guangdong Xiangshan Weighing Apparatus Group, a maker of household and industrial scales whose products are sold at Marks & Spencer and Bed Bath & Beyond. Avery Yang, a product development and marketing manager at the company, jokes that the stereotype of a factory boss in China is all about excess—excess food, excess baijiu (alcohol), and excess time spent in karaoke bars wooing potential customers. "We cannot afford those expenses," he says. "We cannot afford anything extra."
Before it's here, it's on the Bloomberg Terminal.
LEARN MORE