U.S. Failure to Strike Syria May Embolden N. Korea, Hagel Says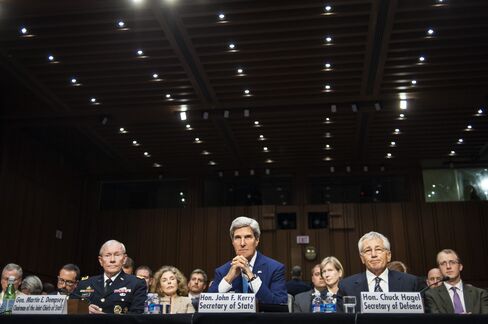 A failure to punish Syria over its alleged use of Sarin gas against civilians could embolden other rogue states such as North Korea, which is already stockpiling chemical weapons, U.S. officials said.
North Korea "maintains a massive stockpile of chemical weapons that threatens our treaty ally the Republic of Korea and the 28,000 U.S. troops stationed there," Defense Secretary Chuck Hagel told a Senate hearing on Syria in Washington yesterday, referring to South Korea. U.S. allies "must be assured that the United States will fulfill its security commitments."
His comments came hours after the publication of a South Korean Defense Ministry report concluding that North Korea had the capability to launch a missile tipped with a nuclear warhead, technology that the U.S. has contended was years away. North Korea threatened first strikes against South Korea and the U.S. in March after a February nuclear test prompted a tightening of United Nations sanctions against Kim Jong Un's regime.
North Korea has tested three nuclear devices and is expanding its weapons development. President Barack Obama, who has called on North Korea to renounce nuclear weapons, said in April the country didn't have the ability to put an atomic weapon on a missile.
International Pressure
North Korea's nuclear programs will not make the country more secure, said a State Department official who asked not to be named according to department policy. The only way for North Korea to achieve security and prosperity is by complying with its international obligations. Until then, pressure against the regime "will only intensify," the official said.
The U.S. called upon North Korea to return to the six-party talks aimed at curtailing the country's nuclear program, the spokesman said. The North officially abandoned the negotiations in 2009 and conducted its second nuclear test the same year.
The South Korean report presented yesterday to lawmakers said the North can turn its nuclear devices into weapons at any time. After details of the study became public, the Defense Ministry toned down the findings, saying in an e-mailed statement that the report meant the possibility of a North Korean ballistic missile being paired with a nuclear warhead was "high."
"The report is an acknowledgment that the North has the capability to put nuclear bombs on at least short-range missiles," Yang Uk, a senior researcher at Seoul's Korea Defense and Security Forum think tank, said by phone.
Easing Tensions
North Korea eased tensions with the South last month when it agreed to open an industrial complex jointly run with South Korea. That park was shuttered in April after the stricter sanctions of its nuclear program and during joint South Korean-U.S. military drills. The North has since agreed to resume the reunions of families separated by the Korean War.
The North "continues to implement its plan to develop nuclear missiles while focusing on inducing the mood for dialogue and creating conditions for developing the economy," the Defense Ministry report said.
Kim Jong Un's regime marks the 65th anniversary of his family's control of North Korea on Sept. 9. The North often uses such events to make a public display of its latest weapons.