The Past and Future of Vocational Education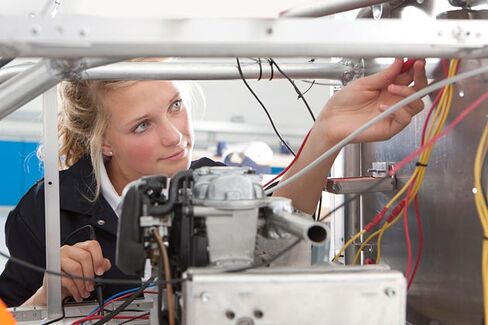 The year was 1908. The location: the town of Northampton, Mass., some 15 miles north of Springfield, a major industrial city at the time.
The history of Northampton, today a small city with a population approaching 29,000, is interesting. According to Wikipedia, "From 1842 until 1846 Northampton was home to a transcendentalist utopian community of abolitionists," known as the Northampton Association of Education and Industry. Remember that name.
Clarke School for the Deaf, now the Clarke Schools for Hearing and Speech, was established in Northampton in 1867. Alexander Graham Bell at one time served as its headmaster. Northampton also is home to Smith College for women, founded in 1871, and the Academy of Music Theatre, established in 1891. And in 1905, after an extended legal battle over the estate of the late Oliver Smith, a wealthy farmer and long-time public servant, the city received a substantial sum of money to establish what became known as the Smith Vocational and Agricultural High School, the first vocational school in Massachusetts. The school opened in 1908 and is still going strong.
The school's formula is simple: "Students spend alternating weeks in shop and academic programs as they prepare for both a high school diploma and a Certificate of Occupational Proficiency." The school also emphasizes the important intangibles that are too often ignored in school, but are highly valued in the workplace: good work habits, reliability, problem solving and resilience.
While other American cities continue to have problems defining their education priorities, Northampton realized more than 100 years ago that education and industry are inseparable.
As I've written before, educating our teens while preparing them for the world of work is one of the biggest challenges our country faces.
Even now, Northampton—particularly Smith Vocational and Agricultural High School—continues to innovate, with summer school enrichment programs intended to expose students to a variety of possible career opportunities, perhaps turning a student's benign curiosity into a passionate interest.
The New York Times recently noted this change in the nature of summer schools. In the past, summer school classes were mostly for students who had performed poorly during the regular school year. Now many school districts are trying to do more than help students catch up; they're trying to get them excited about the possibilities that exist in the world of work.
Smith's summer school program this year, intended for middle-school students, included an introduction to "the world of cosmetology," three food preparation courses for students who "like to cook" and "have a passion for food," a course on small engines, a second on auto engines, a third on animal first aid, and still another on farm animals.
I don't mean to sell other school districts short. As the Times noted, citing information from the National Summer Learning Association, 25 of our country's largest school districts have segued to summer school programs that "move beyond the traditional remedial model." That's a good thing.
As we all know, many students just aren't interested in college; they'd rather work with their hands. For decades, we've been pushing and prodding them to go to college anyway—suggesting, perhaps subliminally, that the failure to do so makes them career failures. This is the wrong message to send.
With many U.S. factories begging for skilled workers, it's good that our public schools are starting to acknowledge—as Northampton has for more than a century—that there are roads to success and happiness that don't include a four-year degree.
We all need to do our part to make vocational work an acceptable alternative again.
Before it's here, it's on the Bloomberg Terminal.
LEARN MORE