Senate Committee Approves Resolution for Syria Strikes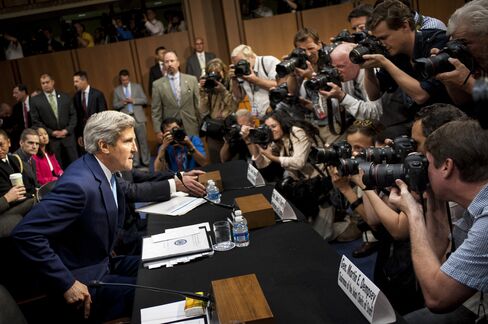 Sept. 4 (Bloomberg) -- The Senate Foreign Relations Committee voted to authorize President Barack Obama to conduct a limited U.S. military operation against Syria because of its use of chemical weapons.
The committee vote, 10-7, clears the way for consideration of the resolution by the full Senate. Majority Leader Harry Reid, a Nevada Democrat, said that will begin Sept. 9 when Congress officially reconvenes after a five-week break.
The committee's action was the first hurdle for Obama in his bid for congressional support for strikes against the regime of Syrian President Bashar al-Assad, who's threatened to retaliate. Two Democrats on the panel, Tom Udall of New Mexico and Chris Murphy of Connecticut, voted no after voicing concerns that the U.S. risked being drawn into the Syrian civil war.
The resolution supports the use of force in a "limited and specified manner against legitimate military targets" during a 60-day period following enactment, with a possible 30-day extension at Obama's request. The resolution doesn't authorize the use of U.S. ground troops in combat roles.
The committee adopted the measure after approving by voice vote two amendments by Senators John McCain of Arizona, a leading Republican voice on national security, and Democrat Chris Coons of Delaware.
'Favorable Conditions'
The resolution calls for the U.S. to "create favorable conditions for a negotiated settlement" in Syria, which it says requires "decisive changes to the present military balance of power on the ground." That, McCain said, means moving to "upgrade lethal and non-lethal capabilities of vetted elements of Syrian opposition forces," a move some lawmakers in both parties oppose on the grounds it might lead to deeper U.S. involvement.
While the Senate moved toward approving the authorization, resistance continued in the House of Representatives.
White House press secretary Jay Carney said in a statement the resolution would "uphold America's national security interests by degrading Assad's chemical weapons capability and deterring the future use of these weapons, even as we pursue a broader strategy of strengthening the opposition to hasten a political transition in Syria."
Obama, visiting Sweden today before attending the Group of 20 nations summit in St. Petersburg, Russia, said the confrontation with Syria is a test for the global community and the consensus against the use of chemical weapons.
U.S. Credibility
"My credibility is not on the line," Obama said at a news conference in Stockholm. "The international community's credibility is on the line. And America and Congress's credibility is on the line because we give lip service to the notion that these international norms are important."
If the full Senate and the House of Representatives also approve it, the Senate Foreign Relations Committee resolution would give Obama a limited window to conduct a military operation in response to what the U.S. says was the Syrian government's use of chemical weapons against civilians outside Damascus last month.
Committee members scrutinized the draft for language that could open the door for deeper U.S. involvement beyond the punitive cruise-missile strikes advocated by Obama.
At the request of Democratic Senator Dick Durbin, the committee amended the measure to authorize "limited and specified" actions rather than "limited and tailored," as set out in the draft by committee chairman Robert Menendez.
'Blank Check'
Udall lost a committee vote on language he said was intended to clarify "that the president does not have a blank check" and which McCain opposed as "micro-managing." Menendez said it would be a mistake "to tie the president's hands" in that way.
The committee Democrats voting for the measure were Menendez of New Jersey, Barbara Boxer of California, Ben Cardin of Maryland, Jeanne Shaheen of New Hampshire, Coons of Delaware, Durbin of Illinois and Tim Kaine of Virginia. Republicans who supported it included the top party member on the committee, Bob Corker of Tennessee, and McCain and Jeff Flake, both of Arizona.
Senators against were Democrats Udall and Murphy, and Republicans James Risch of Idaho, Marco Rubio of Florida, Rand Paul of Kentucky, Ron Johnson of Wisconsin and John Barrasso of Wyoming. Senator Ed Markey, a Massachusetts Democrat, voted "present."
House Opposition
Obama's foreign policy team still has a tough selling job in the House, where a Republican majority consistently opposes the president and some left-leaning Democrats are lining up against military action in Syria.
The Republican chairman of the House Foreign Affairs Committee today criticized Obama's Syria policy as "adrift," without saying whether he would support a military strike.
"The administration's Syria policy doesn't build confidence," Representative Ed Royce of California said at a panel hearing on Obama's request. "For over two years, U.S. policy has been adrift."
"There are no easy answers," Royce said. "Syria and much of the Middle East are a mess."
Obama next heads to St. Petersburg for the G-20 summit, where the Syria confrontation has deepened a rift with the meeting's host, Russian President Vladimir Putin.
Speaking in the Kremlin today, Putin said that Secretary of State John Kerry is telling "lies" about the extent of al-Qaeda terrorists among the Syrian rebels. Any U.S. use-of-force resolution on Syria would be "essentially legitimizing aggression," Putin said.
Putin Reaction
Military action without authorization from the United Nations Security Council, other than for self-defense, is aggression, he said.
"We all just focused on Congress or Senate discussing authorization of the use of force," he said. "But this is an absurd substitute for common sense, for the concept of international law."
More than 100,000 people have died in the Syria uprising against Assad's regime. The U.S. says the Syrian chemical attack on Aug. 21 killed more than 1,400 people outside Damascus, including many women and children. Assad's government denies responsibility.
To contact the reporters on this story: Terry Atlas in Washington at tatlas@bloomberg.net; Laura Litvan in Washington at llitvan@bloomberg.net; Kathleen Hunter in Washington at khunter9@bloomberg.net
To contact the editor responsible for this story: John Walcott at jwalcott9@bloomberg.net