ConocoPhillips Says Court Rules Venezuela Seizure Unlawful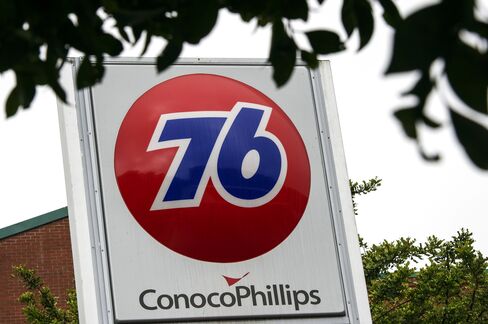 ConocoPhillips, the third-largest U.S. oil company by market value, said an international arbitration court ruled Venezuela's 2007 seizure of its crude projects illegal.
The South American nation "breached its obligation to negotiate in good faith" for compensating ConocoPhillips for the expropriated assets, the Washington-based International Centre for Settlement of Investment Disputes said in a ruling posted on its website yesterday.
The ruling refers to ConocoPhillips' Hamaca and Petrozuata projects in the Orinoco heavy-oil belt as well as the Corocoro offshore project. When late Venezuelan President Hugo Chavez forced foreign companies to cede majority stakes in oil projects six years ago, the Houston-based oil company rejected the terms and took its claims to courts.
The ruling means "the state's liability is absolutely final and binding; the court is not going to revisit that," said Abby Cohen Smutny, a partner in the international arbitration practice at White & Case in Washington. "Now what lies ahead is to determine the amount of damages owed."
ConocoPhillips invested $3.1 billion in Petrozuata and Hamaca in the initial stages completed in 2004, according to its state-owned partner Petroleos de Venezuela SA, known as PDVSA.
'Clear Message'
"We welcome this decision by the tribunal," Janet Langford Kelly, ConocoPhillips' legal vice president, said in a statement yesterday. "This ruling sends a clear message that countries cannot expropriate their investments without fair compensation."
Venezuela will defend its interests at ICSID court, Rafael Ramirez, oil minister and PDVSA president, told reporters today in Caracas. Companies must respect Venezuelan laws, he said.
"All conflicts between PDVSA and its partners will be resolved in Venezuela," Ramirez said. "I personally met with then ConocoPhillips CEO James Mulva on three occasions in good faith regarding his company's interest in Venezuela while other PDVSA executives also met numerous times with ConocoPhillips executives all in good faith attempts to resolve any differences."
ConocoPhillips has been seeking as much as $30 billion in international courts from PDVSA regarding its seized assets, Ramirez said.
ICC Rulings
The yield on the Venezuelan government's benchmark 9.25 percent dollar bonds due in 2027 climbed 39 basis points, or 0.39 percentage point, to 12.76 percent today at 2:54 p.m. in New York, the highest level on a closing basis since June 24, according to data compiled by Bloomberg. The price fell 2.15 cents to 77.35 cents, the biggest daily decline since July 10.
ConocoPhillips rose $1.35 to $67.69 at 3:50 p.m. in New York.
ConocoPhillips had earlier won and lost cases related to disputed production cuts by PDVSA. The Paris-based International Chamber of Commerce in 2012 awarded ConocoPhillips a $66.8 million settlement related to Petrozuata and rejected a $102.9 million claim for Hamaca. The ICC's arbitration was separate from ConocoPhillips's arbitration through the ICSID.
Venezuela asked to leave ICSID in January 2012 as demands climbed from abroad for compensation following a decade of nationalizations under Chavez, who said he wouldn't accept any rulings from the World Bank's court. His handpicked successor Nicolas Maduro has promised to continue Chavez's policies.
Asset Compensation
The ICSID ruled that Venezuela must pay ConocoPhillips the market value of seized assets at the date of the award, Michael Nolan, a partner in the Washington office of Milbank, Tweed, Hadley & McCloy, said today in an e-mailed response to questions. He added that the tribunal's rejection of some claims could make compensation for ConocoPhillips lower than it otherwise would have been.
"ConocoPhillips is certainly justified in being pleased with the award," Nolan said. "The tribunal has held there to be an expropriation for which Venezuela has to pay compensation, and the tribunal further held that the expropriation was unlawful."
It could take one to two years for the court to reach a final award, Nolan said.
Payment Delay?
"Any potential payment (estimated between $3 billion and $4.5 billion) could be delayed until 2015," Caracas-based brokerage BancTrust & Co. said in a note to clients today, referring to PDVSA's potential payout.
The ICC in 2011 ordered PDVSA to pay Exxon $746.9 million for lost oil production resulting from the 2007 seizure of the Cerro Negro oil venture. The award represented about 11 percent of the $7 billion sought by Irving, Texas-based Exxon Mobil Corp., and the company still has an arbitration case pending at the ICSID.
"Even though we are no longer part of ICSID, our lawyers will defend all of our pending cases with the tribunal," Ramirez said.
Exxon and Chevron Corp. are the first- and second-largest U.S. oil producers, respectively.