Senators Prod Kerry to Rule Out Sending Troops to Syria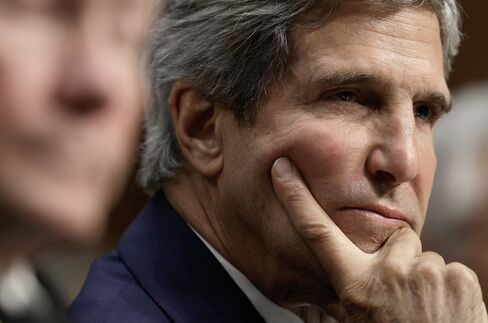 Democrats and Republicans pushed Secretary of State John Kerry to clarify whether U.S. troops could be sent to Syria, requiring him at one point to backtrack on saying that the administration must preserve all options.
"I don't want to take off the table an option that might or might not be available to a president of the United States to secure our country," Kerry said when asked at a Senate hearing today if he would accept a prohibition on "boots on the ground" as the administration asks Congress to authorize strikes on Syria for its use of chemical weapons.
Senator Bob Corker of Tennessee was among those at the Foreign Relations Committee hearing who ruled out sending troops.
"I don't think there are any of us here who are willing to support the possibility of combat boots on the ground," Corker said.
Kerry then amended his position.
"The bottom line is the president has no intention and will not, and we do not want to put American troops on the ground to fight this, or be involved in the fighting of this civil war," Kerry said later. "Period."
The testimony by Kerry, Secretary of Defense Chuck Hagel and Joint Chiefs of Staff Chairman Martin Dempsey represents a full-court press by President Barack Obama to get lawmakers to back a strike on Syria in response to the Aug. 21 attack by Syrian President Bashar al-Assad's regime on a suburb of Damascus.
'Prompt' Vote
Obama called for a "prompt" vote on allowing a strike, which he has tied to U.S. moral authority and global leadership. The White House is making its case to lawmakers in closed briefings, at today's hearing, and a hearing set for tomorrow before the House Foreign Affairs Committee.
Senators peppered administration officials with questions about the aftermath of a strike on Syria, on whether the U.S. could get pulled into Syria's civil war or operations beyond its borders, and whether the conflict could embroil Israel.
"I really want to get a handle on this, I need to be reassured," said Senator James Risch, an Idaho Republican. "What happens if this thing gets away from us, what happens?"
His Democratic colleague, Senator Ben Cardin of Maryland, quizzed the administration officials on how it was planning "to avoid being drawn into the conflict?"
Rand Paul
Senator Rand Paul, a Kentucky Republican who opposes action in Syria, asked Kerry to promise that the U.S. wouldn't strike Syria if Congress disapproved.
Otherwise, "you're making a joke of us," Paul said. "If this is real, you will abide by the verdict of Congress. You're probably going to win."
"The president intends to win this vote and he's not going to make prior announcements," Kerry responded. He added, "We don't believe we are going to war in the classic sense of taking American troops and America to war."
"The president is asking for the authority to do a limited action that will degrade the capacity of a tyrant who has been using chemical weapons to kill his own people," Kerry said.
Paul suggested that the U.S. can't be sure whether a strike would make the region more or less stable, saying there was a "valid argument" that an attack on Israel may be more likely after U.S. action against Syria.
"Israel will be less safe unless the United States takes this action," Kerry said.
Syrian Regime
Even as the administration officials tried to reassure the panel, Kerry referred to the Syrian regime and issued a warning to the lawmakers.
"If you think it's bad today, think about it, if they confirm their suspicion that the United States isn't going to do anything" about the chemical attack that left more than 1,400 dead, Kerry said. Allies would be at risk too, he said.
"Israel will be at greater risk, Jordan will be at greater risk," Kerry said.
Kerry and Hagel -- both war veterans, both former senators and both former members of the Senate Foreign Relations Committee -- responded to lawmakers' concerns about whether allies would help the U.S., and whether the conflict could spread throughout the region.
"Everything is being considered," Kerry said of the various contingencies that could erupt after a U.S. strike.
'Tailored' Actions
In a frequent refrain, Hagel stressed the operation would be limited.
"We have made clear that we are not seeking to resolve the underlying conflict in Syria through direct military force," Hagel said. "Instead we are contemplating actions that are tailored to respond to the use of chemical weapons."
The administration received some support from lawmakers on the panel. Senator Barbara Boxer, a California Democrat, tied the strike on Syria to threats from other rogue nations such as Iran and North Korea.
"Iran will view us as a paper tiger" if the U.S. doesn't strike Syria, Boxer said. "That is dangerous for us and the world."
She was backed up by her Republican colleague from Florida, Senator Marco Rubio. Citing Syria's close ties with Iran, its support for terrorism, and its devolution into a haven for militant Islamists, Rubio said "what's happening in Syria matters to our national interest."
Hitler Comparison
Kerry told panel members there is no doubt Assad's regime is responsible for the attack. "It did happen and the Assad regime did it," Kerry said.
Comparing Assad to Adolf Hitler and former Iraqi leader Saddam Hussein, Kerry said, "History holds nothing but infamy for those criminals and history also holds very little sympathy for their enablers."
The Senate hearing started with a robust statement of support from the chairman. Senate Foreign Relations Committee Chairman Bob Menendez said that the world can't ignore the "horror" of Syria's chemical weapons attack.
"This decision will be among the most difficult any of us will be asked to make," said Menendez, a New Jersey Democrat. Senators need to "put aside political differences and personal ideologies, forget partisanship and preoccupations, forget the polls, politics and personal consequences," he said.
Both Parties
Congressional leaders of both parties expressed backing for Obama's request.
"The use of chemical weapons is a barbarous act," House Speaker John Boehner, an Ohio Republican, told reporters after he and other congressional leaders consulted with Obama this morning at the White House. Only the U.S. has the capability to stop Assad and "to warn others around the world that this type of behavior is not going to be tolerated," the speaker said.
House Majority Leader Eric Cantor of Virginia echoed Boehner's support. House Minority Leader, Nancy Pelosi, a California Democrat, said "the evidence on the intelligence is clear" and Congress probably will support Obama's bid for approval of action.
The administration sent officials to Congress to give senators a closed-door classified briefing on the attack that killed more than 1,400 people, more than 400 of them children.
Obama said today that he's open to changes in the resolution authorizing force against Syria to respond to concerns, and would let lawmakers redraft authorization language the White House sent to Congress.