More Than 6 Million Syrians Driven From Their Homes: UN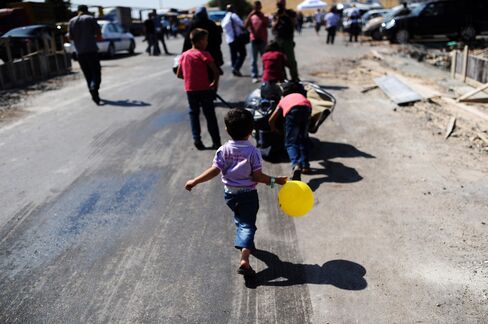 More than one-quarter of Syria's 22 million people have been driven from their homes since the rebellion against President Bashar al-Assad started in 2011, the United Nations said today.
More than 6 million Syrians have been "torn" from their homes, with 2 million seeking shelter in neighboring Iraq, Lebanon, Turkey and Jordan, and another 4.25 million trapped in Syria, the UN refugee agency said in an e-mailed statement.
"Syria has become the great tragedy of this century -- a disgraceful humanitarian calamity with suffering and displacement unparalleled in recent history," António Guterres, the Geneva-based UN High Commissioner for Refugees, said in the statement.
About 5,000 Syrians on average flee to neighboring countries every day, creating an "overwhelming burden" on their infrastructures, economies and societies, according to the statement. Lebanon hosts the most Syrian refugees at 716,000, followed by Jordan with 515,000 and Turkey with 460,000, according to the UNHCR.
Ministers from the four nations will meet with the UNHCR in Geneva on Sept. 4 to discuss ways to boost international support to help them shoulder the burden, according to the UNHCR.
The 2 1/2-year conflict that began on the heels of revolts against authoritarian rulers in other Arab nations is escalating. U.S. President Barack Obama is seeking congressional approval to strike Syria for alleged chemical weapons use. A U.S. intelligence assessment said that on Aug. 21 Assad's forces killed more than 1,400 people, including more than 400 children, with a chemical attack.
Death Toll
The UN investigation into the incident is still under way, and has yet to confirm that Syrian forces used nerve gas in the conflict that's already killed more than 100,000 people, including some 7,000 children.
Angelina Jolie, Hollywood actress and the UN special envoy on refugee issues, expressed "dismay" at the gravity of the situation in Syria, lamenting the lack of international unity on a resolution to the war.
"The world is tragically disunited on how to end the Syria conflict," Jolie said in the statement. "But there should be no disagreement over the need to alleviate human suffering, and no doubt of the world's responsibility to do more."
More than 1,000 UN staff from 17 affiliated agencies, including the UNHCR, will continue doing humanitarian work in Syria independent of any possible U.S. military action, Secretary-General Ban Ki-moon's spokesman Martin Nesirky told reporters yesterday in New York.
Before it's here, it's on the Bloomberg Terminal.
LEARN MORE