Obama Gets Boehner's Support for Military Strike on Syria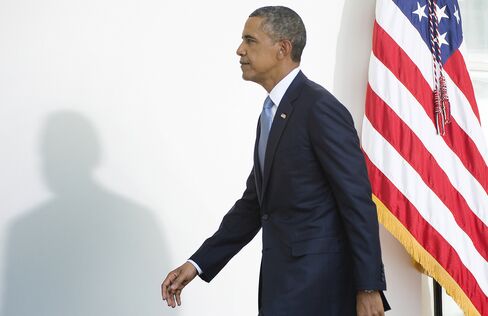 President Barack Obama urged Congress to take a "prompt" vote authorizing military action against Syria and won support from the two top House Republicans even as two polls found opposition from the American public.
Backing from House Speaker John Boehner and Majority Leader Eric Cantor will help Obama as he makes his case to lawmakers who've questioned the administration's evidence that the Syrian government launched a sarin gas attack last month and whether the U.S. has a vital interest in Syria.
"The use of these weapons has to be responded to, and only the U.S. has the capability," Boehner, of Ohio, said after a White House meeting called by Obama with congressional leaders and key committee members. "I'm going to support the president's call for action and I believe my colleagues should support this call for action."
Cantor, of Virginia, released a separate statement of support. House Democratic leader Nancy Pelosi also said she'll back Obama, giving it a bipartisan cast. All three House leaders said they are leaving it up to the White House to persuade their members and won't be pressing for votes.
While no U.S. president has ever been turned down by Congress when asking to use military force, opposition to Obama's Syria strike plan crosses party and regional lines.
Obama still faces an "uphill battle" for congressional support, Boehner's spokesman, Michael Steel, said in an e-mail.
Poll Figures
Almost six in 10 Americans oppose the U.S. conducting unilateral missile strikes against Syria, according to an ABC/Washington Post poll. The opposition drops to 51 percent if other nations such as the U.K. and France participate. Seventy percent oppose supplying weapons to the Syrian rebels.
In a survey by the Pew Research Center in Washington, 48 percent opposed air strikes on Syria with 29 percent favoring. In both polls, the opposition crossed party lines. In Pew's tally, 40 percent of Republicans, 48 percent of Democrats and half of independents oppose the strikes.
While a majority of those polled agree that there's clear evidence that Syrian forces used chemical weapons, 74 percent say air strikes would create backlash against the U.S. and 61 percent said it would likely lead to a long-term military commitment, according to Pew.
At a Senate Foreign Relations Committee hearing, Defense Secretary Chuck Hagel acknowledged those concerns.
Calculating Risks
"There are always risks in taking action, but there are also risks with inaction," he said in prepared remarks, warning that regime of Syrian President Bashar al-Assad may "carry out even more devastating chemical weapons attacks."
In addition, he said, "a refusal to act would undermine the credibility of America's other security commitments -– including the president's commitment to prevent Iran from acquiring a nuclear weapon."
Secretary of State John Kerry, joining Hagel and Army General Martin Dempsey, the chairman of the Joint Chiefs of Staff, said Obama isn't asking the U.S. to go to war, and that the U.S. has "no intention" of putting troops in Syria.
"President Obama is not asking America to go to war," Kerry said. "And I say that sitting next to two men -- Secretary Hagel and Chairman Dempsey -- who know what war is."
Republican Senator Rand Paul of Kentucky, who has questioned whether the U.S. has a vital interest at stake in Syria, pressed Kerry on whether Obama would proceed if Congress turned him down. Paul added that such a defeat "is unlikely."
Presidential Authority
"The president intends to win this vote and he's not going to make prior announcements," Kerry said. "The president is asking for the authority to do a limited action that will degrade the capacity of a tyrant who has been using chemical weapons to kill his own people."
Illustrating the complexity of Obama's task in persuading lawmakers to support a use-of-force resolution, the statements of support from the leaders after the morning meeting reflected different views on what the U.S. should do.
Pelosi, of California, stressed that Congress should authorize a strike only of limited scope. "There's work to be done," she said. "Some will never be comfortable with it."
New York Representative Eliot Engel, the top Democrat on the House Foreign Affairs Committee, said the U.S. should also "degrade Assad's military."
"The president made it clear to us that he is not talking about a pinpoint strike," Engel said. "He is talking about a strike that has some teeth."
Modify Resolution
The administration is willing to modify its proposed resolution authorizing the use of force. "The shape and content of the final resolution will depend on what members can support," Pelosi wrote today to House members.
Asked whether he is confident Congress will go along, Obama said, "I am."
Obama's legislative push received backing from the American Israel Public Affairs Committee, a pro-Israel lobby group that is influencial on Capitol Hill.
"AIPAC maintains that it is imperative to adopt the resolution to authorize the use of force, and take a firm stand that the world's most dangerous regimes cannot obtain and use the most dangerous weapons," the group said in a statement.
Congress officially returns to session on Sept. 9. A revised resolution authorizing Obama to take military action may be circulated as early as today, Tennessee Republican Senator Bob Corker said. The Senate may act first on the resolution and send it to the House for a vote, he said.
Regional Spillover
Corker, the foreign relations committee's senior Republican, said he's "inclined" to support a resolution for limited military action.
Among the concerns expressed by some lawmakers is the potential regional spillover of a strike. The jitters in the region were illustrated after what Israel described as a joint flight test with the U.S. of its Arrow missile interception system over the Mediterranean Sea, which rattled stock and oil markets briefly.
Crude oil and gold advanced amid concern America is moving closer to striking Syria, while U.S. stocks rose and Treasuries retreated for a second day as a report showed faster-than-forecast growth in manufacturing.
West Texas Intermediate crude for October delivery rose 89 cents to settle at $108.54 a barrel on the New York Mercantile Exchange, gaining after the Israeli missile test. Gold futures gained 1.1 percent to $1,412 an ounce on the New York Mercantile Exchange.
'Powder Keg'
The demonstration of Israeli missile defense preparedness was a possible signal to Iran, Syria's main regional ally.
A U.S. Defense Department spokesman, George Little, said the U.S. provided technical support for the "long-planned" test, which he said had "nothing to do" with the possible Syria strike.
Syrian President Bashar al-Assad warned that a military action by the U.S. risks igniting a wider conflagration.
"Everyone will lose control of the situation once the powder keg explodes," Assad told Le Figaro newspaper in an interview published late yesterday. "Chaos and extremism would ensue. There is a risk of regional war."
While the U.S. ponders a strike, Assad is moving chemical weapons to locations including al-Dumayr military airport and the town of Adra, both near Damascus, according to Syrian Coalition media officer Khalid Saleh, citing a defector he said had confidential documents.
G-20 Meeting
Obama leaves tonight for Sweden and the Sept. 5-6 Group of 20 summit in Russia, hosted by Russian President Vladimir Putin, who's used his UN Security Council veto power to frustrate western efforts to intervene on behalf of Assad's opponents in the 2 1/2-year civil war.
Separately, United Nations Secretary-General Ban Ki-moon briefed the 10 non-permanent members of the Security Council about the investigation by UN chemical weapons inspectors who left Syria on Sept. 1.
Speaking to reporters, Ban said the use of force is legal only for self defense or when authorized by the Security Council, and he appealed for the council to "move beyond the current stalemate and show leadership" in light of "our collective responsibility to humankind."
The UN said today the ranks of Syrian refugees in neighboring countries have swelled past the 2 million mark, half of them children. A further 4.25 million of Syria's 22 million people have been uprooted inside the country.
Lebanon has borne the brunt, sheltering 716,000 fleeing Syrians, the UN said. Jordan has accommodated 515,000 with 460,000 going to Turkey, a NATO member that has called for the ouster of Assad.
Noting the "appalling" human costs, Kristalina Georgieva, the European Union's humanitarian aid commissioner, said in a statement that "the tide of refugees is bound to continue to rise." Around 5,000 are fleeing daily, the UN said.
Before it's here, it's on the Bloomberg Terminal.
LEARN MORE