Vodafone's U.S. Wireless Exit Not So Simple for Shareholders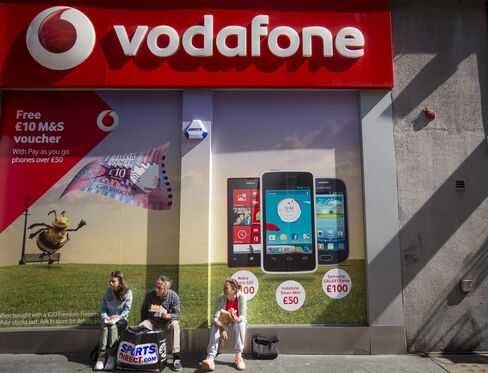 Vodafone Group Plc is getting $130 billion to exit the U.S. wireless market. The company's shareholders don't get out so easily.
Verizon Communications Inc. agreed to buy Vodafone's 45 percent stake in their U.S. mobile venture. As part of the deal, investors in the Newbury, England-based company will receive $23.9 billion in cash and $60.2 billion in Verizon stock.
The payout was structured to prevent Vodafone from ending up with a large stake in Verizon, two people familiar with the terms said, who asked not to be named discussing confidential deliberations. That forces Vodafone investors who'd prefer cash, or aren't authorized to hold Verizon stock, to sell the shares they receive, potentially weighing on the price and cutting their reward's value.
"I'm not allowed to have American equities in my fund," said Peter Braendle, a fund manager in charge of European equities, including Vodafone shares, for Swisscanto Asset Management in Zurich. "I'd have to sell them, and I would fear that quite a few people would have to do the same. It would cause some pressure on the price."
About 60 percent of Vodafone's investors are outside the U.S., according to data compiled by Bloomberg. More than half are in Europe. While no law prevents European investors from holding shares of U.S. companies, it is common for funds to be mandated to hold shares only from a certain country or region.
Stock Collar
The stock portion of the deal is subject to what's known as a collar, which places a floor of $47 and a maximum price of $51 on the shares that will be issued when the transaction closes. Verizon shares closed at $47.38 on Aug. 30.
Andy Halford, Vodafone's finance chief, said during a conference call that U.K. investors who decide to sell the Verizon shares may be subject to capital-gain taxes.
"The actual handing over will take months to happen," he said.
Vodafone is receiving part of the proceeds in stock as Verizon didn't have enough cash to cover the whole price. The New York-based company is borrowing $61 billion to help finance the cash portion of the price. For Vodafone, handing out all the Verizon stock means it is left with no stake in the company and thus no obstacles to deal-making with its U.S. competitors.
'Future Growth'
To some Vodafone investors, including Bruce Main of Ivy Asset Management Ltd. in Johannesburg, receiving Verizon shares is not a hindrance.
It is "an upside for our clients that they participate in the future growth of Verizon," said Main, who already holds Verizon among the funds under his management.
Vodafone fell 1.7 percent to 209.65 pence at 8:59 a.m. in London and has gained 36 percent this year. New York markets were closed yesterday because of a holiday.
Another risk for Vodafone investors is that the company overpays as it uses part of the proceeds for acquisitions amid rising demand for European communications assets, said Henri Alexaline, a fixed-income investor who helps manage $1 billion at FM Capital in London.
Vodafone Chief Executive Officer Vittorio Colao has said he wants to expand Vodafone's repertoire into so-called triple and quadruple-play products, which combine phone, television and Internet service. These bundled products can increase revenue and cut subscriber turnover.
Acquisition Plan?
The company already agreed to buy Germany's Kabel Deutschland Holding AG in June for $10.1 billion, and analysts have cited Liberty Global Plc, which has a market capitalization of $30 billion, as a possible target.
"We look at everything that is consistent with our strategy, not just Europe," Colao said on the conference call.
Of the sale proceeds, Vodafone will keep $30 billion of cash and use most of that on network investments and paying down debt, Halford said. Vodafone could use some of the cash as flexibility for deals, he said.
This year, Liberty Global bought the U.K.'s Virgin Media Inc. for $16 billion and has raised its stake in Dutch cable provider Ziggo NV, and billionaire Carlos Slim's America Movil SAB bid for majority control of Royal KPN NV last month for 7.2 billion euros.
"The tussle for assets means there will inevitably be some money wasted by acquirers in their quest for consolidation," Alexaline said in an interview.
'Spectacular Deal'
Vodafone's exit from the U.S. business ends a 14-year partnership which produced high rates of growth and unpredictable payouts to shareholders. Verizon Communications, as the controlling shareholder, got to decide when Verizon Wireless would distribute cash to investors. Until payments restarted last year, investors hadn't gotten a dividend from the U.S. mobile venture since 2005.
Besides lifting Vodafone's share price, the agreement has also pushed up the stocks of other telecommunications companies on expectations more deals will follow.
"This is a spectacular deal for the industry and for Vodafone shareholders," said Alberto Espelosin, who helps manage about 1.3 billion euros at Abante Asesores in Madrid, and doesn't hold Vodafone shares. "There will be more and more deals similar to this one, both big and small."