Grisham on Broadway; Marsalis; 'Betrayal': Fall Preview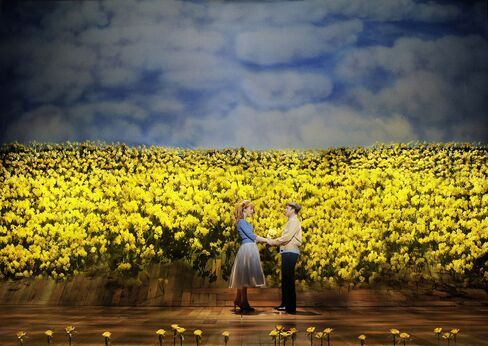 You've seen the splashy ads featuring names like Daniel Craig, Mary-Louise Parker and "Big Fish." Now it's time to check out the musicals, comedies and dramas vying for your attention and cash this fall. Here's my selection of the most enticing.
Song, Dance
Two popular film comedies will show up as musicals.
On Broadway, "Big Fish," with songs by Andrew Lippa ("The Addams Family") and book by John August ("Frankenweenie") rolls in from its Chicago tryout with optimistic advance word for stars Norbert Leo Butz as a yarn spinner; his adoring wife (Kate Baldwin); and his skeptical son (Bobby Steggert). Susan Stroman directs and choreographs.
(Previews begin Sept. 5 at the Neil Simon Theatre; http://www.bigfishthemusical.com)
Off-Broadway's estimable Second Stage will present "Little Miss Sunshine," about the girl-who-would-be-beauty-queen. The show reunites James Lapine (direction and book) with song writer William Finn; their collaborations include "The 25th Annual Putnam County Spelling Bee" and "Falsettos."
(Previews begin Oct. 15; http://www.2st.com.)
Wynton Marsalis
While Jason Robert Brown's "Bridges of Madison County" isn't due until later in the season, his long-gestating "Honeymoon in Vegas" gets a tryout across the Hudson at New Jersey's Paper Mill Playhouse.
(Previews begin Sept. 26; http://www.papermill.org.)
Harlem's Cotton Club era is recalled in "After Midnight," a collaboration by Jazz at Lincoln Center's Wynton Marsalis, City Center's Jack Viertel and fashion designers Isabel and Ruben Toledo. Warren Carlyle does double duty as director and choreographer.
(Previews begin Oct. 18 at the Brooks Atkinson Theatre; http://www.aftermidnightbroadway.com.)
Big Affairs
Revivals with bold-face names abound.
Orlando Bloom and Condola Rashad (you can choose which one's the prettier) have begun previews in "Romeo and Juliet," staged by David Leveaux in a production that retains Shakespeare's language but updates the action.
(Opens Sept. 19 at the Richard Rodgers Theatre; http://www.romeoandjulietbroadway.com.)
You surely know by now that Daniel Craig, Rachel Weisz and Rafe Spall are starring in Mike Nichols's revival of "Betrayal," Harold Pinter's tale-told-backwards of a good marriage and the affair that wrecks it.
(Previews begin Oct. 1 at the Barrymore Theatre; http://betrayalbroadway.com.)
John Grisham makes his Broadway debut with Rupert Holmes's adaptation of "A Time to Kill." Staged by Ethan McSweeny, the drama stars Fred Dalton Thompson and Tonya Pinkins.
(Previews begin Sept. 28 at the John Golden Theatre; http://www.atimetokillonbroadway.com.)
The incomparable Cherry Jones plays Tennessee Williams's frightened mother Amanda Wingfield in "The Glass Menagerie," in a revival staged by John Tiffany and Steven Hoggett, the team behind "Once."
(Previews begin Sept. 5 at the Booth Theatre; http://www.theglassmenageriebroadway.com.)
Double Dipping
Sirs Ian McKellen and Patrick Stewart will lead rotating productions of Pinter's "No Man's Land" and Samuel Beckett's "Waiting for Godot," staged by Sean Matthias. Billy Crudup and Shuler Hensley also star.
(Begins previews Oct. 26 at the Cort Theatre; http://www.twoplaysinrep.com.)
Not to be outdone, Mark Rylance ("Jerusalem") will alternate in leading roles in all-male productions of "Richard III" and "Twelfth Night," directed by Tim Carroll.
(Previews begin Oct. 15 at the Belasco Theatre; http://www.shakespearebroadway.com.)
Not to be outdone, Part II: The Public Theater will present the last of Richard Nelson's brilliant, intimate Apple family plays -- this one set in real time on the 50th anniversary of the assassination of John F. Kennedy. Then all four will run in rotating rep with the same extraordinary ensemble of actors.
(Previews begin Oct. 22; http://www.publictheater.org.)
Muhammad Ali
Muhammad Ali is the subject of Will Power's "Fetch Clay, Make Man," about the champ's friendship with the actor known as Stepin Fetchit. Des McAnuff ("Tommy") directs at the New York Theatre Workshop.
(In previews; http://www.nytw.org.)
And also consider: Mary-Louise Parker in "The Snow Geese" at the Friedman...Betty Buckley and Lois Smith as Texas grandes dames in the late Horton Foote's "The Old Friends" at the Signature...Michael Gambon and Eileen Atkins in Beckett's radio play "All That Fall" at 59E59...Jeanine Tesori's new musical "Fun Home" at the Public...Trudie Styler in "The Seagull" at The Culture Project.
(Jeremy Gerard is the chief U.S. drama critic for Muse, the arts and leisure section of Bloomberg News. The opinions expressed are his own.)
Muse highlights include New York Weekend and movies.
Before it's here, it's on the Bloomberg Terminal.
LEARN MORE