Euro-Area Economic Confidence Surges to 2-Year High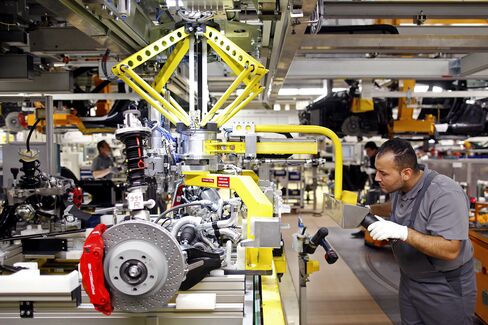 Aug. 30 (Bloomberg) -- Economic confidence in the euro area soared to a two-year high in August as the currency bloc's recovery gathered pace after it exited a record-long recession.
An index of executive and consumer sentiment rose for a fourth month to 95.2 from 92.5 in July, the European Commission in Brussels said today. The increase exceeded economists' forecasts for a reading of 93.8. Manufacturing, services, retail and consumer confidence all gained.
Increased momentum in the euro-area economy since it returned to growth in the second quarter after an 18-month contraction has boosted equities, with the Stoxx Europe 600 Index up about 4 percent in the last two months. Yet Europe continues to struggle with the legacy of a debt crisis now in its fourth year, including a jobless rate that held at a record 12.1 percent in July, according to a separate report today.
"The recession has come to an end and the recovery is continuing," Aline Schuiling, senior economist at ABN Amro Bank NV in Amsterdam, said by telephone. "The risk is that people will become too euphoric and think the economy will go up in a straight line. This probably won't be the case. Austerity continues. In many countries the housing market is weak and the labor market is weak."
U.K. Recovery
There was also positive news in the U.K., where GfK NOP Ltd. said its index of consumer confidence rose 3 points to minus 13 this month, the highest in almost four years. The British Chambers of Commerce raised its U.K. growth forecasts for this year and next to 1.3 percent and 2.2 percent.
The Bank of England said mortgage approvals rose to the highest in more than five years in July and Nationwide Building Society said that house prices 0.6 percent in August.
In an interview with the Daily Mail published today, BOE Governor Mark Carney said that policy makers are monitoring housing and will act if any signs of a bubble emerge. He noted earlier in the week that the property market is improving from a low base and concerns may be overplayed.
"We are watching it closely," Carney said in the Mail. "We will as appropriate make our views known in terms of the degree of this risk and the potential action that should be taken to address it."
Companies Benefit
The pound slipped 0.1 percent against the dollar and was at $1.5489 as of 11:44 a.m. London time. The euro was little changed at $1.3236.
Europe's economic rebound has buoyed companies across the region. Carrefour SA, France's largest retailer, reported a 4.9 percent increase in first-half profit yesterday, as a revival in its domestic market more than offset the economic difficulties of southern Europe. Earnings in France rose 75 percent.
Bouygues SA, the French building, telecommunications and television company, said on Aug. 28 that second-quarter profit rose 10 percent. Last year "should mark the low point" in the group's profitability, the company said.
Yet unemployment is proving resistant to Europe's improving fortunes, and may help to explain why economists in a separate Bloomberg survey see growth slowing to 0.1 percent in the third quarter after a 0.3 percent expansion in the three months through June. Analysts forecast the jobless rate won't drop below 12 percent through 2015.
'Bleak Outlook'
"We have a very bleak outlook for unemployment in the euro area as a whole," said Anatoli Annenkov, senior economist at Societe Generale SA in London. "The main headwinds remain high policy uncertainty in the euro area and still-fragmented financial markets, while we also expect several countries to need more fiscal consolidation."
Inflation in the euro area slowed to 1.3 percent in August and has been below the ECB's 2 percent ceiling for seven months, Eurostat said today.
President Mario Draghi said in July that the ECB would keep interest rates at the present level or lower for an "extended period" based on a "subdued" inflation outlook. Governing Council Member Ewald Nowotny said yesterday that a rate cut is still possible.
"It is encouraging to see that unemployment is no longer rising and that economic sentiment is moving in the right direction," said Martin van Vliet, an economist at ING Bank NV in Amsterdam. "But the tentative recovery is vulnerable to new economic shocks."
To contact the reporters on this story: Corina Ruhe in Amsterdam at cruhe@bloomberg.net; Angeline Benoit in Madrid at abenoit4@bloomberg.net
To contact the editor responsible for this story: Fergal O'Brien at fobrien@bloomberg.net