Venice Festival Scene: Lohan No-Show, Clooney Risks Fine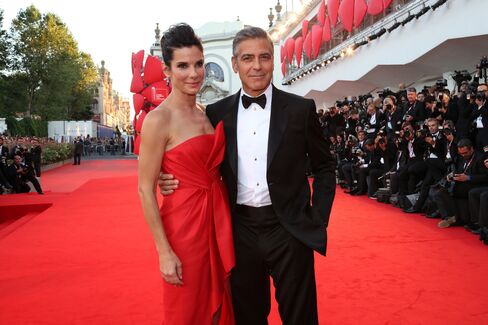 Lindsay Lohan was eagerly awaited at the Venice Film Festival today for the premiere of erotic thriller "The Canyons." She dropped out.
The 27-year-old actress -- who in July completed 90 days of court-ordered rehab -- canceled the trip to focus on her personal life, the movie's publicists and producers said.
"For the last 16 months, I've been a hostage, by my own choosing, to a very talented but unpredictable actress," said director Paul Schrader at the Venice news conference. "She was supposed to be here today, she said she would be, but she's not," said Schrader, known for his "American Gigolo."
"One of her problems as an actress is that she has a very hard time faking things," said Schrader. "So she gets herself up into the moment in a way that's exhausting for her and for people around."
Lohan plays Tara, a budding L.A. actress whose manipulative boyfriend Christian offers her luxuries yet forces her into threesomes and foursomes which he films with his phone. When Lohan secretly takes up with a hungry actor cast in Christian's planned slasher movie, Christian takes revenge.
Lohan is the best thing about "The Canyons": She brings genuine fragility to the role, as if the story of helpless, hard-living Tara were her own. The weakest link is co-star James Deen, a porn actor with limited range who pouts self-contentedly through much of the film.
Excelsior Gala
Fresh from the red-carpet Aug. 28 premiere of their astronaut movie "Gravity," Sandra Bullock and George Clooney dropped by the festival gala on the Excelsior Hotel's private beach. Bullock wore ultra-high heels and an asymmetrical red gown with a slit down the middle.
At the gala, a few hundred guests dined in see-through tents filled with red roses and watermelons that were carved to look like handle baskets.
VIPs sat in the end tent enjoying Moet & Chandon and their very own menu: swordfish-and-salmon terrine, followed by sea bass with potato tortino. At the Venice jury table were composer Ryuichi Sakamoto and actress Carrie Fisher (alias Princess Leia of "Star Wars"), who said she'd never been a judge before.
What was it like?
"We just started," said Fisher, in smoky glasses and a pony tail. "Ask me in a few days."
Fisher -- author of the semi-autobiographical "Postcards from the Edge" -- said she was writing a new book of "faction" about "someone like me in a different situation. So it won't just be like my diary." Then her dessert came: a frozen heart-of-peach, yogurt-flavored mousse.
Water Taxi
Clooney entertained the Venice media pack when he pulled up to Lido island at the wheel of a water taxi earlier this week. He's unlikely to be doing that again.
Anyone commandeering a water taxi requires a professional license, so Venetian police are checking whether the actor was sailing solo or under the driver's supervision, daily Corriere della Sera reported. At worst, says Corriere, the water-taxi driver will get a fine -- which Clooney could probably afford.
'Last Tango'
Italian filmmaker Bernardo Bertolucci, who heads this year's Venice jury, was the toast of Variety's pre-festival party.
As lightning illuminated the Grand Canal, guests gathered on the rooftop terrace of the Hotel Danieli to celebrate the director of "Last Tango in Paris," who's confined to a wheelchair after a back injury.
Organizers filled the Danieli's top-floor salons with long-stemmed red roses, photos of "Last Tango" actors Marlon Brando and Maria Schneider -- and a bowl of curled butter balls, in memory of one notable scene.
(Farah Nayeri writes for Muse, the arts and leisure section of Bloomberg News. The opinions expressed are her own.)
Muse highlights include the New York and London weekend guides, Richard Vines on food, Lewis Lapham on history, Jeremy Gerard on U.S. theater and Greg Evans and Craig Seligman on film.
Before it's here, it's on the Bloomberg Terminal.
LEARN MORE