London Gets Half of Mideast Commercial Property Cash in EU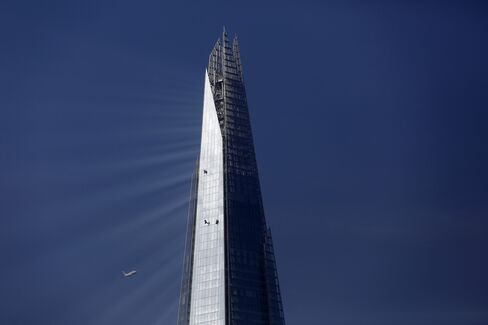 Aug. 28 (Bloomberg) -- London was the destination for almost 50 percent of Middle East investment in European commercial property in the first half as political stability and growth prospects attracted buyers, CBRE Group Inc. said.
The Middle East accounted for 9 percent of all commercial real estate bought in Europe during the period, up from 6 percent a year earlier. The region's share of foreign investment on the continent increased to 21 percent from 12 percent. North America was the biggest investor, with 13 percent of the total and 24 percent of the foreign share.
"London remains the destination of choice for foreign investors due to its solid growth potential and its status as a global financial hub, alongside its stable political environment and a transparent legal system," Nick Maclean, Middle East managing director at CBRE, wrote in the report.
Investors from Qatar, Kuwait and the United Arab Emirates have been buying trophy assets in London as they diversify investment of their oil-and-gas wealth. Qatar, the world's biggest producer of liquefied natural gas, amassed stakes in U.K. real estate, including the Shard skyscraper and Harrods department store. Chelsea Barracks is Qatari Diar's largest European residential development in terms of value, according to its website.
"It's a very liquid market with lots of transactions, so they can exit easily," Maclean said by phone today. Another attraction is the increase in deals with values of more than 100 million euros ($134 million) which appeal to Middle East buyers, he said.
Political Tension
The conflicts plaguing parts of the Middle East region may have contributed to the increase in funds being invested in European real estate, Maclean said. Money that is typically invested countries such as Syria and Egypt has to be deployed elsewhere and "perhaps London is a beneficiary of that."
Almost half of the Middle East investment in Europe comes from the region's sovereign-wealth funds, according to the report. Total spending on Europe's commercial real estate reached 32.6 billion euros in the second-quarter, a 22 percent increase from a year earlier, the report said.
Foreign investors accounted for 44 percent of all European commercial property transactions, up from 40 percent a year earlier. Cross-border investments within Europe declined to 16 percent of deals, compared with 20 percent through 2011 and 2012, CBRE said.
"The second half of the year is always better than the first half and there is no reason why that wouldn't continue," CBRE's Maclean said. "Investors are feeling more comfortable because of economic indicators that seem very good."
To contact the reporter on this story: Zainab Fattah in Dubai at zfattah@bloomberg.net
To contact the editor responsible for this story: Andrew Blackman at ablackman@bloomberg.net