Gas Price Jump Seen in Record Europe Stockpiling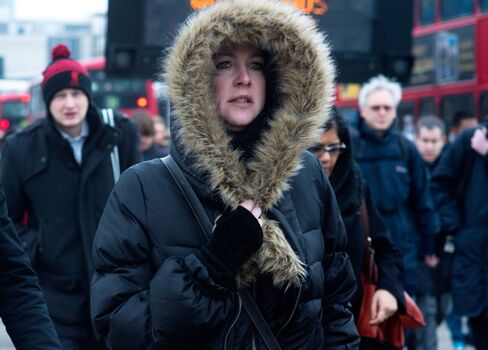 Europe's utilities are replenishing natural gas reserves at the fastest pace on record, risking a surge in prices as the region's winter heating season looms.
Inventories in eight European countries were 14 percentage points below the year-earlier level on Aug. 26 after climbing an unprecedented 48 points since April 13, data from Gas Infrastructure Europe show. German day-ahead prices may rise as much as 63 percent to match the record set in February 2012 amid forecasts for lower-than-normal temperatures, according to Tobias Meyer of Gas-Union GmbH, a Frankfurt-based supplier.
Germany, Europe's biggest importer of the fuel, is refilling storage sites depleted by the coldest spring in 26 years as forecasters from Weather Services International to Deutscher Wetterdienst predict colder-than-average weather next month. Higher prices may encourage utilities from EON SE to GDF Suez SA to burn more coal instead of gas, increasing pollution as the region aspires to be a world leader in cutting emissions.
"We may see extreme price spikes if this winter starts early, lasts long or both," said Meyer, a gas trader for seven years. "When gas prices in Germany rise because of a potential supply squeeze, then this will also have an impact on Dutch and British hubs, where we see a similar situation."
German day-ahead gas is at its highest level for this time of year since 2009, according to broker data compiled by Bloomberg. The price for gas to be delivered tomorrow on NetConnect Germany, the virtual hub covering the western and southern parts of the country, fell 0.8 percent to 25.55 euros a megawatt-hour. The contract reached a record 41.65 euros in February 2012.
Facing Bottlenecks
Germany, Europe's biggest economy, France, the Netherlands and Austria are facing supply bottlenecks this winter, especially in the first quarter of 2014 during cold spells, unless storage sites are refilled quickly, Helmut Roloff, a spokesman for Open Grid Europe based in Essen, said yesterday by e-mail.
Utilities injected an average 274 million cubic meters a day of gas into facilities in nine countries from the U.K. to Germany since April, the fastest pace since Gas Infrastructure Europe, a Brussels-based lobby group, began collating the data in 2009.
Inventories at Rough, the U.K.'s largest storage site, shrank to a record minus 337 gigawatt-hours, a deficit of 31 million cubic meters, on April 13, because of unseasonably cold weather. Centrica Plc, which owns Rough, a depleted field under the North Sea commissioned in 1975, was forced to draw on buffer gas used to maintain pressure at the site.
Coldest Spring
The three months beginning in March were the coldest in the U.K. since 1962 and the fifth-coldest since records began in 1910, according to the Met Office in Exeter, England.
The rush to restock storage sites before winter has kept month-ahead U.K. gas prices at their highest for this time of year since at least 2003, according to energy broker Marex Spectron Group Ltd. data on Bloomberg. The cost of next-month delivery in the region's biggest gas market jumped to a five-year high of 76.10 pence a therm on March 29. The contract was little changed and traded at 64.05 pence a therm in London today, broker data show.
Rising prices this month pushed the cost for utilities to burn natural gas instead of coal to the most since at least 2009. The dark-spark spread, the profitability of coal-fired plants relative to stations fueled by gas, climbed to 26.73 euros per megawatt-hour Aug. 7, based on German power, gas, coal and carbon prices for next year.
Coal, which emits twice as much carbon dioxide than burning gas, is favored because the cost of pollution has slid 82 percent in Europe since 2008. A contract to emit a ton of the greenhouse gas in the region's emissions market averaged 4.34 euros this year compared with 23.85 euros during the same period in 2008, data on ICE Futures Europe in London show.
Trailing U.S.
German power production from hard coal-fired plants rose 7.9 percent in the first seven months of the year, according to the Fraunhofer Institute for Solar Energy Systems, based in Freiburg. Gas-fired output dropped 19 percent, the data show.
EU carbon output fell 1.9 percent last year, trailing the 3.9 percent drop in the U.S. where power stations' use of cleaner-burning gas is increasing, BP Plc data show.
Europe is restocking as shipments of liquefied natural gas delivered by sea fell 31 percent in the first seven months of the year, according to government data from the U.K., Belgium and the Netherlands. Total pipeline imports from Libya and Algeria fell 17 percent to 18.1 billion cubic meters in the past six months from a year earlier, according to Italian and Spanish grid data compiled by Societe Generale SA in Paris.
Fuel Injection
Utilities in Europe are turning to Russia to fill the shortfall. OAO Gazprom, the world's biggest natural gas producer, delivered 92.3 bcm through July, a 12 percent gain from the same period a year ago. The reliance on pricier Russian fuel, tied to the cost of oil, will keep U.K. month-ahead gas above 64 pence a therm, Thierry Bros, a Paris-based gas analyst at Societe Generale, said in an Aug. 21 report.
The pace of gas pumped into storage may be enough to avert a shortfall in October, when customers typically start withdrawing fuel from facilities, according to Helmut Kusterer, the head of business development at GVS Gasversorgung Sueddeutschland, a gas supplier in Stuttgart, Germany.
Germany's gas stores were about 2.2 billion cubic meters below the five-year average on Aug. 26, compared with a deficit of 5.7 bcm April 13, Gas Infrastructure Europe data show.
"The injection season this year started rather late, but rose a lot after the end of May," Kusterer said Aug. 7.
Rising injections rates will prevent supply shortages in the north east of the country known as the Gaspool area, the region's grid operators said today in a statement.
"We expect that storage facilities will be filled quick enough to make their contribution to secure supply on time for the winter season," five grid operators, led by Ontras Gastransport GmbH, the region's biggest, said today in a statement.
Summer-Winter Spread
Higher prices are narrowing the gap between summer and winter contracts, making it less profitable to store gas in summer and withdraw it in winter. Gas for delivery in the last quarter of the year at NetConnect cost 1.25 euros more than next-working day gas. That compares with a gap of 2.75 euros 12 months earlier.
"The spread between day-ahead and the fourth-quarter gas contract is catastrophic for storage operators and makes storing gas unattractive," Gas-Union's Meyer said. "Not all storage operators will enter the winter season with full gas reserves, which will intensify the consequences of an early or long winter."
Temperatures in the U.K. and western Europe will be near or below normal through October, while "significant" parts of Europe may face cooler-than-average temperatures this winter, Weather Services International, a unit of The Weather Company in Andover, Massachusetts, said on Aug. 21.
'Early Look'
"A very early look at indicators for the upcoming winter suggest that atmospheric blocking may be favored again this winter, which would favor below-normal temperatures across significant parts of Europe," WSI said.
German temperatures this spring averaged 1.8 degrees Celsius (3.2 Fahrenheit) below the 1981-2010 reference period, according to Deutscher Wetterdienst. The Offenbach, Germany-based forecaster predicts colder-than-normal temperatures in the third week of September in most of Germany and near-normal for the rest of the month.
MetraWeather, a unit of the Meteorological Service of New Zealand, is forecasting above-average temperatures for most of Europe through Sept. 15, according to an Aug. 23 report.
"The continued call for injections means that the market is not out of last winter's shadow yet and thus prices will remain high and sensitive to any production outages," Trevor Sikorski, the London-based head of natural gas, coal and carbon at Energy Aspects Ltd. wrote in a research report published on Aug. 6. "Prices are going to stay high."