A Franchise Wants to Train the Next U.S. Tennis Star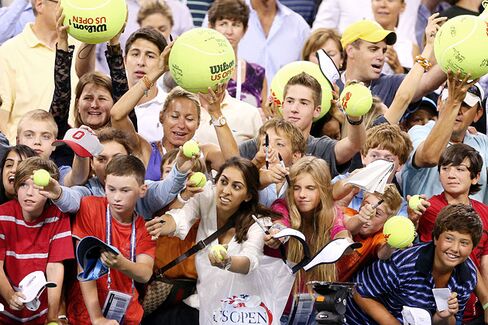 American men won 15 U.S. Open tennis championships between 1978 and 2003. They've won zero since. Can a franchise business help U.S. tennis return to glory? TGA Premier founder Joshua Jacobs thinks so.
Jacobs played collegiate golf at Emory University, then got into the youth sports business in 2003, when he started teaching golf in Los Angeles schools. By 2011, TGA had 50 franchises across the country, and Jacobs expanded into tennis. The two sports, says Jacobs, have much in common: They're country club activities that are more popular with adults than they are with children.
There's no perceived crisis in American golf. In tennis, Serena Williams is the world's top-ranked woman, and her sister Venus just won a first-round upset at the U.S. Open. But beyond the Williams sisters, no active U.S. tennis player of either sex is really a household name. It's partially a numbers game. "If you increased the number of kids playing the sport by 5 million or 10 million, wouldn't you have a better chance of developing the next champion?" says Jacobs. "The big question is, what are we going to do to get more kids into the game?"
He's not the only one asking. The U.S. Tennis Association has made it a priority to get children 10 and under playing the sport. Tennis greats Andre Agassi and John McEnroe have also pondered the question.
In 2012, Jacobs partnered with the USTA to develop a curriculum for teaching tennis in public and private schools. The standard program runs eight to 10 weeks and costs parents about $100. Franchise owners, including former pro tennis player Todd Martin, also benefit from association with the USTA when marketing their services for one-on-one sessions. Today, TGA has 21 tennis franchises, with buy-in fees ranging from $6,000 to $35,000, depending on the market. Jacobs projects systemwide revenue for TGA's 71 franchise territories at $4.5 million for 2013, with about 20 percent coming from tennis academies.
That makes TGA Premier a small part of the sports coaching business, which is estimated to be a $6.3 billion industry in the U.S. in 2013, according to IBISWorld. A search of the International Franchise Association's database doesn't turn up a whole lot of sports academies that operate as franchises. Jacobs says the model lends itself to expanding the game. "You're vested if you buy a franchise," Jacobs says. "Your success is predicated on the number of people you get into tennis."
Before it's here, it's on the Bloomberg Terminal.
LEARN MORE