An Executive Curriculum, Handpicked by Your Employer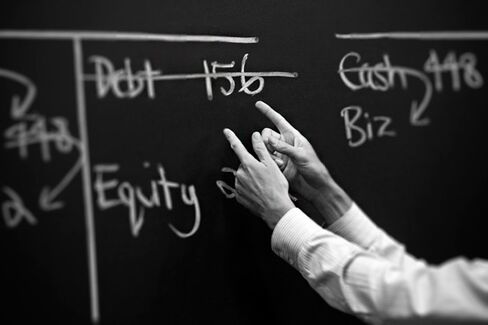 Indiana University's Kelley School of Business is expanding its certificate programs for executives, combining noncredit webinars, for-credit certificates, and graduate degrees into a single educational program, mostly for corporate clients.
A corporate client works with the Kelley School to develop "executive degree programs" as webinars on topics such as health care analytics, supply chain analytics, or social media marketing. Then the client's employees can pursue the courses to earn a certificate that demonstrates competency in particular skills.
Employees who excel in the certificate program earn credits they can put toward completing an MBA or MS degree, as long as they meet admissions requirements. In addition to successfully completing four certificate courses, they must write a personal statement and provide a recommendation from an immediate supervisor, college transcripts, and GMAT or GRE scores.
Booz Allen Hamilton, the strategy and technology consulting firm, has employed the Kelley School to train some of its staff in business analytics and enterprise resource planning—the software systems used to monitor production, order processing, and inventory. Each of Booz Allen Hamilton's programs with Kelley features four separate three-month-long courses that can be completed in 15 months, says Tom Preston, a principal at Booz who helped to create the programs and has personally participant in it. "We define the curriculum to make it applicable to the kind of consulting we do," he adds.
So far, more than 125 Booz employees have earned certificates in enterprise resource planning and more than 250 have done so in business analytics. Recently, the company had about 35 employees go through a similar Kelley program in information technology service management.
Once the employees have completed all four courses, they earn 12 credit hours toward a degree. At least 25 percent of the employees who have taken the courses have gone on to secure one of the degrees, says Preston, himself two-thirds of the way through the EMBA program. About 800 students are enrolled in executive degree programs, and the Kelley School expects that number to rise with a planned increase in general enrollment beyond those at partner firms, according to the school's announcement.
Previously, certificate programs tended to have a general management focus. Now corporate clients are showing strong interest in business analytics, supply chain analytics, health-care analytics, social media marketing, enterprise-resource planning, and specialty programs such as cybersecurity, says Richard J. Magjuka, the faculty chair of executive degree programs at the Kelley School.
These corporate-sponsored programs vary in cost. For public programs in which participants enroll independent of their employers, the cost is $13,740 for a four-course certificate.NN
Preston says one of the biggest benefits of these programs is the ability to train employees on new technologies. "No matter where you are in your career, you must keep your skills current and keep learning new things," he adds. "You don't want to be obsolete."
Join the discussion on the Bloomberg Businessweek Business School Forum, visit us on Facebook, and follow @BWbschools on Twitter.
Before it's here, it's on the Bloomberg Terminal.
LEARN MORE