Punitive Syria Military Strike Is No Game-Changer in Assad's War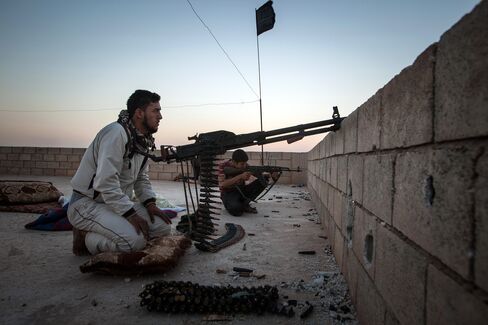 Anything short of a "sustained" military campaign against Syrian President Bashar al-Assad for his alleged use of chemical weapons probably wouldn't tip the balance in favor of rebels, according to research firm IHS.
"An intervention on a small scale would be a punitive measure, intended to show that there is a price to be paid for using chemical weapons," Firas Abi Ali, Middle East analyst at IHS in London, said today. "It would mean his military capability would become weaker but would not improve the ability of the insurgents to take urban areas and hold them."
A lengthy military operation, though, would hand an advantage to Islamist militants fighting Assad, an objective Western powers would be reluctant to seek, Abi Ali said.
Pressure is mounting on U.S. President Barack Obama to intervene in the Syrian conflict after some Syrian opposition groups said 1,300 people were killed in an Aug. 21 chemical attack in the Damascus suburb of Ghouta. U.K. Foreign Secretary William Hague said his country, the U.S. and France were in agreement on the need to respond and didn't rule out action without United Nations approval.
The prospect of possible Western military action helped to raise oil prices close to a four-day high.
"The campaign will likely begin soon," Theodore Karasik, director of research at the Institute for Near East and Gulf Military Analysis in Dubai, said in a phone interview today. "What we don't know is what the key objectives that the U.S. and allies want to put on the Assad regime. If it's a two, three-day strike to send a message, it doesn't reorganize the pieces that much."
'Extremely Dangerous'
The Syrian leader has denied his forces used chemical weapons. A UN team probing the attack came under sniper fire today as it sought to reach the Damascus suburb, the world body said in a statement.
The investigation is too late because constant shelling of the area could have corrupted or destroyed evidence, a senior U.S. administration official said in an e-mailed statement. Senators John McCain and Lindsey Graham, Republicans on the Senate Armed Services Committee, have called for a limited military response by the U.S. and its allies.
Russia warned against "extremely dangerous" consequences if force was used against Assad. Any "wrong assessment of Syria will make the regional situation even more complicated and dangerous," Iran's Foreign Ministry spokesman Abbas Araghchi said in an interview with the state-run Iranian Students News Agency.
"All the key questions in the region are so intertwined and that has the potential of spreading," Karasik said. "The next 48-72 hours will be the most critical."