King Speech 50 Years on Shows Black Distress Endures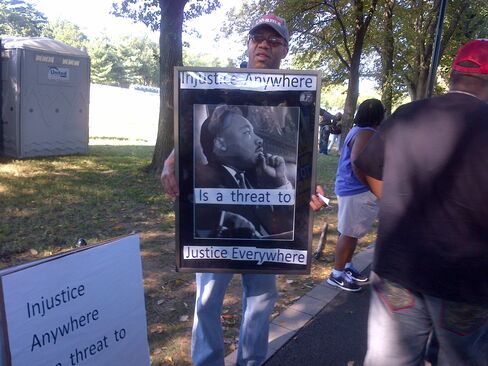 Martin Luther King Jr. declared from the steps of the Lincoln Memorial that the March on Washington was "not an end but a beginning." Fifty years later, the push for racial equality still isn't complete.
The U.S. has a black president, millions of African-Americans have earned advanced degrees, and growing numbers hold professional and management jobs that were out of reach in 1963.
Yet by almost every measure -- income, economic mobility, housing, education, employment, standing in the criminal justice system and life expectancy -- they're lagging behind whites, according to census and other data compiled by Bloomberg.
When President Barack Obama marks the Aug. 28 anniversary of the march with a speech from the same site as King's, his stature as the first black president will belie those gaps, a point he recognized last week even as he cited the "enormous strides" that have been made.
"The legacy of discrimination, slavery, Jim Crow, has meant that some of the institutional barriers for success for a lot of groups still exist," Obama said at Binghamton University in New York on Aug. 23. "African-American poverty in this country is still significantly higher" than for other groups, he said.
Since taking office in 2009, Obama has backed proposals to aid lower-income minorities: early-education programs; expanded Pell grants for students from poorer families, an $850 million boost for historically black colleges, and raising the minimum wage. Among those who may gain from his health-care law are more than 7 million uninsured blacks.
Undermining Progress
He has also named blacks to top jobs in his administration, such as attorney general, national security adviser and Environmental Protection Agency chief.
Still, economic progress has been plodding and undercut by the aftershocks of the worst recession since the Great Depression.
Since the June 2009 end of the recession, median income for black households has dropped 10.9 percent, compared with a 3.6 percent fall for white households, Sentier Research, an economic-consulting firm in Annapolis, Maryland, said last week.
That's one reason King's "I Have a Dream" speech resonates decades after the end of official segregation and the 1965 passage of the Voting Rights Act.
'Lonely Island'
In the 1963 address at what was called the March on Washington for Jobs and Freedom, King said that a century after the Emancipation Proclamation ended slavery, black Americans were living "on a lonely island of poverty in the midst of a vast ocean of material prosperity."
Today, while the poverty rate for blacks has improved over the last five decades, it's still greater than one in four -- and almost three times worse than for whites.
In 1966, the closest year from the speech for which census data are available, 42 percent of blacks lived in poverty compared with 11 percent of whites. By 2011, 28 percent of blacks were impoverished compared with less than 10 percent of whites.
The U.S., King said, had given blacks a check "which has come back marked 'insufficient funds.'"
While the nation's 44.5 million blacks made up 14.2 percent of the population in 2012, they were only 8.9 percent of college graduates and held 8.2 percent of management and professional jobs, according to census and Bureau of Labor Statistics data.
King spoke of the black citizen "languished in the corners of American society" as an "exile in his own land."
Income Gap
In 2011, blacks made up about half of homicide victims and 38 percent of the prison population, FBI and Bureau of Justice Statistics data show. And 42 percent of homeless Americans are black, according to a 2006 survey by the U.S. Conference of Mayors.
On Aug. 12, Attorney General Eric Holder said he is instructing U.S. prosecutors to avoid seeking "mandatory minimum" sentences for nonviolent drug crimes. Of the 509,677 blacks in state prisons, 18 percent are incarcerated for drug-related offenses compared with 14.5 percent of whites, according to the Bureau of Justice Statistics.
Five decades after King spoke of the "great vaults of opportunity of this nation," median black family income is more than 40 percent below that of whites. As of June, black households were earning an annual median of $33,519 compared with $58,000 for whites, according to Sentier Research.
'Greater Separation'
That gap has narrowed from a 55 percent differential in 1991. Blacks are also making gains on the upper end of the spectrum: About 10.4 percent of black households earned $100,000 or more in 2011, up from 6.9 percent 1991. For white households, 24 percent were earning at least that much in 2011. About 1.5 percent of black households earned $200,000 or more in 2011, a fourfold increase from 1991.
"The black middle class is doing well, able to live where they want to live, eat where they want to eat, and that's a sign of progress," said Charles Ogletree Jr., a professor and director of the Charles Hamilton Houston Institute for Race and Justice at Harvard Law School and a mentor of Obama.
"The reality is, there's a greater separation now than ever before between the haves and the have-nots in the African-American community, and that's really different than what we experienced 50 years ago."
The Pew Charitable Trusts, in a 2012 study on economic mobility, found that blacks raised poor were more likely than whites to stay poor into their 40s, while blacks raised in the middle-earning quintile were more likely than not to slip down a peg. The study found 53 percent of black adult children raised in the bottom quintile were there a generation later.
Jobless Rate
"It's absolutely the case that blacks are more likely to be stuck in the bottom or fall from the middle than whites," said Diana Elliott, research manager for Pew's economic-mobility project.
While the black unemployment rate has been improving in Obama's second term, it's no better than it was two decades ago. Joblessness for African-Americans last month was 12.6 percent, about the same as in July 1993 and almost twice that of whites.
Home ownership reflects another gap. In the second quarter of this year, about 43 percent of black households owned their own homes compared with 73 percent of whites, census data show.
Obama's expansion of health insurance aims, in part, to address another disparity -- coverage by race. Eleven percent of whites lacked insurance in 2011; the rate was 19.5 percent among blacks. And more than a third of insured blacks were covered by Medicaid, the government program for the poor.
Voting Rights
Life expectancy for black Americans in 2010 was 75 years, according to Centers for Disease Control and Prevention data. That's almost four years less than whites, although an improvement from 1990, when it was 69.
Some of the clearest advancements for blacks came in the voting rights laws in the years that followed King's 1963 protest that a black man in Mississippi "cannot vote" and in New York "believes he has nothing for which to vote."
Last year, for the first time, blacks, as a percentage, outvoted whites in a presidential election.
A Supreme Court ruling in June struck down a core enforcement provision of the Voting Rights Act, prompting Obama to declare the decision a "mistake" and seek new protection through Congress. On Aug. 22, the Justice Department filed a lawsuit challenging the constitutionality of a Texas voter-identification law, which it said was "adopted with the purpose, and will have the result, of denying or abridging the right to vote on account of race, color, or membership in a language minority group."
'Jangling Discords'
King said that with faith the U.S. could "transform the jangling discords of our nation." Black gains in college participation may pave the way for more parity.
The 8.9 percent of college graduates age 25 to 34 in 2012 who are African-American is up from 7.7 percent in 1994. Growth in the number of blacks with advanced degrees is more marked. Last year, 8.4 percent of Americans with master's, professional or doctoral degrees were black, up from 5.5 percent in 1994.
Farrel Blake, 34, of Great Falls, Montana, a black father of two who serves in the Air Force, said his experience shows how education and civil rights laws offer a foothold in the middle class. He moved to the U.S. in the 1990s from Jamaica and became a citizen, earning a college degree while serving in the military.
"Things have changed over the life span I've been here," Blake said. "We have a lot more tolerance. We definitely have a lot more respect for diversity."
Better Life
Milton Ross, 72, a retired landlord from Phoenix, who is black, said while the promise of 1963 hasn't been entirely fulfilled, his life is better than when he grew up in the South.
"Back in 1963 you could not vote if you were a black person in Mississippi. You couldn't do nothing," Ross said as he strolled the National Mall last week on a visit to Washington with his wife, Eula.
While blacks lag behind whites in pay, he said, "education has changed a hell of a lot. Now blacks are accepted in the bigger universities."
Ross said Obama's presidency has gone a long way toward fulfilling King's dream. Even so, "It's still two different worlds," he said. "I wish I knew the answer to why it's like that, but there's still two different worlds."
Obama met and prayed with a 11 leaders of African-American church denominations in a private meeting today at the White House. They discussed voting rights, education, unemployment and health care, according to a White House statement.
Obama recognizes that the U.S. must do more to live up to King's dream, a senior adviser said.
"He has given it a great deal of thought," said Valerie Jarrett, an Obama confidante who's black. "When you think about the underlying purpose of the march, it was helping people get jobs, it was all about economic empowerment."