Jeter to Join Yankees Lineup at Toronto, Manager Girardi Says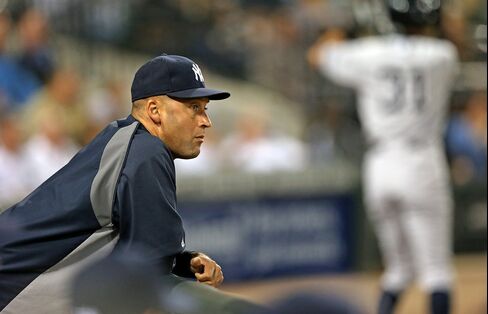 Aug. 25 (Bloomberg) -- Shortstop Derek Jeter is expected to be in the lineup for the New York Yankees tomorrow in a game against the Toronto Blue Jays, manager Joe Girardi said.
"That's the plan," Girardi said on the team's website.
Jeter grounded out twice and singled in the sixth inning for the Triple A Scranton/Wilkes-Barre Railriders in his third and final rehabilitation game yesterday. The Railriders lost 5-4 in 10 innings to the Pawtucket Red Sox.
Jeter returned to the 15-day disabled list with a strained right calf muscle Aug. 5 after playing his fifth game this season.
Jeter, 39, missed the first 91 games of the Major League Baseball season while recovering from a fractured left ankle. He strained a thigh muscle while running the bases in his season debut on July 11, forcing him to miss 12 more games.
Jeter is hitting .211 with one home run and two runs batted in this season.
To contact the reporter on this story: Nancy Kercheval in Washington at nkercheval@bloomberg.net
To contact the editor responsible for this story: Michael Sillup at msillup@bloomberg.net