ECB Council Members Split in Jackson Hole Over Rate Cuts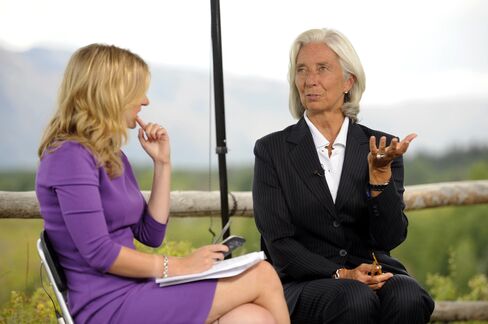 European Central Bank Governing Council members are split over whether scope remains for further interest-rate cuts as evidence mounts that the euro-area economy is on the mend.
Policy makers still can't rule out lowering the benchmark rate from the record low of 0.5 percent, Central Bank of Cyprus Governor Panicos Demetriades said in an Aug. 24 interview in Jackson Hole, Wyoming. By contrast, Bank of Austria Governor Ewald Nowotny said on Aug. 22 he doesn't see "many arguments now for a rate cut" after the recent "stream of good news."
The divisions within the 23-member council are emerging as the ECB prepares forecasts for release next month. The euro-area economy emerged from its longest recession in the second quarter with 0.3 percent growth from the previous three months. Economists predict that a European Commission report due this week will show that confidence in the bloc is the highest since March 2012, according to the median estimate of economists in a Bloomberg survey.
A rate cut "is still on the cards," Demetriades said. "We cannot rule out that possibility, although one has to take a look at the new data. That data is more encouraging."
Nowotny said he was "cautiously optimistic" about the outlook, though he described the recovery as "weak." He signaled that there is no plan for a rate increase soon, saying "the most recent developments will have no immediate effects" on ECB policy.
'Crossing Fingers'
The ECB still has "room to maneuver" after proving a "strong support" for the recovery, International Monetary Fund Managing Director Christine Lagarde told Bloomberg Television's Sara Eisen at the conference organized by the Federal Reserve Bank of Kansas City. She urged efforts to "unclog" bank lending.
"I wouldn't necessarily draw the conclusion that we are out of the woods and nothing needs to be done," she said. "The latest numbers that we have received, in particular from Germany, are encouraging. It needs to be sustained over time and I'm crossing fingers for the euro zone."
With the recovery gaining momentum, ECB officials are seeking to quell any speculation in financial markets that they will shift to tighter policy prematurely. President Mario Draghi pledged last year to do "whatever it takes" to save the euro and announced a plan to buy the bonds of stressed nations if necessary. In July this year he said he would keep the ECB's benchmark interest rate at its current level or lower for an "extended period."
Price Stability
Such forward guidance is not a "promise to generate inflation," Frank Smets, the ECB's director general for research, said at the conference. Rather it is aimed at clarifying the ECB's assessment of the subdued inflation outlook and what it looks at when setting policy, he said.
Governing Council member Jens Weidmann said today that while the ECB has already made a significant contribution to preventing the region's debt crisis from escalating, it must continue to focus on its primary mandate of price stability.
"Policy makers have entered unknown and also dangerous territory," Weidmann, the president of Germany's Bundesbank, said in Berlin. "Price stability does not stand in contrast to economic prosperity. Rather it complements and perpetuates it."
Before it's here, it's on the Bloomberg Terminal.
LEARN MORE