U.K. Economic Growth Accelerates to 0.7%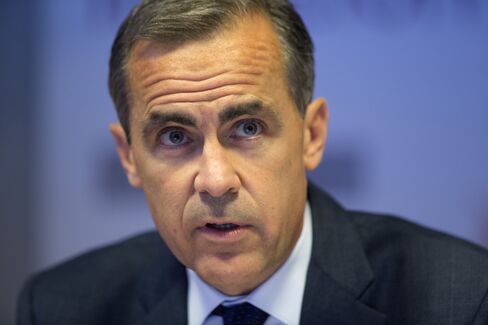 U.K. economic growth accelerated more than initially estimated in the second quarter, helped by construction and manufacturing and a boost from trade.
Gross domestic product increased 0.7 percent from the first quarter, when it rose 0.3 percent, the Office for National Statistics said in London today. That compared with an initial estimate of 0.6 percent published on July 25. Exports rose the most in more than a year and net trade contributed 0.3 percentage point to GDP.
Signs that the economy has maintained its momentum, with services, manufacturing and construction indexes all rising last month, have prompted some economists to raise their growth forecasts for this year and next. While risks to the outlook remain, Bank of England Governor Mark Carney has sought to cement the recovery by introducing forward guidance to quell investor bets on higher interest rates.
"With business surveys suggesting that the U.K. started the third quarter on a firm footing and with sentiment continuing to strengthen, it points to an encouraging outlook," said James Knightley, an economist at ING Bank NV in London. "The first Bank of England rate hike is more likely to come in early 2015, rather than third quarter of 2016 at the earliest as suggested by the BOE."
The pound traded at $1.5621 as of 11:40 a.m. London time, up 0.2 percent from yesterday. The yield on the benchmark 10-year U.K. government bond climbed 1 basis point to 2.73 percent.
Manufacturing Revisions
Manufacturing grew 0.7 percent in the second quarter, higher than the 0.4 percent initially estimated, the statistics office said. Construction growth was revised to 1.4 percent from 0.9 percent. Services, the largest part of the economy, was unrevised at 0.6 percent growth.
Exports rose 3.6 percent, the most since the fourth quarter of 2011, and imports increased 2.5 percent. Net trade has added to GDP for two straight quarters, the first time that's happened since the first quarter of 2011.
Consumer spending rose 0.4 percent, government expenditure increased 0.9 percent and gross fixed capital formation jumped 1.7 percent. Consumer spending was boosted by a 2.4 percent increase in employee compensation. That was partly driven by financial-services firms deferring bonuses until April, when the government cut the top rate of income tax.
In a separate release, the ONS said business investment rose 0.9 percent in the second quarter from the previous three months and was down 3.5 percent from a year ago.
Cameron Boost
In another report, the statistics office said its index of services was unchanged in June from May. In the second quarter, it rose 0.6 percent.
The figures provide a further boost to Prime Minister David Cameron. With the next general election due in less than two years, Cameron's Conservatives trail behind the opposition Labour Party by as little as three percentage points, opinion polls show. Labour was about 10 points in front at the start of the year.
The economy is "moving from rescue to recovery," the Treasury said in statement. "It's particularly encouraging that growth in exports and investment contributed well over half of the second quarter growth rate."
Signs of strength in the global economy are bolstering the outlook for Britain. Euro-area services expanded for the first time in 19 months in August, and Chinese data this week showed manufacturing unexpectedly expanded.
U.S. Growth
The U.S. economy grew at a 1.7 percent annualized rate in the second quarter. Based on that measure, the U.K. grew 2.9 percent in the period. A report today showed Germany, Europe's biggest economy, expanded 0.7 percent in the second quarter driven by consumption and a rebound in investment.
West Sussex, England-based Rentokil Initial Plc, which offers pest control and hygiene services, reported an increase in profit and revenue for the first half as growth accelerated in the second quarter and business outside Europe picked up.
Separate data today showed the number of loans for U.K. house purchases fell to 37,200 in July from 37,337 the previous month. The report from the British Bankers' Association also showed that home loans are up from 28,400 a year ago. There were signs of continued weakness in corporate lending. Net borrowing by non-financial companies dropped 3.3 billion pounds ($5.2 billion), the most in more than a year.
The BOE has said it plans to keep its key interest rate at a record low of 0.5 percent as long as unemployment exceeds 7 percent. The rate was 7.8 percent in the second quarter, and the bank doesn't see it reaching 7 percent until at least the fourth quarter of 2016.
"The U.K. is heading in the right direction but it still has a long way to go," said Rob Wood, an economist at Berenberg Bank in London. "It's important that Mark Carney and his sidekicks at the BOE are able to keep expectations of the first rate hike from getting unhinged from the state of the economy."
Before it's here, it's on the Bloomberg Terminal.
LEARN MORE