Microsoft CEO Ballmer to Retire Within Next 12 Months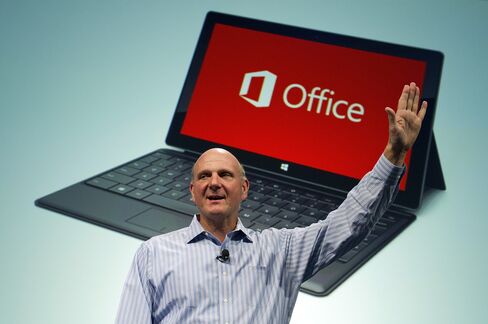 Microsoft Corp. Chief Executive Officer Steve Ballmer, who has struggled to adapt the world's largest software maker to the shift away from personal computers and toward mobile devices, will retire after more than a decade at the helm.
Ballmer, 57, plans to step down within 12 months, Redmond, Washington-based Microsoft said today in a statement. The company's lead independent director, John Thompson, will oversee the search for his successor, heading a committee that will also include Microsoft co-founder Bill Gates. Investors applauded the move, sending the shares up the most since 2009.
Ballmer's move reflects the changes roiling the computing industry his company helped pioneer. Microsoft, which supplies the software running most PCs, lost almost half its value on Ballmer's watch. The stock hasn't closed above $50 since his first year on the job amid competition from Google Inc., Apple Inc. and Facebook Inc. in everything from tablets to the Web.
"There is never a perfect time for this type of transition, but now is the right time," Ballmer wrote in a memo to employees today that was posted on Microsoft's website. "We need a CEO who will be here longer term for this new direction."
Management Reorganization
The announcement comes six weeks after Ballmer streamlined the company's management, spurring speculation that he was grooming successors. He cut the number of business units to four and said Windows chief Julie Larson-Green, 51, would oversee all hardware, including the Surface tablet and Xbox console and related games. Windows Phone software head Terry Myerson gained responsibility for the Windows and Xbox operating systems. Skype president Tony Bates, 46, was put in charge of a new group for business development and acquisitions.
Other PC-related companies have also been struggling with the decline in their industry. Intel Corp., which supplies the chips used in PCs, announced a CEO change last year. Dell Inc., the No. 3 PC maker, is embroiled in a months-long battle to go private. And this week, Hewlett-Packard Co., the No. 2 PC company, shook up its executive ranks as it attempts a turnaround.
The mantle of technology leadership has instead been taken up by Google, Apple and Facebook, which have over the past decade moved the landscape toward trends like mobile, search and social networking -- all areas where Microsoft is weak.
Challenged Business
Amid these shifts, Microsoft last month reported quarterly profit and sales that missed analysts' estimates. The company's latest computing operating system, Windows 8, also hasn't spurred the comeback that Ballmer was aiming for. In April, activist investor ValueAct Holdings LP disclosed a stake of about $1.9 billion in Microsoft, pushing the software maker to consider giving the shareholder a board seat.
"He's become a lightning rod for frustration over Microsoft's lack of progress in mobile and Windows 8," said Richard Williams, an analyst at Cross Research in Millburn, New Jersey.
The company's stock rose 7.3 percent to $34.75 at the close in New York.
Ballmer had thought about retirement for quite a while and the timing became clearer over the last few months, he said in an interview with ZDNet. The CEO said he officially decided that he would exit during a board call two days ago. Gates, who is chairman and on the board, didn't ask Ballmer to stay, said the CEO.
Internal Shock
"Bill respects my decision," Ballmer said to ZDNet. "Ultimately, these kinds of things have to be one's own personal decision."
Members of Microsoft's senior leadership team only learned about Ballmer's decision to retire last night, said a person with knowledge of the matter. Many senior executives were surprised, said the person, who asked not to be identified because the discussions were private.
Microsoft said it would consider both external and internal candidates for CEO. Among the internal candidates are Bates, Myerson, Satya Nadella, head of the server business who was appointed to direct cloud and enterprise products last month, and Qi Lu, responsible for the Bing search engine and other Internet projects and who was named to oversee Office and the Skype videoconference business and to run a new applications group, according to people with knowledge of the matter who asked not to identified because the discussions are private.
Someone who isn't in the running is Gates, 57, who has been working on projects at the Bill and Melinda Gates Foundation, among other things, said two people with knowledge of the matter.
Ballmer-Gates Relationship
Ballmer took over the CEO role in 2000 from Gates, his schoolmate at Harvard University. While Ballmer had a boisterous style that made him legendary at company presentations, he largely remained in Gates's shadow. Ballmer wasn't seen as possessing the same vision for technology or the ability to anticipate changes in the industry, said Williams.
"Ballmer was more the executive than the visionary and he missed a few turning points that visionaries wouldn't have," Williams said.
Unlike Gates, who dropped out of Harvard to start Microsoft, Ballmer stayed in school and received a degree in applied math and economics. He then joined Microsoft in 1980.
Gates and Ballmer had very different management styles. While Gates was Microsoft's geeky visionary, Ballmer was its excitable salesman. One video of the CEO on YouTube, entitled "The Best of Steve Ballmer," features clips of him yelping and jumping on stage, wide-eyed and sweating, singing Microsoft's virtues.
Microsoft's Rise
In the 1980s and 90s, Microsoft's swift rise to PC software dominance made Ballmer a billionaire many times over. He is the world's 44th richest person, according to the Bloomberg Billionaires Index, with a fortune of $16.8 billion. Gates, the richest person in the world, has a net worth of $72.4 billion.
"This is a time of important transformation for Microsoft," Ballmer wrote in the memo. "This is an emotional and difficult thing for me to do. I take this step in the best interests of the company I love."
He said he plans to continue as one of the company's largest owners. Ballmer is the company's No. 5 shareholder, with a 4 percent stake, according to data compiled by Bloomberg.
With Microsoft shares soaring today on the announcement of his coming retirement, Ballmer's net worth jumped about $786 million, according to data compiled by Bloomberg.
Big Shakeup
Last month's reorganization, Microsoft's largest shakeup in a decade, is designed to speed development of hardware and services as the company's Windows business suffers from the shrinking PC market and poor demand for Windows-based mobile devices. The shuffle reversed some changes Ballmer made in 2002, when he divided Microsoft into what was then seven individual product units, each led by an executive with operational and financial responsibilities.
In the decade since then, he mainly tinkered with individual businesses. In 2011, Bob Muglia was pushed out as server chief, and in 2006 Ballmer revamped leadership of the Windows and Internet units after development delays for the Windows Vista operating system.
The latest reorganization was seen by analysts as a signal of which executives may be poised to succeed Ballmer. Before taking charge of hardware, Larson-Green helped spearhead a radical redesign of Microsoft's flagship operating system to create Windows 8, which was released in October.
Windows 8
While the new software ushered in major technological advancements, it also aroused the ire of some longtime users. Still, Larson-Green has been a rising star at Microsoft. She joined the company in 1993 and became a vice president in the Office division in 2006.
As demand wanes for PCs, the July management shakeup sought to turn away from Microsoft's original focus on "putting a PC on every desk in every home," Ballmer wrote in a memo at the time. PC shipments fell about 11 percent in the second quarter, for a record fifth straight quarter of declines, according to market research firms IDC and Gartner Inc.
'Comprehensive Vision'
"Ballmer did a very good job turning Microsoft from a bloated monstrosity into a much leaner and meaner machine over the last few years," said Microsoft investor Michael Obuchowski, a portfolio manager at North Shore Asset Management LLC in Cold Spring Harbor, New York. "However, despite the improved operations and much better quality of programming, Microsoft was severely lacking a comprehensive vision that would have allowed the company to stay ahead of the trends."
Microsoft also is trying to challenge Amazon.com Inc. and Google in cloud services as more customers opt for software that's run over the Web instead of installed on corporate machines. Cloud efforts that were scattered across several divisions were concentrated under two units in the reorganization.
Even with all the recent executive changes, there's no heir apparent, Obuchowski said.
"This is not going to be an easy search," he said. "The expectations are very high and I don't think Microsoft can afford to make a mistake here. I can't think of any obvious candidates off the top of my head."
Before it's here, it's on the Bloomberg Terminal.
LEARN MORE