Good Things Come in Small Packages, Especially on Wall Street
Small cap stocks are significantly outperforming large caps this year, 23 percent versus 16.4 percent including dividends. As shown below, small caps have also fared better since the market's all-time high on August 2.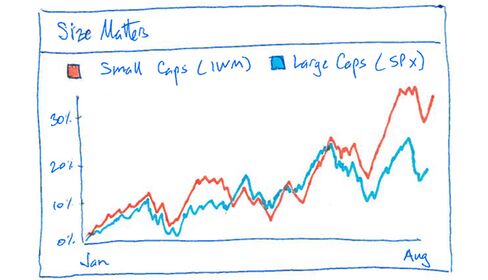 As a follow-up to Wednesday's blog on expanding our shopping list of buy candidates, today we focus on small caps... looking for leaders of this leading group. Specifically, we screened the Russell 2000 index for companies where:
1. Earnings will double this year according to analysts tracked by Bloomberg.
2. Stocks have rallied since the May, bucking an otherwise weak market.
Thirty-five companies made the cut. Financials account for one-third of the group; Tech, industrials and consumer stocks roughly account for the balance.
We mentioned eight of the better-known companies in our on-air segment, and we provide the full list below. In addition, both strategists highlighted in Wednesday's blog (Chris Verrone of Strategas and Mark Newton of Greywolf) still believe stocks "are close to a trade-able buy, but not there yet." As such, these potential candidates are for the shopping list.

Alliance Fiber (AFOP ), American Safety (ASI ), Apogee Enterprises (APOG ), Argan (AGX ), Aspen Technology (AZPN ), Calamp Corp (CAMP ), Cascade Bancorp (CACB ), Chatham Lodging (CLDT ), Cirrus Logic (CRUS ), Cogent Communication (CCOI ), Cumulus Media (CMLS ), Diamondrock Hospitality (DRH ), Employers Holdings (EIG ), Exar Corp (EXAR ), Furmanite Corp (FRM ), Gain Capital (GCAP ), Greenlight Capital (GLRE ), Insteel Industries (IIIN ), Investment Technology (ITG ), Matador Resources (MTDR ), Michael Baker (BKR ), Mueller Water (MWA ), Omega Protein (OME ), Orbitz (OWW ), Provident Financial (PROV ), Rex Energy (REXX ), Sagent Pharmaceuticals (SGNT ), Skechers (SK X ), Sucampo (SCMP ), Take-two Interactive (TTWO ), Tree.com (TREE ), United Community Banks (UCBI ), Vail Resorts (MTN ), Vantagesouth Bancshares (VSB ), Westmoreland Coal (WLB ).