B-School Catches the Health-Care Bug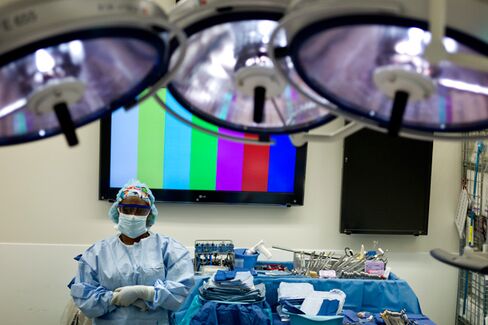 As the U.S. prepares to implement health-care reform, B-schools are seeing more interest in health-care programs. The Patient Protection and Affordable Care Act signed into law by President Barack Obama in 2010 and other global developments are bringing to business schools people you wouldn't normally expect to find there. Like doctors.
"There's so much energy and money in health care right now," says David Ridley, faculty director of the Health Sector Management Program at Duke University's Fuqua School of Business.
A record 94 Fuqua students are pursuing the health sector management certificate, up from 20 in 2001. This means that more than 20 percent of Fuqua's class of 2013 is focusing on the health-care industry, says Ridley. The school has also had more doctors showing interest in earning an MBA in recent years. From 2004 to 2009, the school considered about 30 applications a year from doctors, whereas today they see about 46 annually. And the number of doctors enrolled in the program each year has increased from about 15 to 22 over that period.
Christopher Lai, an emergency physician at the Durham VA Medical Center near campus and a finance manager at GlaxoSmithKline, earned an MBA at Fuqua in 2013 because he was frustrated by the ways the health-care system limited his ability to help patients, he says, and he wanted to understand the business side of the industry better so he could improve patient care.
For the first time ever at Massachusetts Institute of Technology's Sloan School of Management, health care has more students in the executive MBA program than any other industry, accounting for nearly one in five members of the class of 2014, as reported in the Boston Globe. And the school is considering a health-care certificate, says Maura Herson, director of the MBA Program Office.
The marriage between health care and business is natural, she adds. "Management education, by nature, has students looking across boundaries," says Herson. "Having just politicians or just doctors working on this isn't enough."
At Arizona State University's Carey School of Business, students in the daytime and evening MBA programs can undertake specializations related to health care, such as health sector management. While there have always been about 25 students participating in these programs, the population of students has changed, says Eugene Schneller, founder and co-director of the Health Sector Supply Chain Research Consortium at the Carey School.
Before, he says, only those interested in managing a hospital would sign up. Now health-care entrepreneurs—with dreams of starting medical device and electronic medical record companies—are enrolling.
Join the discussion on the Bloomberg Businessweek Business School Forum, visit us on Facebook, and follow @BWbschools on Twitter.
Before it's here, it's on the Bloomberg Terminal.
LEARN MORE