Israel Hits Lebanon After Attack Amid Regional Tumult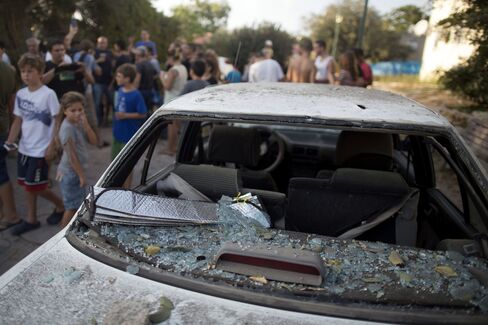 The Israeli military said it bombed a site in Lebanon today in response to the first rocket attack from that country in almost two years, adding to the turmoil gripping the Middle East.
The Israeli Air Force struck a "terror site" in Lebanon in response to a "barrage" of four rockets that targeted populated areas in northern Israel yesterday, the Israel Defense Forces said in an e-mailed statement. One of the incoming rockets was intercepted by Israel's Iron Dome missile defense system and two others landed, damaging property, the army said yesterday. No injuries were reported in Israel.
The Abdallah Azzam Brigades, designated a terrorist group by the U.S. State Department and linked to al-Qaeda, claimed responsibility for yesterday's rocket attack in a post on the Twitter account of Sirajuddin Zurayqat, an Islamic militant leader. Zurayqat said the rockets have a range of 40 kilometers (24.8 miles) and can reach Haifa and "other strategic areas" in Israel. The group has claimed previous rocket attacks on Israel.
"Yesterday's attack is a blatant breach of Israeli sovereignty that jeopardized Israeli civilian life," army spokesman Lieutenant Colonel Peter Lerner said in the statement. "Israel will not tolerate terrorist aggression originating from Lebanese territory."
Lebanese President Michel Suleiman condemned the rocket assault and ordered his security forces to find the attackers and bring them to justice, Lebanon's official National News Agency said. Suleiman said the attacks violated the 2006 United Nations agreement ending the month-long war between Israel and Lebanon's militant Shiite Muslim Hezbollah movement.
Targeted Site
Israel said it targeted a site in the area of Na'ameh, between the cities of Sidon and Beirut. The Popular Front for the Liberation of Palestine-General Command, a Palestinian militant group, told NNA one of its bases was the target of the strike, and no injuries or damage had resulted.
"We will act through a variety of means, to defend ourselves and to preempt attacks, and we will act responsibly," Israeli Prime Minister Benjamin Netanyahu said in a text message. "Anyone who will attack us, anyone who will try to attack us, should know we will attack him."
The Lebanese army found launchers used to fire the rockets in the Tyre area, NNA said yesterday. Tyre is 19 kilometers north of Israel.
"The aim of the jihadist militants is to create chaos in the region, and provoking Israel into an attack on Lebanon, or Hezbollah, would certainly serve that aim," said Gerald Steinberg, a political scientist at Bar Ilan University outside Tel Aviv.
Peacekeeping Force
The UN peacekeeping force in southern Lebanon, known as UNIFIL, said in a statement yesterday it sent a helicopter to investigate the reports of rocket fire and urged both sides' armies to "exercise restraint" to "prevent an escalation."
The flare-up along the border comes at a time of upheaval in the region. Egypt is reeling from the violent aftermath of President Mohamed Mursi's ouster and more than 100,000 have been killed in Syria's civil war, according to UN estimates. The Syrian opposition said in an unconfirmed report on Aug. 21 more than 1,300 were killed in a chemical attack near Damascus.
The Israel-Lebanon border has been tense though largely quiet since Israel warred with Hezbollah. Militants have fired rockets from Lebanon toward Israel since the conflict, without any of the incidents developing into a major skirmish.
Hezbollah hasn't claimed responsibility for any of the attacks since the war, and the military has attributed them to Palestinian groups and others linked to al-Qaeda.