U.S. Jobless Claims Fell to Five-Year Low Over Past Month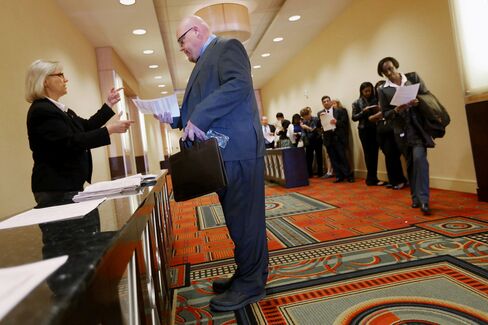 The fewest workers in more than five years applied for U.S. unemployment benefits over the past month, indicating the labor market continues to improve.
The number of claims in the month ended Aug. 17 declined to 330,500 a week on average, the least since November 2007, a Labor Department report showed today in Washington. Compared with a week earlier, claims rose by 13,000 to 336,000, in line with the median forecast of 48 economists surveyed by Bloomberg.
Firings are waning as employers hold on to workers to meet sales, which may be a precursor to bigger gains in payrolls once the effects of federal budget cuts and higher payroll taxes fade in the second half of 2013. Growth in employment, together with rising incomes, will help buoy consumer confidence and spending, which accounts for about 70 percent of the economy.
There is "legitimate improvement in the labor market," said Ryan Sweet, a senior economist at Moody's Analytics Inc. in West Chester, Pennsylvania. "It's more important to put the emphasis on the trend in claims, which remains favorable."
Stock-index futures held earlier gains after the report. The contract on the Standard & Poor's 500 Index maturing in September rose 0.4 percent to 1,643.6 at 8:38 a.m. in New York.
The four-week moving average is a less volatile measure than the weekly figures, and is considered a better gauge of the trend in applications.
Survey Results
The median forecast of economists surveyed projected a gain in claims to 330,000. Estimates ranged from 315,000 to 350,000. The Labor Department revised the previous week's figure to 323,000 from an initially reported 320,000.
No states were estimated last week and there was nothing unusual with the data, a Labor Department spokesman said as the figures were released to the press.
Last week included the 12th of the month, which coincides with the period the Labor Department surveys employers to calculate monthly payroll data. The four-week average was down from the 346,500 average during the comparable period in July. The employment report for August will be released on Sept. 6.
The number of people continuing to receive jobless benefits increased by 29,000 to 3 million in the week ended Aug. 10. The continuing claims figure does not include the number of Americans receiving extended benefits under federal programs.
Extended Benefits
Those who've used up their traditional benefits and are now collecting emergency and extended payments decreased by about 51,800 to 1.5 million in the week ended Aug. 3.
The unemployment rate among people eligible for benefits held at 2.3 percent in the week ended Aug. 10, the report showed.
Twenty-eight states and territories reported a decrease in claims, while 25 reported an increase. These data are reported with a one-week lag.
Initial jobless claims reflect weekly firings and typically wane before job growth can accelerate.
Employers in July added the fewest number of workers in four months, even as the jobless rate dropped to a more than four-year low of 7.4 percent from 7.6 percent, the Labor Department reported earlier this month.
Regional data showed a mixed picture for July. Payrolls increased in 32 states last month, and the jobless rate climbed in 28, according to Labor Department figures released on Aug. 19. California led the nation with the biggest gain in payrolls, followed by Georgia, though unemployment rose in both states.
Cutting Staff
Companies trimming their workforce include Cisco Systems Inc., the biggest maker of networking equipment. The San Jose, California-based company on Aug. 14 said it is cutting 4,000 jobs, or 5 percent of its workforce as weaker sales in Japan, China and Europe weigh on revenue growth.
Hiring may get some lift as smaller employers see signs of an increase in demand. Confidence among small businesses improved in July to its second-highest level in a year as managers became less pessimistic about sales, according to data from the National Federation of Independent Business.
Federal Reserve officials are watching the job market along with other economic data to determine when to begin scaling back the central bank's $85 billion in monthly bond purchases. In July, policy makers affirmed a pledge to continue the purchase program until they saw signs that the outlook for the labor market had "improved substantially."
Minutes of the Fed's meeting, released yesterday, showed officials were "broadly comfortable" with Chairman Ben S. Bernanke's plan to start the so-called tapering later this year if the economy improves, with a few saying the reduction might be needed soon.
The trimming will probably begin at the Fed's Sept. 17-18 meeting, according to 65 percent of 48 economists in an Aug. 9-13 Bloomberg survey.
Before it's here, it's on the Bloomberg Terminal.
LEARN MORE