Is it Time for the Fed to Taper?
Bond traders have a bee in the bonnet... and the buzz has them running for the exit. Their relentless selling since Dr. Bernanke's first mention of "tapering" in late May has pushed the yield on the 10-year note to the highest since July of 2011.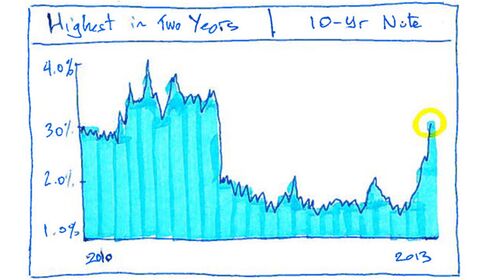 Fed meeting minutes reveal a Fed speaking with a surprisingly unified voice as it moves towards its plan to begin scaling back purchases of government securities, possibly beginning next month. While the Fed did not outline specific parameters at its July meeting, phone calls to strategists this morning indicate the street expects a measured approach... a reduction of say, $10 billion per month to $75 billion per month according to Adrian Miller of GNP Securities. As we connect the dots, here are the facts: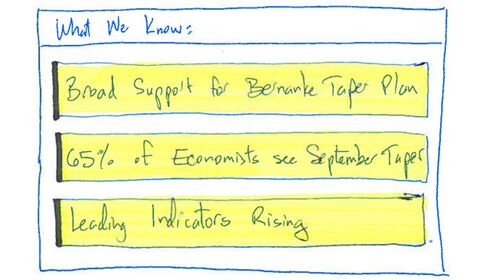 Traders and mere mortals alike can understand why the Fed wants to slow it's bond buying program: The Fed's Balance sheet has never before been this big. At 3.64 trillion and growing, it's the largest central bank balance sheet in the world. As a percentage of GDP, it's bigger the ECB's balance sheet and second only to the Bank of Japan.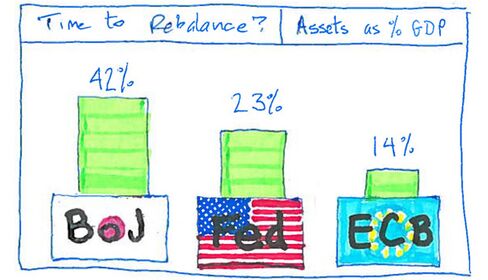 So what do we do now?
Sell the yen against the dollar, says Citi FX guru Stephen Englander. He reasons the Bank of Japan's commitment to expansionist monetary policy stands in stark contrast to the Fed's intention to taper as the economy approaches escape velocity. Looking at the chart of the yen versus the dollar, we can see the precedent for a wider exchange rate.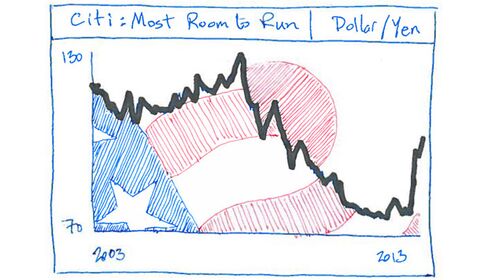 Blog readers may also appreciate Citi's view on the Euro:
--Neutral vs the dollar, as Fed and ECB policies are now more closely aligned towards restraint
--Positive vs the Swiss Franc, as safe haven appeal within Europe subsides. One final note, the Wells Fargo FX team is also positive the Euro in its morning note, especially versus the Pound. The team reasons the U.K. (like Japan) has not yet demonstrated sufficient growth to merit its own "taper talk."