Lowe's Knows How Badly You Want That New Washing Machine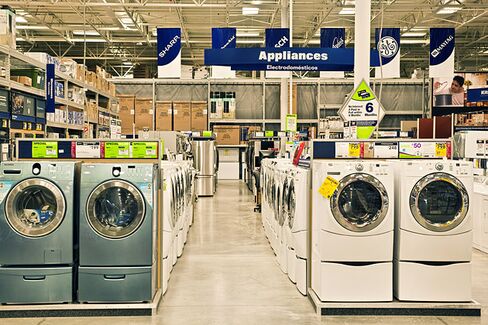 Americans are not only eager to buy homes; they want to paint them, spruce up their yards, and trick them out with slick new appliances. The burgeoning recovery in U.S. housing helped Lowe's garner a better-than-expected profit of $941 million in the recent quarter, a 26 percent increase over earnings in the same period last year.
The North Carolina-based retailer not only welcomed a surge in demand but cashed in on eager buyers by raising prices and doing away with low-margin products—what its executives call "value improvement." (That's value for Lowe's shareholders, not folks renovating their kitchens.) The company's net margin widened slightly to 6 percent as it stayed clear of discounts and kept prices high. The average transaction amount jumped by 4.7 percent, to almost $66. By Lowe's estimates, the stubborn pricing added up to almost $90 million in additional gross income.
Customers were willing to spend more, Lowe's said, because they've put off big purchases for a while, and as real estate appreciates, so too does their net worth—at least on paper.
"As home prices started to move up, I think it does have homeowners feeling gradually better about willingness to spend, particularly as you get to big ticket durables," Chief Executive Officer Robert Niblock said on a call with analysts and investors on Wednesday morning. Business was particularly brisk for appliances, paint, and tools for yard-work.
Home Depot, which surprised Wall Street with better-than-expected results on Tuesday, is experiencing a similar dynamic: Its average sale increased 4.3 percent, to almost $58 in the recent quarter. Both companies raised their outlooks for the year.
Lowe's also said it is about to burnish its business in California, the country's biggest home-improvement market. It expects to close by the end of the month on its purchase of Orchard Supply Hardware, a California chain of 72 stores that filed for bankruptcy in June.
The biggest threat to Lowe's and Home Depot at the moment is the potential for higher interest rates to cool the housing market. Niblock this morning called rates "a wild card."
Before it's here, it's on the Bloomberg Terminal.
LEARN MORE