Passport to an MBA: From Chopper Pilot to Cornell's Johnson School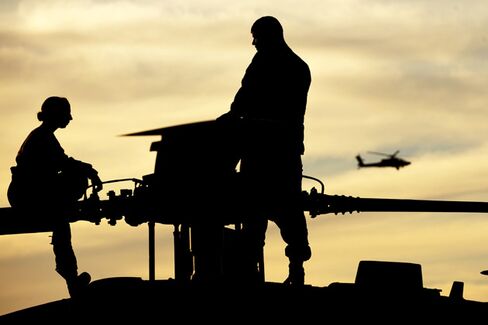 Passport to an MBA is an occasional series featuring interviews with MBA students from all over the world. The interviews were conducted at top business schools by Matt Symonds, chief editor of the business school website MBA50.com and a Getting In guest blogger.
The transition from military to civilian life is not always easy, and a growing number of veterans see business school as an attractive option to develop a complementary set of skills for the corporate world. With the post-9/11 G.I. Bill helping to offset the cost of study, military students in MBA programs hit 8.1 percent of all enrollments last year, up from 4.4 percent in 2010, according to a survey by Military MBA, an education network for ex-military personnel.
A company commander and helicopter pilot, John Sharkey traded in his Black Hawk for a blackboard when he joined the MBA program at Cornell's Johnson Graduate School of Management. The West Point graduate saw tours of duty in the Army that included combat operations in Afghanistan and commanding a helicopter unit capable of flying into the demilitarized zone between North and South Korea. After six years of active service, he wanted to enter the civilian world to have more stability, and used business school as a platform.
What follows are edited excerpts of our interview just before Sharkey graduated from the Johnson School. Click here for a video of the complete interview.
How did your initial studies at West Point compare to business school?
I think at West Point, as far as academic instruction goes, it was more focused on instructing and teaching you specific material. Here at Cornell, the academic instruction challenged you to think more, not only to learn the material but also to understand theories and how they can be applied to the real world.
I learned so much about the business world and current events from daily conversation and interactions with classmates that I don't think I could have otherwise.
How did you adapt the focus of your MBA study?
I was able to specialize in finance in the second semester of my first year, and then in my second year I was really able to tailor my studies to what I truly wanted to do in real estate. I was able to do that by taking some other courses that were available at the graduate university level.
I don't think I could have entered into my future employment with CB Richard Ellis, a real estate services firm, without taking those courses. Having that flexibility to experience world-class academic instruction here at Cornell was clutch.
How did you finance your MBA?
I was lucky enough to get a merit-based tuition scholarship called the Park Fellowship, as well as the G.I. Bill, which is a program that the [Department of] Veterans Affairs has that allows me to go to graduate schools and they help fund tuition and even some living expenses.
Were there any challenges or surprises making the transition from military to civilian life?
I think that with the discipline and the structure of the military I was a little too rigid in the beginning, so my classmates thought of me as this strict and disciplined type of person, and going to school really helped me relax. It was such a great platform for me to enter into the civilian world.
What admissions advice do you have for future applicants?
I don't think you should even begin your application process until you are about 50 to 75 percent sure what job you want to have post-MBA. That way, as you're getting ready to apply you will have a solid story, and ensure that your entire application really tells the same story about who you are, where you are currently, and where you want to go. As long as you have a solid, consistent story I think your application will turn out very well.
Join the discussion on the Bloomberg Businessweek Business School Forum, visit us on Facebook, and follow @BWbschools on Twitter.
Before it's here, it's on the Bloomberg Terminal.
LEARN MORE