Muslim Brotherhood Leader Arrested as Death Toll Mounts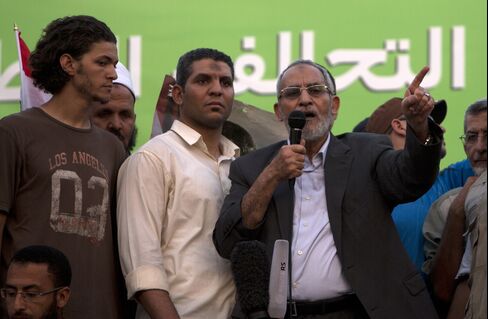 Aug. 21 (Bloomberg) -- The spiritual leader of Egypt's Muslim Brotherhood was arrested in Cairo as the military-backed government pressed a crackdown on Islamists that has claimed hundreds of lives in the past week.
Mohammed Badie, who faces charges of inciting murder, was taken into custody yesterday in a Cairo apartment where he had been instructing supporters protesting President Mohamed Mursi's July 3 removal by the military, Public Security Department official Yasser Abdel-Rauf said. About 900 civilians and 100 police officers have died since the operation to break up two pro-Mursi sit-ins began last week.
Mursi's ouster has sparked almost-daily protests by his backers that frequently boiled over into deadly clashes. The tumult has made it more difficult for Egypt to emerge from the slowdown that has battered the economy since the overthrow of Hosni Mubarak in February 2011. Badie faces a trial later this month in connection with deaths of protesters when Mursi was still in power.
Badie's arrest "is another blow to the Brotherhood that is designed to weaken them, but definitely it will stir up a response from the Brotherhood," Ziad Akl, senior researcher at the Cairo-based Ahram Center for Political and Strategic Studies, said by phone.
Badie has been detained for 15 days pending an investigation, according to a statement from prosecutors.
The Brotherhood vowed in an e-mailed statement that "the arrest of the Supreme Guide won't weaken the Brotherhood." The group and its supporters in the National Coalition for Legitimacy called in a statement for a continuation and expansion of daily protests.
El Beblawi's Comments
Interim Prime Minister Hazem El Beblawi said that he doesn't expect the conflict to lead to a civil war.
"I do not exclude that we will have some continuous problems in the coming weeks, perhaps coming months," El Beblawai said in an interview with ABC News. "But civil war and the type we have seen in some neighbors, I don't think that Egypt is on this path."
The yield on Egypt's 5.75 percent dollar bond due April 2020 rose 25 basis points, or 0.25 percentage point, to 9.42 percent yesterday in Cairo, the highest on a closing basis since July 3, the day the army forced Mursi out of office, according to data compiled by Bloomberg. The EGX 30 index of stocks rose 1.1 percent, snapping a three-day decline.
Amending Constitution
After announcing Mursi's ouster on July 3, Defense Minister Abdelfatah al-Seesi said the constitution endorsed under the Islamist's administration would be amended. Yesterday, the presidency announced in an e-mailed statement that the first phase of that project had been completed.
A technical committee has submitted proposals including a mixed presidential and parliamentary system, the state-run Ahram website reported. A second committee must approve any proposals within 60 days of receiving the draft, according to the interim government's blueprint for transition to elected rule.
A Cairo misdemeanor court will decide Sept. 19 whether to grant a law professor's request to try Nobel peace laureate Mohamed ElBaradei over his resignation from the vice presidency, the court said in a faxed statement. ElBaradei, who resigned Aug. 14 to protest the security forces' violent dispersal of sit-ins by Mursi's supporters, hasn't been charged.
The professor who wants him tried accused him of breach of trust. ElBaradei is currently in Vienna with his family, according to the Ahram website.
Mursi's Detention
Mursi, who has been in custody since his removal, was ordered held for 15 more days on Aug. 19 pending a probe into new claims he incited violence during deadly unrest in December.
The military imposed a one-month state of emergency as violence spread after hundreds were killed on Aug. 14 when police broke up sit-ins by protesters calling for Mursi's reinstatement. The U.S., which provides Egypt's armed forces about $1.3 billion in annual aid, canceled a joint military exercise and has said it was reviewing aid programs that benefit the Egyptian government. The European Union has said it would "urgently review" relations with Egypt.
Two international human-rights groups deplored what they called the unwarranted use of lethal force against protesters.
Amnesty International, based in London, appealed to all governments yesterday to "suspend the transfer of weapons of the type used by Egypt's security forces in violent dispersals and unwarranted lethal force against sit-ins and other protests." China, the Czech Republic, France, Germany and Turkey are among Egypt's suppliers, it said.
'Unlawful Killings'
In an Aug. 19 report, Human Rights Watch called the use of lethal force to disperse the sit-ins "the most serious incident of mass unlawful killings in modern Egyptian history." The failure of authorities to provide protesters safe exit "was a serious violation of international standards," the New York-based group said, urging Egyptian authorities to use live ammunition "only when strictly necessary to protect life."
Violence is also on the rise outside of Cairo. The army arrested 11 "terrorists" in North Sinai yesterday, including two Palestinians, it said in an official statement on army spokesman Ahmed Mohamed Ali's Facebook page.
On Aug. 19, a court ordered Mubarak to be freed in connection with a palace corruption case, threatening to inject new tensions in the standoff between the Muslim Brotherhood and the military-supported interim government.
Mubarak is still facing trials, including for his alleged role in the killing of protesters. A release would provide ammunition to critics who say justice is being thwarted and who accuse the new leadership of wanting to restore the kind of police state Mubarak led.
Mubarak's Trials
Another case involving gifts from the state-run Ahram group must be decided before Mubarak can be freed, Mahmoud el-Hefnawy, an official with the prosecutor general's office, said by phone.
"Isn't this a proof that all that has been happening in recent weeks is staged by the remnants of the old corrupt regime?" Hamza Zawba, spokesman for the Freedom and Justice Party, the Muslim Brotherhood's political arm, said by phone from Cairo. "We're seeing the same ugly practices by the old police state."
To contact the reporters on this story: Mariam Fam in Cairo at mfam1@bloomberg.net; Tarek El-Tablawy in Cairo at teltablawy@bloomberg.net
To contact the editor responsible for this story: Andrew J. Barden at barden@bloomberg.net