'The Real World' Returns to San Francisco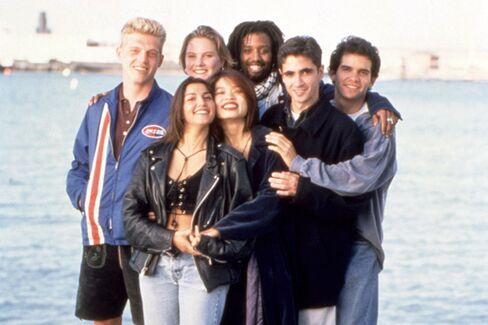 When I heard that MTV was thinking of canceling The Real World if next season's ratings don't improve, my immediate reaction was, "Noooooooooooooo!" My second reaction: "But that show's a part of television history! I love The Real World!" And my third: "Or at least I did in 1994." That, in a nutshell, is The Real World's problem.
The Real World's ratings have been declining for a while now, but during the last two years they've taken a nosedive. According to Variety, half as many people watch The Real World now as in 2011. One reason the numbers are so bleak is that teenagers—MTV's core audience—watch a lot of shows on tablets and smartphones, which Nielsen doesn't currently track. (It's expected to next month.) But also, The Real World is 21-years-old. It's finally starting to show its age. So it's making one last-ditch effort to recapture its youth.
Earlier this week, MTV announced that The Real World's upcoming 29th season would return the show to San Francisco, the city where 19 years ago it met the most success. The third season, which premiered in June 1994, inadvertently hit a cultural nerve when it cast Pedro Zamora, a funny, endearing gay man who would die of AIDS less than six months after filming the season's final episode. Real World: San Francisco highlighted what reality TV could achieve: It was an anthropological snapshot of an American generation as seen through the eyes of seven people with different values from different backgrounds and families. Oh yeah, and with enough scandalous, soap opera-like entertainment (Puck, the bike messenger, gets arrested in the first episode) to keep people coming back for more.
MTV didn't invent this kind of documentary filmmaking—The Real World is predated by the PBS show An American Family and Britain's continuing Up series—but it did make it fun. (In its 49 years, no one in the Up series has ever gotten in a hot tub). Yes, you watched The Real World to find out if Puck would be kicked out of the house or if Hawaii's Colin and Amaya would finally get together. But in doing so, you also learned a little bit about homosexuality, Mormonism, Lyme disease, racism, alcoholism, war veterans, transgenders, and people who were saving themselves for marriage, to varying degrees of success.
The Real World led the reality television revolution and, starting in 2002, also guided it through its debaucherous, semi-naked demise. That's the year that Real World: Las Vegas put away the cultural microsope, housed the cast in a Palms Casino Resort penthouse, and went for the "sex-and-fighting" version of reality TV instead. In subsequent seasons, cast members got drunker, hotter, and more volatile. While the first season of The Real World included an actress at David Mamet's theater company, and the third featured a woman who was a third-year medical student, the last season of The Real World, shot in Portland, Ore., included a Hooters waitress and a Playboy model. In 1998, fighting on The Real World was nothing more than a slap in the face. This year two housemates had an out-and-out brawl, complete with face punching and an attack with a broken hair dryer. It looks like the kind of fight you might see on Bad Girls Club. Or maybe Cops.
And that's The Real World's problem. The Portland season debuted to 720,000 viewers, compared with the 3.2 million who tuned in to watch Real World: Las Vegas in 2002 and the 1.1 million who bothered to watch Real World: St. Thomas in 2012. What The Real World used to do well, it no longer does (and hasn't for years). And what it tries instead, so does everybody else. There's still a place for a show that explores what it's like to be a twentysomething Millennial in post-recession America—or more specifically, in San Francisco, a city that's undergoing a huge economic and cultural shift thanks to the tech boom—but The Real World doesn't do that anymore. And pretty soon, it might not do anything at all.
Before it's here, it's on the Bloomberg Terminal.
LEARN MORE