UPS Crew Warned Plane Was Sinking Too Fast Before Crash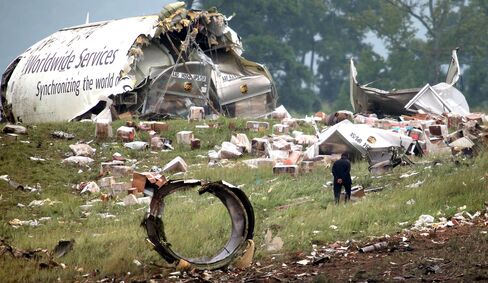 The pilots of a United Parcel Service Inc. freighter killed when the plane crashed in Alabama got a warning they were descending too quickly seconds before impact, according to investigators.
A cockpit alert announced "sink rate, sink rate" 7 seconds before the first sounds of impact are heard on the plane's recorders, Robert Sumwalt, a member of U.S. National Transportation Safety Board, said yesterday at a briefing in Birmingham.
Sumwalt provided the first information from the plane's voice and data recorders, which were reviewed at the safety board's Washington headquarters after being recovered in the plane's wreckage.
A controller at the airport tower told NTSB investigators he watched the Airbus SAS A300-600F shortly before dawn Aug. 14 as it neared the airport and "saw what appeared to be a bright spark flash, which he equated to what it would look like if a power line broke," Sumwalt said.
The controller then lost sight of the plane's landing lights, Sumwalt said. "That was followed by a bright orange flash, according to the controller, and then a red glow," Sumwalt said. "Then he immediately activated the crash phone."
The wide-body plane struck trees and a utility line before slamming into a hillside, according to the NTSB. It broke apart and burst into flames in a field north of the airport.
The first impact sounds came 9 seconds before the recording stopped, Sumwalt said.
Fatigue Factor
Captain Cerea Beal, 58, of Matthews, North Carolina, and First Officer Shanda Fanning, 37, of Lynchburg, Tennessee, died, the company said in a release.
Preliminary information indicated they began their work day at 9:30 p.m. in Rockford, Illinois, the night before the crash, Sumwalt said. They were completing their third flight of the night when they crashed shortly before 5 a.m. local time.
Whether the pilots were fatigued will examined in the crash probe.
Sumwalt didn't say whether the plane's ground-collision warning system issued a more urgent warning telling the pilots to "pull up" to avoid hitting the ground. He also declined to characterize whether the pilots had enough time to climb before the first impact.
Another warning system built into air-traffic computers didn't issue any alerts to controllers that the plane was too low, Sumwalt said.
Flight 1354 was en route to Birmingham-Shuttlesworth International Airport from Louisville, Kentucky, the Atlanta-based company's air hub. UPS is the world's largest package-delivery company.
Shorter Runway
The plane approached before dawn to land on Runway 18, which at 7,100 feet was shorter than the 12,000-foot alternate landing strip. The longer runway was closed for maintenance on its lights at the time of the accident, Sumwalt said.
Runway 18 also lacks an instrument-landing system to provide planes with a glide slope guiding them to the runway and ensuring that they descend clear of higher terrain, according to pilot-information website AirNav.com.
Beal, who was flying the plane on the approach, was hired by UPS in 1990 and had 8,600 hours of flight experience, Sumwalt said.
Fanning had 6,500 hours of flight time. She was hired in 2006, he said.
The NTSB didn't release any information from the plane's flight-data recorder. It contains more than 400 data tracks documenting the plane's last 70 hours, according to Sumwalt.
"Our investigative staff in Washington has to go through and validate and verify those parameters to make sure they are valid," he said. "That process does take time."
Before it's here, it's on the Bloomberg Terminal.
LEARN MORE