Rodriguez Implicated Braun in Biogenesis Doping, CBS Reports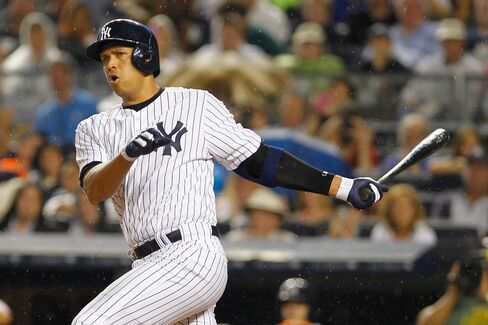 Representatives of Alex Rodriguez, who is playing for the New York Yankees while appealing a 211-game doping suspension, leaked documents that implicated one of his teammates and former National League Most Valuable Player Ryan Braun, according to the CBS television program "60 Minutes."
Rodriguez was banned Aug. 5 after an MLB investigation tied to a now-defunct Florida anti-aging clinic, Biogenesis of America LLC.
Braun, an outfielder for the Milwaukee Brewers, and Yankees catcher Francisco Cervelli, had their names redacted from documents released by the Miami New Times, which in February broke the story on Biogenesis and Alex Rodriguez's involvement. Members of Rodriguez's inner circle a few days later obtained and leaked the documents -- unredacted -- to Yahoo! Sports, "60 Minutes" said on its website, citing two people with direct knowledge of the matter who requested anonymity.
Rodriguez, speaking to reporters before last night's Yankees game at the Boston Red Sox, said the report was "not true at all."
"I spoke to Cervelli this morning. Had a positive conversation," Rodriguez said. "He understands that it's not true. We're on the same page."
'Bumpy Road'
Braun accepted a 65-game suspension for violating baseball's performance-enhancing drug rules, while Cervelli and 11 other players were banned for 50 games. Rodriguez is the only player appealing his suspension.
David Cornwell, Rodriguez's attorney, said in an e-mail that the accusations are "untrue and are another attempt to harm Alex -- this time by driving a wedge between Alex and other players in the game."
"Let's make one thing clear," Rodriguez told reporters in Boston. "For the next seven weeks, it's going to be a very, very bumpy road. Every day, expect a story like this - if not bigger."